The last Japanese construction boom occurred more than 50 years ago, prior to the 1964 Olympics, and since then due to the demographic shift, there is an increased need for maintenance and upkeep while there is less of a need for new construction projects. What is your take on the current state of the Japanese construction market?
First, to give you an overview of our business, Itochu Kenzai specializes in construction materials, particularly for detached housing. We have three major pillars of business, the first being housing materials for detached houses, the second being our lumber business, and thirdly we have our construction materials. The ratios for our business currently stand at 40% for our housing materials, 35% for our lumber and timber business, and 25% for construction materials.
I might be deviating a little from the question here, but Japan is currently experiencing a decline in population and thus we see a decline in demand for detaching housing also. This is the main field of business that Itochu Kenzai is offering, so with the decline in the need for detached housing, what we are trying to do is steer our path in other directions like commercial store facilities, buildings, and public facilities like schools or auditoriums.
When you take our company name and translate it, kenzai means building materials, including those materials for housing and construction. We actually got our start as a trader of wooden building materials within Japan, and we dealt with Japanese-procured lumber. From our historic background, you can see our strength is wooden construction material. On top of this trading capability within materials, we have augmented our abilities with housing materials like bathroom and toilet systems as well as other types of construction materials such as sliding exterior walls.
Traditionally, Japanese people have built houses with timber, so wooden houses make up a majority of our clients. However, for non-residential buildings such as schools, gymnasiums, and stores, wood has not been used traditionally. Recently, with the rise of carbon neutrality initiatives, there has also been a rise in interest in sustainable and environmentally friendly materials. In this redevelopment of buildings and non-residential facilities, wood is becoming a new and very viable option. Although demand for detached houses may decrease, there is a growing need for wood for use within non-residential buildings, so we are finding that Itochu Kenzai now has a foot back in the trading of wood and having a history in this we feel we have gained back strength.
---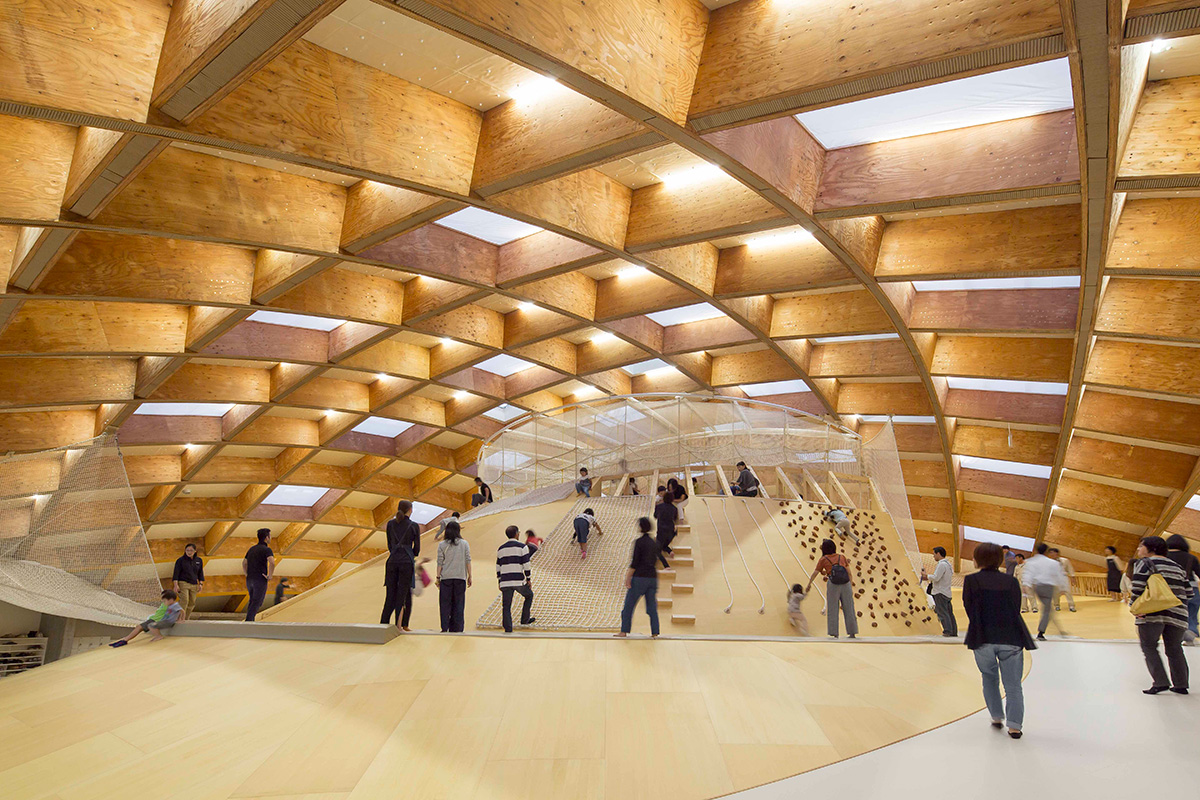 ---
Can you tell us a little bit more about the technologies wood has now and how capable it is for these non-residential type buildings?
One of the advancements being mentioned is CLT (Cross Laminated Timber) and LVL (Laminated Veneer Lumber) which we can lay in multiple layers sort of like a sandwich with a specific sequence of glues that can add thickness to it. By combining different types of timber, we can achieve better strength. Also, you can combine it with heat-insulating material or metals to reinforce it. Although we may call it a wooden structure, it is not 100% wood, rather it is augmented by supplemented materials and parts. Overall, this strengthens the material's anti-seismic properties while also providing fire-proof properties as well. I strongly believe people from overseas can find more wooden structured buildings in the heart of Tokyo year by year from now on.
For residential and non-residential homes, it is important to increase the energy performance or efficiency of the buildings. In order to do so, the Japanese government is actually taking the lead in giving out subsidies and promoting companies that look to achieve carbon neutrality goals. YKK AP for example has developed a double window that increases efficiency for heat insulation, thus reducing heat loss.
As environmental awareness rises, Itochu Kenzai has been busy working on the Chikyugi brand, which mixes plantation wood and natural South Sea wood. What are some of the advantages of Chikyugi plywood, especially when compared to other forms of plywood?
Chikyugi is actually a comprehensive brand, and it not only includes products but also our own environmental activities. For products, a majority are wood-related such as plywood, however, we also have an eco-friendly toilet in the lineup, so overall, our environmentally friendly products are branded as Chikyugi. This brand was established around the year 2006, so it has been about 17 years and we are actually the pioneer in the industry and paving the way toward environmentally sound products. Now many traders have these kinds of environmentally sound brands, but we were the first to do so.
The purpose is to use planted trees and Japanese national wood for sustainable and environmental activities. We have our own Itochu Kenzai Forest in Kijimadaira which is located in Nagano prefecture. There we plant beech trees with our employees. The Chikyugi brand not only is for our products but also incorporates all the activities we conduct to attain a sustainable society. Last year, we were able to achieve 38% of sales from environmentally sound products, but we are looking to increase that percentage to 50% and beyond.
There is an interesting element to the name Chikyugi, and when written in kanji it has the same phonetics as the word globe, but there is an extra element there where we replaced the last gl-sound with the character for wood. It is a play on words that we formulated, basically a double entendre. The way we have worded it in English is Earth Tree.
---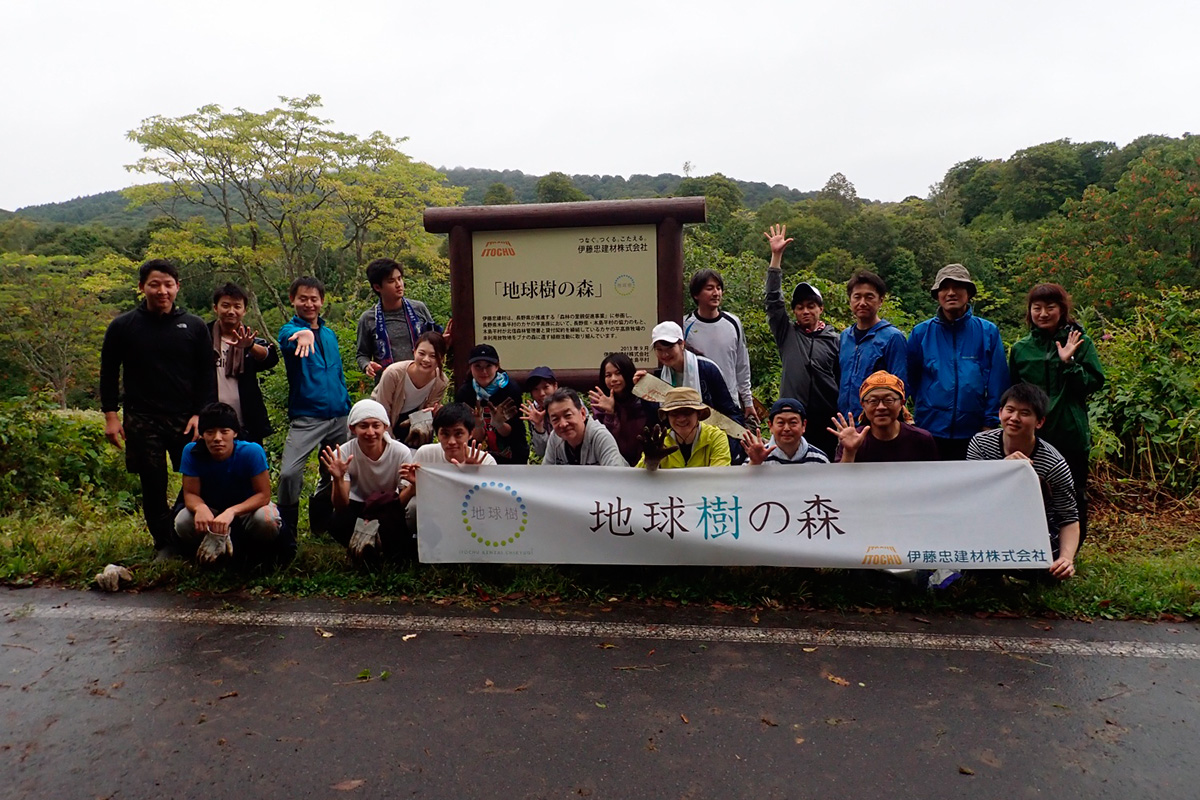 ---
Historically traders were responsible for handling distribution and financing, however, this is slowly changing and traders these days are asked to provide added-value services such as production and formulation. How do you foresee the evolution of construction trading companies in Japan going forward?
Traditionally traders have acted as a representative or agents for the manufacturers. That is how general trading houses have evolved and Itochu Corporation is one of them. We at Itochu Kenzai are part of the Itochu Group and have been dealing with the trade of building materials however the situation has changed. Traditionally it has been more of a product-out situation where we stayed by the side of the upstream manufacturers and provided products on their behalf. Now, more of a market approach is required and the assets of trading firms, like us, are the people. We do not have any specific products, rather we have the networking and human resources to leverage on. We are active in finding out the needs of markets and developing products that are required to meet those needs together with the manufacturers.
A key example can be seen in our Chikyugi brand, and we actually do not manufacture those products ourselves. We work together with multiple manufacturers including overseas makers from concept to development, all the way to final manufacturing. Carbon neutrality is a good example of a market where there is a dire need for environmentally friendly products. We have taken that concept into production development. This type of market-in approach would be further required by traders.
Okayama University "OUX"(CLT), Okayama, Japan
Okayama University "OUX"(CLT), Okayama, Japan
CLT master panel (top view 3m x 12m)
Kids Dome (LVL), Yamagata, Japan
JR Onagawa St. (LVL), Miyagi, Japan
Are you looking to find more partners in overseas markets to create products like Chikyugi?
Currently, our business puts an emphasis on the dealings of Japanese trees as part of our SDGs carbon neutrality targets. This is a side stream, but there are many Japanese trees and we feel it is important to fully utilize the reservoir of trees. In fact, according to the Global Forest Resources Assessment 2020 by FAO, Japan has 25 million hectares of forest, 40% of which is planted forest, which is bigger than Finland in terms of area as well as wood reserves.
It is my opinion that the potential of these trees has not been tapped into yet. At Itochu Kenzai, while we do not own any forests right now, we are trying to shift and acquire not only the harvesting rights but also create a full cycle for trees, from planting to producing products using the wood, all the way back to replanting again. This cycle within our company is important to our SDGs targets and our branding, so what we are trying to do is increase the sales channels for Japanese lumber in the global market.
To do so, we are collaborating with an Itochu group company around the world. In North America, Australia, and New Zealand, they traditionally use timber for their houses, but now with people becoming more environmentally aware, we are seeing Asia and Europe follow this trend too, switching from RC or stone based to utilizing wood. I would like to highlight again that we have our own wood resources and wood processing technology here in Japan with a very competitive Japanese yen against other hard currencies. There is a big opportunity in those markets especially in Asia to provide our Japanese-procured timber products. We believe this will be our new role to play and responsibility to take as a trading firm in the global market.
In 1961, you established yourself in Malaysia, and you have 3000 clients in 30 countries around the world. Moving forward, are there any countries or regions that you've identified for a physical expansion into?
1961 was the year our company was founded, and the Malaysian company you mentioned was owned by our parent company, Itochu Shoji, and then we took over their business in the early 2000s. In the 1980s, Itochu Corporation owned a forest in Malaysia with Mitsubishi Corporation, but in 1987, the environmental NGO Greenpeace caught wind of how much the forest and local wildlife was being destroyed. Soon after Mitsubishi Corporation sold its ownership of the forest and at the same time, Itochu Corporation also sold. After that, we began importing logs supplied from Malaysia. On the other hand, in 1994, Itochu and DAIKEN Corporation established a joint venture in Malaysia and founded a medium-density fiber plant. The joint venture was called DAIKEN Sarawak Sdn. Bhd and this plant continues to operate to this day. We also have offices in London, Vancouver, and Jakarta.
Which countries or regions do you foresee as being very important for your mid-term strategy to continue to grow your business internationally?
I see London as being key, as well as our main suppliers in Europe. Those suppliers are located in Austria, Finland, and Germany. The main focus for the mid-term is Asia as well as Europe.

Imagine that we return on the last day of your presidency and have this interview all over again: what goals or dreams would you like to have achieved by then?
This may happen within the next five years. My mission as the president is to lead the company so that it continues to be the kind of business that makes social contributions through SDGs. I want all of our employees to share in this goal and get pleasure out of conducting business in an environmentally friendly and sustainable way.
---
Interview conducted by Karune Walker & Paul Mannion