The last Japanese construction boom occurred more than 50 years ago prior to the 1964 Tokyo Olympic Games, and since then, due to the Japanese demographic shift, there has been an increased need for maintenance and upkeep, however, on the other hand, there is less need for new construction projects. What is your take on the Japanese construction market, particularly when it comes to bridges and expressways?
Steel bridge production in Japan peaked at 861,000 tons in 1995, when the Honshu-Shikoku bridges (Akashi Kaikyo Bridge, Tatara Ohashi Bridge, and Kurushima Kaikyo Bridge) were being built, and has since declined to 188,000 tons in 2021, or about 22% of its peak. The number of bridge manufacturers is also decreasing, from 76 in 2000 to 31 in 2021.
Due to the impact of the decline in bridge construction, bridge manufacturers are prioritizing the operation of their own fabrication plants, so there are only a few companies that are willing to take on the labor-intensive task of bridge maintenance work without contributing much to plant operation. On the other hand, in Japan, there is a great demand for seismic reinforcement of bridges, which is being promoted as part of the country's efforts to strengthen its national infrastructure. For this reason, there have been many cases where we have been unsuccessful to obtain contracts for seismic reinforcement of bridges because we were unable to contractors.
In 1988, the Seto-Chuo Expressway connected Honshu and Shikoku by bridge for the first time, followed by the Kobe-Awaji Naruto Expressway in 1998 and the Nishi-Seto Expressway in 1999. Both were big national projects, and a considerable amount of time has passed since their construction. The Akashi Kaikyo Bridge and other long-span bridges are equipped with special equipment not found on ordinary bridges, such as large expansion joints. However, since these devices are not versatile, there is no demand for them now that no long-span bridge construction projects are planned, and the various manufacturers that built them at the time have withdrawn from the business.
The average age of the long span bridges on the Honshu-Shikoku Expressway is now 31 years, and the time is approaching when the replacement of these special devices must be considered, which is a major maintenance issue. In addition, the manufacturer of the maintenance vehicles that are routinely used for inspection and other maintenance of long-span bridges has withdrawn from the market, and this is also a major issue for future maintenance and management. Therefore, we are in the process of identifying and collaborating with new manufacturers.
In Japan, demand for new construction of long-span bridges has decreased. It has always been inevitable to focus on the maintenance of existing bridges. Our mission is to provide a safe, secure, and comfortable environment for bridges and highways, which are national assets. Even if bridge construction shrinks, our mission remains the same.
There is an 80% chance that another major earthquake will hit Japan within the next 30 years and areas like Shikoku are potentially facing serious damage. Do you believe that Japan's infrastructure, especially when it comes to its bridges, is ready to handle another major earthquake?
Japan is known as a particularly earthquake-prone country, and earthquake-resistant design has been practiced in Japan since the early 20th century. However, until the Great Hanshin Earthquake of 1995, damage from extremely rare earthquakes was considered unavoidable. Since then, this thinking has changed, and bridges in Japan are now designed against rare earthquakes and damage is calculated in advance. Since 1995, the Japanese government has given priority to important roads and highways for reinforcing, and in fact, our roads have been given priority as well. This is because roads can serve as transportation routes for earthquake recovery in times of emergency, which is why we have made great strides in earthquake reinforcing.
With the Nankai Trough earthquake predicted to occur in the near future, Japan's expressways are now undergoing seismic reinforcing. Seismic reinforcing of major bridges connecting Honshu and Shikoku has been largely completed, and the remaining bridges are scheduled for completion within the next nine years.
The country of Japan is taking measures to reinforce existing highways and bridges against earthquakes. However, as I mentioned earlier, the number of maintenance companies is limited at the moment, and supply is not keeping up with increasing demand.
Let me explain a little about our seismic reinforcement of the Akashi Kaikyo Bridge. This bridge is a suspension bridge, so it is not greatly affected by earthquakes, but we have taken measures to prevent the expansion joints from being damaged. The length of the expansion joint is about 3m.
---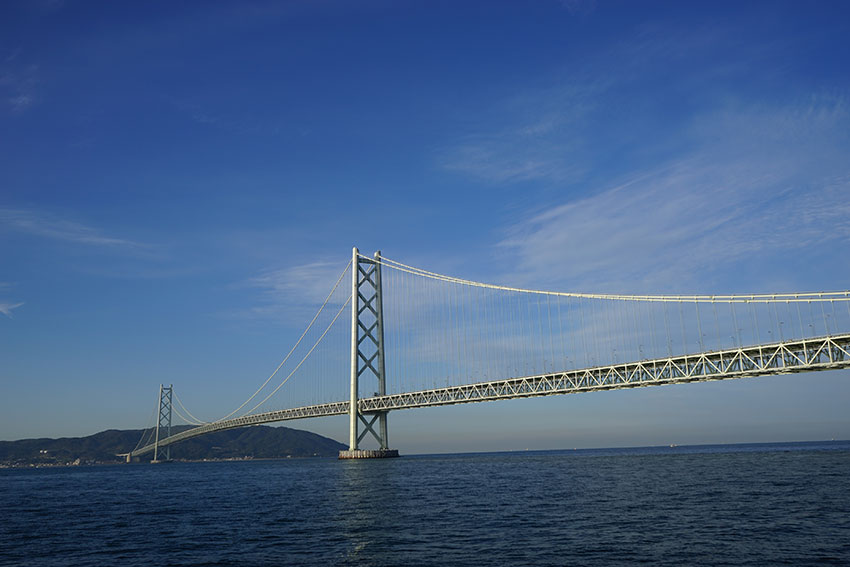 Akashi Kaikyo Bridge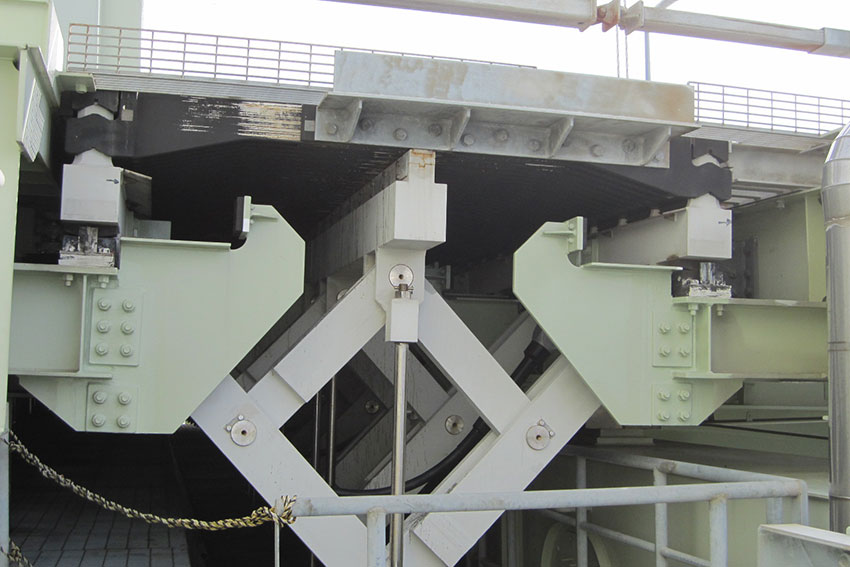 Expansion joint of Akashi Kaikyo Bridge
---
The Tatara Bridge, built in 1999 and the longest bridge in the world at the time of its completion, uses hydraulic dampers as a countermeasure against large displacements of the bridge itself.
The truss section of the Hitsuishi-jima Viaduct, located in the middle of the Seto Ohashi Bridge, is a truss bridge and not a long span bridge, but steel bearings were replaced with rubber bearings to absorb seismic shaking and provide earthquake resistance. We were the first company in Japan to implement this rubber bearing in a bridge that allows trains to pass through. In fact, we received an award from the Japan Society of Civil Engineers.
In Japan, there is increased use of longer and larger trucks due to a decline in drivers thanks to the demographic shift and larger vehicles mean more weight. As larger and heavier vehicles are beginning to be utilized in Japan, how are you adapting to this?
Japanese law has strict regulations regarding vehicle weight and load per axle. Our bridges are designed and constructed with these regulations in mind. This means that even if the trucks are longer, we have to follow Japanese law to accommodate the changes. We also have a system in place to ensure that all trucks adhere to these weight limits.
The Seto Ohashi Bridge, a combined road-rail bridge, was designed to accommodate Shinkansen trains when it was designed, but trains currently passing over the bridge are much lighter models. In other words, there is still plenty of room to spare.

In 2005, the Honshu-Shikoku Bridge Authority was privatized into the Honshu-Shikoku Bridge Company. What was the reason for privatization and what were some of the initial challenges that you had to overcome?
Although the privatization in 2005 was a government decision, it is different from ordinary private companies because the shareholders are the national government and the related prefectural and municipal governments. We are maintaining and managing national property. Japan prioritizes safety as well as cost-effectiveness, and I personally believe this is the right approach. So we put a lot of emphasis on safety as well. Building bridge infrastructure requires a lot of investment and a large budget, and we are currently paying off that debt with toll revenues.
One of the benefits of privatization is that the entire group is now able to work toward the same direction and objectives. In addition, the ordering period was often limited to a single year, but now it is easier to place orders over multiple years if necessary.
Japan has a rapidly aging and shrinking population and this is most pronounced in the construction sector where one in four workers are over the age of 65. What are some of the challenges and opportunities this demographic shift is presenting for Honshu Shikoku-Bridge Expressway?
As a countermeasure to this labor shortage, we are currently working on the development of digital technology that will realize labor savings. We have developed a technology to determine the degree of deterioration of suspender ropes of suspension bridge. Magnetic force is used to determine the cross-sectional condition of the suspender rope, and if the measured data is decreasing, it means that the rope is deteriorating. For the surface of the suspender rope, AI can check the damage status of the video images taken. The steel deck is used in many bridges including long span bridges, and repeated heavy traffic can cause fatigue cracks in the weld. Therefore, infrared thermography can be used to identify and monitor weld cracks.
We are trying to mitigate the effects of labor shortages with digital technology, and so far it has been effective. It would be ideal if the market for new construction of long-span bridges increased, but that is not going to happen, so it is inevitable that we will change our business model and focus on maintenance. Ideally, we would like to undertake maintenance not only for our own bridges, but also for all long-span bridges in Japan.
What role does collaboration play in your business model, and when it comes to the African region, will you be looking to have partners to help bridges business?
We are actively communicating with the International Cable Supported Bridge Operators Association and other personnel who manage long-span bridges overseas. We are cooperating and exchanging information with other members of the association so that we can learn the latest technology and in turn offer our own experience.
As for overseas markets, we believe that it would be a good opportunity for us to be part of the Official Development Assistance (ODA) program for infrastructure development in Africa. We would be able to use our expertise and experience by providing the technology needed to maintain and manage long-span bridges.
Unfortunately, we cannot go abroad on our own, so we are also looking into the possibility of participating in the Japanese government's support for infrastructure maintenance and management in developing countries such as Africa.
What are your expectations for this International Cable Supported Bridge Operators Conference?
With the aim of exchanging technical information and building a network of human relations, we hope to actively engage in personal as well as informational exchanges. We would like to share our skills and at the same time learn from others to enhance our own skills.
Could you share with us the main competitive advantage of your firm?
Our strength is our extensive experience in the maintenance of long span bridges. By utilizing and developing new digital technologies, we are able to offer a more cutting-edge approach to maintenance. In addition, there is no other company like ours in terms of the number of long span bridges managed, not only in Japan but also worldwide. We manage a total of 17 long span bridges, 10 of which are suspension bridges.
What is your favorite bridge and why?
My personal favorite is the Kurushima Kaikyo Bridge. It is a well-known course for bicycle trips, and I think it is very beautiful. Aesthetically, the engineering on this bridge is beautiful and matches the surrounding landscape very well.
---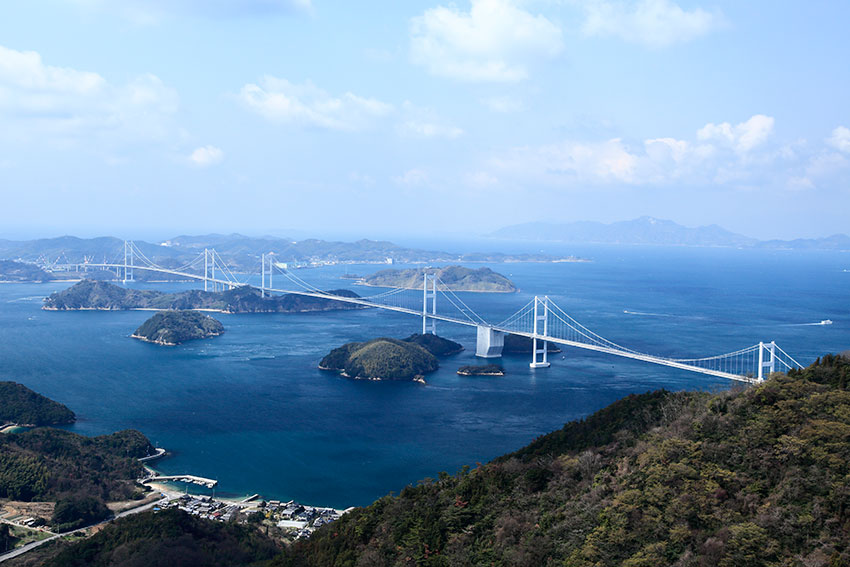 Kurushima Kaikyo Bridge
---
Imagine that we come back five years from now and have this interview all over again. What are your goals for the next five years?
First and foremost, our mission as a company is to strive to enhance our services so that our customers can use our bridges safely, securely, and comfortably, and to ensure that our bridges will be used for a long period of time (over 200 years) and that they are well maintained. This is extremely important, and in the event of an emergency, our routes may be used to transport relief supplies and evacuate people, placing a great social responsibility on our shoulders. Since I come from the private sector, I feel the weight of this responsibility even more keenly. I am impressed by the pride that the employees of this company take in their work and the joy they feel in contributing to their local communities.
With the experience I have gained in bridge operations and construction, I would like to expand overseas and apply my skills to contribute to developing countries.