To begin with, we would like to make a brief presentation about our company. There are four topics that we are going to talk about. The first is our corporate profile. The second will be our business operations. The third topic will be our organization, and the fourth and final topic will be an introduction to our facilities.
Our president has been Mr. Koichi Nakagawa since April 2022, when three of Kubota's water environment related subsidiaries were integrated, and Kubota Environmental Engineering was established. Our capital is JPY 400 million, and we have around 2,800 employees, including our overseas staff. Our head office is in Tokyo and our main branch office is in Osaka. Altogether, we have 27 offices across Japan, as well as five overseas offices in Asia, including Thailand and Vietnam.
When it comes to our business operations, we provide total engineering services for environmental facilities. This includes operation, maintenance, and management services as well as the design, construction, and repairment of water purification plants, sewage treatment plants, night soil treatment facilities, waste process facilities and pumping facilities. We also offer design, construction and maintenance of industrial wastewater treatment facilities and waste gas treatment facilities. Our main business target is the operation, maintenance and management of environmental facilities constructed by our parent company Kubota.
This chart explains the sales ratio of our business segment in 2022. Water and sewage, pumps and water treatment each account for 20% of our sales. Around 10% of our sales comes from industrial wastewater and waste gas treatment, with the remaining 30% coming from incineration recycling. With regard to the construction of this incineration and recycling plant, we transferred this business to Kubota in April of this year. Therefore, our sales ratio will change from this year.
Regarding the operation and management of environmental facilities, we have 240 operating facilities in Japan and overseas. We delegate onsite staff to 150 locations and periodical patrol staff to 90 locations. Our organization has six divisions and several indirect departments. One of these indirect departments is our ASEAN water business management office, which oversees business in the ASEAN region and has an office in Bangkok, Thailand.
---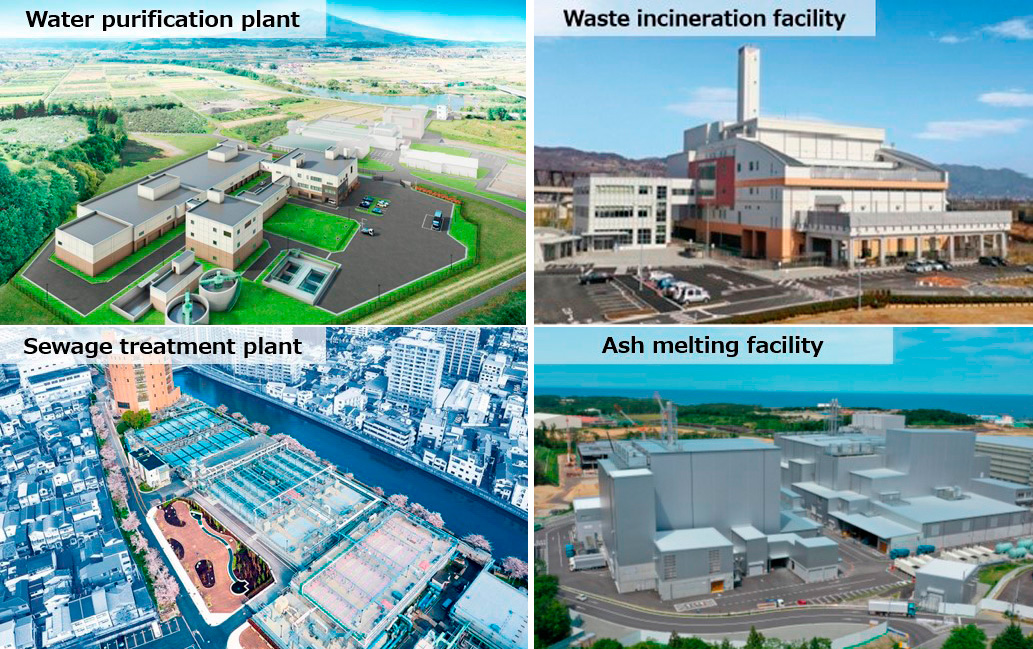 ---
In the upper left, you can see our water purification plant which is a facility that filters water from dams and rivers to make it drinking water. In the upper right, you can see our waste incineration plant. It is a facility to incinerate waste from homes and businesses. In the lower left, we have our sewage treatment plant which is a facility that uses microorganisms to purify sewage. It is the largest MBR facility in Japan, treating approximately 40,000 cubic meters per day. In the bottom right, you can see our ash melting facility.
This ash melting facility is a special facility to reduce the volume (bulk) of radioactive materials and waste released from the Fukushima Daiichi Nuclear Power Plant, which was damaged by the 2011 Great East Japan Earthquake and Tsunami. The rotary surface melting furnace that we use at this facility is unique to Kubota, and cannot be found anywhere else in the world.
---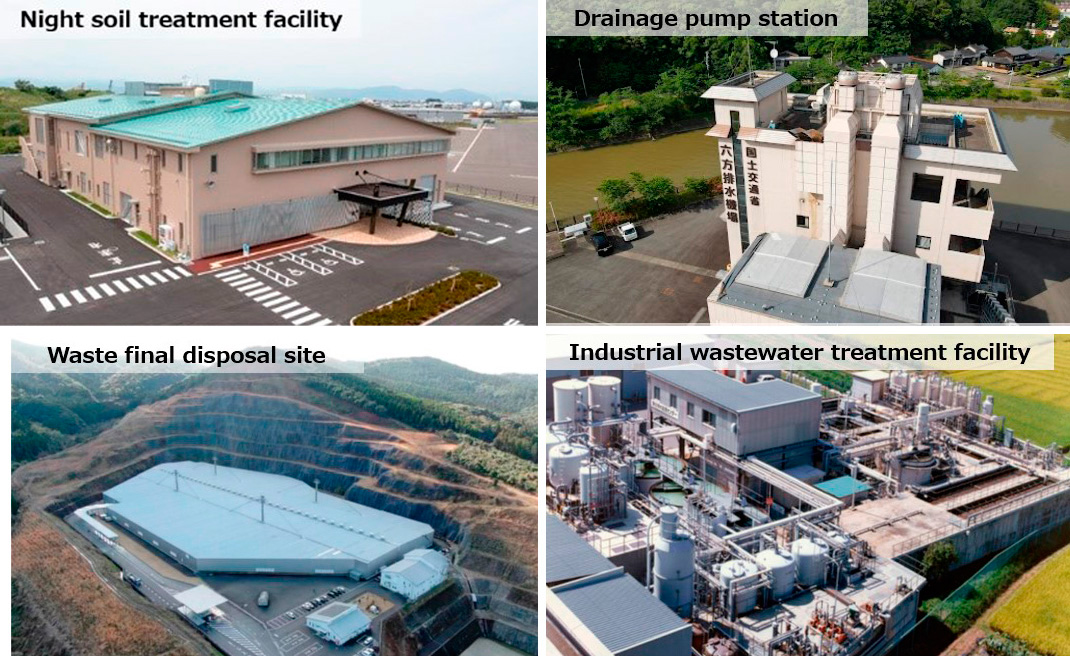 ---
In the upper left, you can see our night soil treatment facility that treats night soil and septic tank sludge that are generated from homes. It collects bio-resources for reuse. In the upper right, we have our drainage pump station. When the water level in the river rises due to heavy rain, this facility forcibly drains water into a large river to protect the inland area from flooding. In the bottom left you can see the final waste disposal site. This is a facility for final landfilling and stabilizing incineration ash and unrecyclable items. It is also equipped for the treatment of leachate generated from the landfill sites. In the bottom right, we have our industrial wastewater treatment facility in the private factory. It treats wastewater generated by industrial activities before it is discharged to the sewer or public waters.
We would like to get your opinion on the premise of this report. It is our view that Japan's industry is living a very exciting time. We see many foreign actors looking to diversify their suppliers for industrial equipment and other goods, to make their supply chains more reliable. Here in we believe lies an excellent opportunity for Japan, a country known for their advanced technology and reliability, now very cost competitive with a weak yen. Do you agree that this is a great opportunity for Japan, and secondly, what do you see as the key advantages of Japanese suppliers and companies in the current macroeconomic environment?
Yes. In Japan, capital investment is recovering due to the weak yen, and the real GDP growth rate shows that the Japanese economy is robust. Before the Ukrainian war, prices and salaries had hardly risen at all. With that, I think it is inexpensive for foreign investors.  Regarding different companies looking to diversify their supply chains as a result of US-China tensions and decoupling, I think that was something that many Japanese companies have foreseen even before Covid. Therefore, one time it was heavily weighted toward China and Southeast Asia, but some have already begun to move back to Japan. The performance of Japanese companies was solid and stable even before Covid began. Of course, there were still some disruptions, including a shortage of semiconductors and rising material prices.
You made an interesting point in talking about stagnant wages in Japan. Currently with the very weak JPY, we are seeing a very interesting trend of manufacturing, which had been outsourced in the past, coming back to Japan. This new trend is clashing with perhaps the biggest social issue facing Japan today, which is its aging population, and a shortage of workers in many respects. You mentioned in the presentation that your company is responsible for over 240 facilities and 150 locations, which requires quite a lot of manpower. We would like to hear about how you are navigating the challenges of operating in theaging society.
The aging of Japanese society and labour shortages present both operational challenges and opportunities for business expansion. Resolving the labour shortage is an issue we have been working on for the past several years. To address this issue, we are actively introducing AI and digital technologies into our operations management and providing technical support to our engineers to improve their productivity. We believe that by utilizing these new technologies, tasks previously handled by our experienced and seasoned engineers can now be performed by younger and inexperienced people. We are also committed to the success of our female employees. Currently, the percentage of female employees is only 12-13%.We are aiming to increase that number. Furthermore, we are also aiming to increase the number of our foreign employees, especially from Southeast Asia.
We would like to hear about your initiatives or strategy to introduce digital technology into your environmental engineering activities.
The Kubota Group has been utilizing IT systems for various environmental facilities and their engineering operations. This is similar to the environmental facility operation and management platforms owned by some environmental engineering firms, such as Veolia. Our system is called KSIS, which stands for Kubota Smart Infrastructure System. This summer we released a new platform, BLUE FRONT®. It involves various elements. For example, it collects data based on inspections and repair results. It also has different cameras and sensors installed within our facilities that are able to collect data about the equipment. It visualizes the status of individual equipment and the entire plant and stores the data in the Kubota Group's server. We are able to manage these data in an integrated manner through our Enterprise Asset Management (EAM) system. Our system enables us to monitor our equipment and analyzes various data, including equipment vibration values, water quality and other facility operating conditions, power and chemical usage, and operator productivity. That is done through AI that can detect changes and plan appropriately. It also communicates to us when it would be best to conduct repairs or carry out upgrades. It provides our clients with the most up-to-date and relevant information.
---
---
This summer, the Kubota Group will begin operating BLUE FRONT®, a KSIS platform for sewage and industrial wastewater treatment facilities. This fall, we will introduce the system to the water purification facilities that support the drinking water supply, followed by waste incineration and recycling facilities. As a full-service water environmental engineering firm capable of providing engineering services at all levels for any facility, from waste recycling to pump inspection and repair, not to mention MBR and all other technologies related to water use, we are able to offer our technologies and services to a wide range of clients in both the private and public sectors. For example, we can make the best and most cost-effective proposals to meet the needs of various municipalities, entities, and companies.
This concept of predictive maintenance is a very interesting idea. By gathering data, you can anticipate when things will need to be fixed, which makes it the least disruptive as possible to the everyday operations of the facility. What is also noteworthy is how comprehensive this service is. It is not just manufacturing or installation, it is also the inspection and the hands-on maintenance and repair. This comes from the history of your company and the merger of the three firms; Kubota Environmental Service, Kubota Kikou and Kubota Kasui. Could you tell us a little more about the motivation and formation of the company and how being able to leverage on the strengths and backgrounds of these three companies has allowed you to create such a comprehensive service?
The story goes back to Kubota's ancestral business. Kubota was founded in 1890 and was the first company in Japan to take on the challenge of manufacturing iron pipes for water supply, which until then had been imported from overseas, and succeeded. From there, we have grown to manufacture water treatment equipment and provide facility construction, and operation and maintenance services. The Kubota Environmental Service company was formed to provide operation and maintenance services for water treatment facilities, wastewater treatment facilities, and waste treatment facilities. Kubota Kikou specialized in the operation and maintenance of the pumps, while Kubota Kasui was formed as a result of acquiring Fuji Kasui. Kubota Kasui was specialized in industrial wastewater treatment, waste gas treatment and maintenance services. The major driving force behind the merger of these three companies was in order for us to be on track in realizing our GMB2030 vision. We realized that if these companies were working independent of one another then it would not enable us to meet the objectives of that strategy. The vectors were not aligned and resources were limited. Therefore, in order to align the vectors, integrate resources, and create synergies, we merged the three companies, and we are now working with our parent company Kubota towards the realization of our GMB2030 vision and objectives.
You just referenced that you are contributing to this greater company-wide strategy, the GMB2030. The year 2030 will be the 140th anniversary of the company, which is a very significant achievement. The operative word in GMB is "global". We would like to know in a little more detail about the international strategy or ambitions of Kubota Environmental Engineering and how it is playing into the greater strategy of the Kubota group.
In our overseas business, Kubota's strength has been providing unique products and technology to support water and wastewater infrastructure in various countries. Membrane Bioreactor Technology (MBR) is our biggest competitive advantage when expanding our business overseas. Another strength of our company is our ability to deliver pumps to Southeast Asian countries through our ODA business.
We are not satisfied with simply exporting certain elements such as Kubota Group's MBR technology or our pumps. However, it takes a lot of investment of people and money, as well as time, to be able to provide all the services needed to build and operate a plant. Being able to provide for full-fledged plants and the required operation and maintenance infrastructure in Southeast Asian countries is our next aim. To achieve this, we will leverage the five overseas offices in which former Kubota Kasui
already has established, and want to expand the type of business we provide in Japan to other countries as well.
As you said so yourself very poignantly, providing technology is very different to providing a service, and especially a comprehensive service like your company does. Both service providers and equipment makers that we have met have talked about the challenge of really understanding local markets and how to best provide for them. How do you plan to bridge that gap?
Our main target is Southeast Asia. We want to strengthen in the areas where we already have a presence through former Kubota Kasui. These locations are in Taiwan, the Philippines, Thailand, Vietnam and China. More than 200 overseas staff already work in these local areas. We want to rely on their support and experience as we roll out our overseas business. From there, we are aiming to not only recruit more local staff, but also to provide our specialized Kubota training program to train the young people in those areas as well. We will also utilize our digital tools to support this training and shore up the skills of our local overseas employees. Our specialized Kubota training will strengthen the abilities and functioning of our overseas staff.
In terms of new partnerships, we currently do not have any plans on having new partners. , but we have some offers. However, if there is any suitable partner who agrees with the Kubota Way, we would be happy to work with them.
It was interesting to hear in your opening remarks about your unique surface melting technology that was used in the aftermath of the Great East Japan Earthquake of 2011. Could you tell us a little more about your involvement in the recovery and revitalization of the affected area in Fukushima?
First of all, the plant in this picture is the plant that we built in the area after the earthquake and tsunami occurred. During the earthquake and tsunami, a number of our water treatment plants that were located in the area received damage. We were able to dispatch staff from all over Japan to the area to assist our staff that were already working there. This led to the early repair of our facilities that were damaged. Through the building of our ash melting facility in the Fukushima area, we were able to provide the most efficient ways to dispose of radioactive waste.
I would like to explain a little more about Kubota Group's specialized surface melting technology. This is the surface melting furnace. The substance that is going to be processed are continuously fed into the rotating furnace. The surface of the substance fed into the furnace is heated by a burner installed in the ceiling, and the material begins to melt and flow like lava. The molten material falls from the slag port into the hydraulic cracking tank, where it is rapidly cooled to a sandy slag. Kubota Group's surface melting furnace can be used to melt various things such as soil, waste, toxic materials and sewage. We are currently utilizing the surface melting furnace to melt sludge, from which phosphorus is extracted as slag and used as fertilizer.
---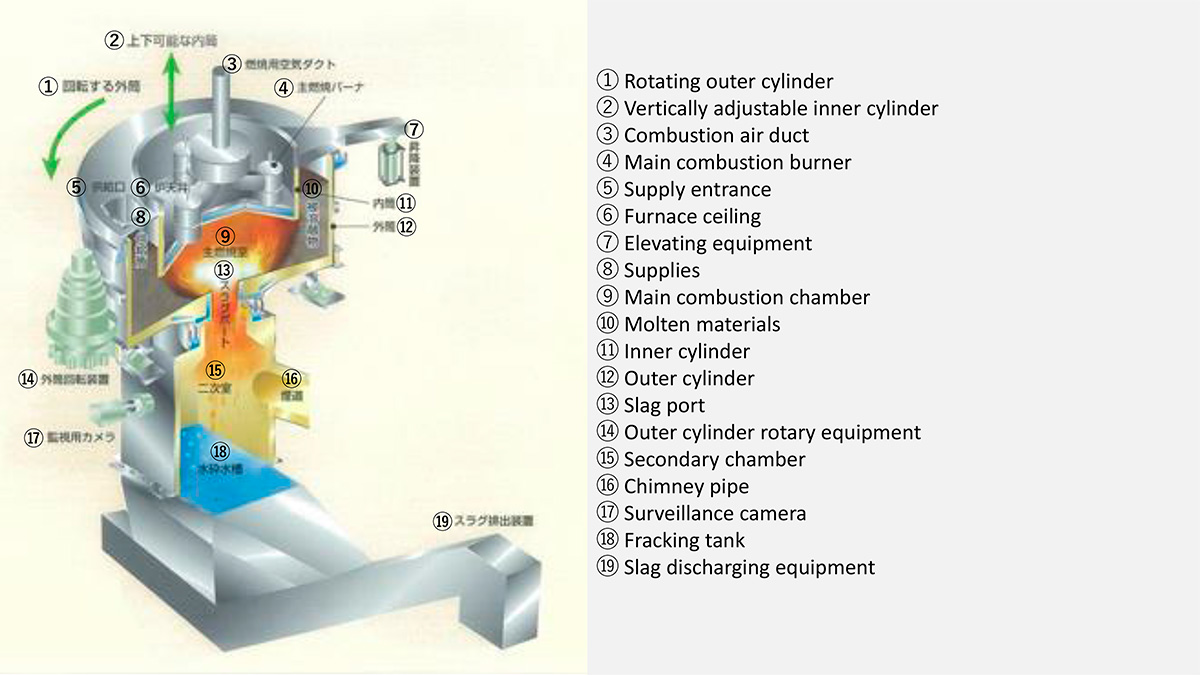 ---
As part of our garbage treatment, waste management and recycling services, the Kubota Group has partnered with Chubu Electric and other excellent recyclers to provide resource recovery solutions. Land is limited in Japan. Therefore, securing landfill space is a big issue. We want to help by reducing the amount of waste disposed of in landfills. By utilizing Kubota Group's surface melting furnace, we can reduce this burden on landfills by melting waste into slag. By doing so, optimally we can reduce the space required to less than one-tenth of what is currently needed. This is part of our GMB2030 vision.