You have a very international background having worked with major global firms. What advantages has your background brought you in the energy business?
I worked with foreign firms for over 40 years. The past 6 years have been the first time I have worked with a Japanese firm. A big challenge for all Japanese corporations right now is the shrinking domestic market and the need to expand overseas. They need to be continually competitive to meet global standards. The corporate structure and organization of a very Japanese firm is not very efficient when it comes to working in upstream energy distribution. It is not a structure that encourages development or business creation. A huge undertaking of being in my position has been to explore different ways of bringing new energy into our corporate structure. In every company, the most important element is the employees who are working there. I started change by promoting corporate culture and work style reform. I wanted to increase employees' recognition and awareness of their own individual value and start to step away from their over-dependency on the company for their livelihood until retirement. Most Japanese companies are based on the lifetime employment model but I believe that the market value of a company is nothing but the aggregate individual market values of its employees. From this standpoint, I have been looking for ways to help and encourage all employees to begin recognizing their individual value and capabilities.
What is your analysis of Japan's energy sector? How Japan can lessen its energy dependence?
Japan lacks resources and is dealing with high energy costs. Due to the shrinking domestic market, we need to expand our business globally. We believe we can maintain the viability of our business and maintain our position within the sector for a while, but it will be difficult to do so beyond that unless we make changes now. We need to invest and diversify our business. I assumed the presidency at 2019 where we started our 2nd Medium-Term Business Plan. To make dynamic advancements towards our centennial anniversary in 2027, we defined our 2nd Medium-Term Business Plan as a period of investments for building a business foundation and creation of new businesses to achieve sustainable and solid growth. We are now on our third and final term of the 2nd Medium-Term Business Plan which has been organized in three pillars. The first is improving capital efficiency. The second is investing to achieve sustainable growth. The third is changing the thinking, customs and behavior of our employees. It is quite difficult to enforce a cultural shift in a 95-year-old company. Despite that, I believe that we have made progress in the past two years. To improve our capital efficiency, we either exchanged businesses, consolidated or sold some of our assets. We increased our efficiency by getting rid of our inefficient businesses. We hope that our Medium-Term Business Plan will ensure our financial foundation. When it comes to developing new businesses, the COVID-19 period has not been the best time for us to venture into new fields. However, one of the businesses that we started which was share cycle business is now seeing some growth and expect profitability. We now have one of Japan's largest bicycle sharing business. While the developing new businesses isn't as robust as we hope it to be, we had a measure of success in establishing some new businesses and also identifying which fields we can diversify into. We will utilize the improved human resources and solid capital we acquired within the 2nd Medium-Term Business Plan to diversify into new businesses in our 3rd Medium-Term Business Plan next year.
---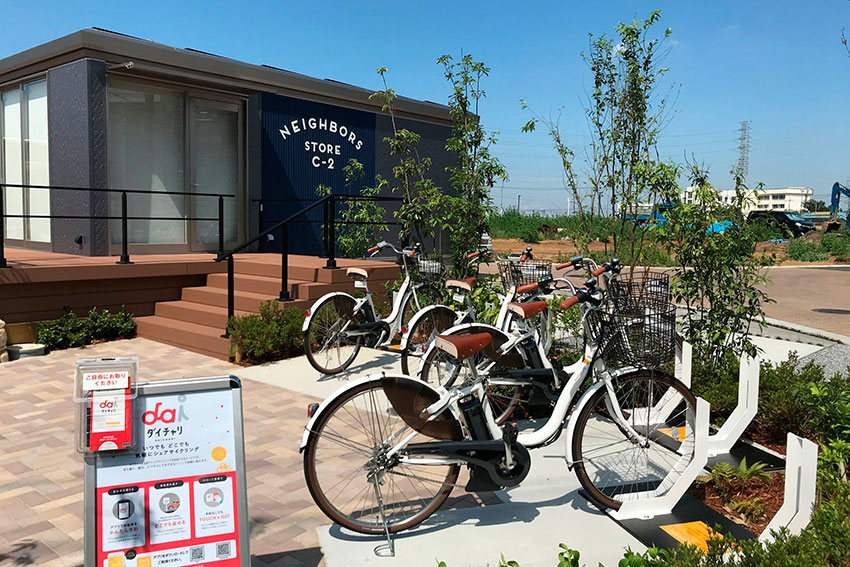 ---
I want to ask more about the market structure. You mentioned the challenge of big traditional companies and the rude awakening for many of them due to the deregulation of Japan's power and gas market in 2016. As a result, we see many new young small players with strong digital technologies disrupting the market. What was the impact of the market deregulation on Sinanen Holdings group and how are you using digital technologies for your business?
The LP (liquefied petroleum) gas deregulation led to competition in acquiring clientele. Periods of great change like today also represents a period of great opportunities. Moments of turbulence within a sector are chances to create new value. In Japan, we have around 17,000 very small "mom-and-pop" businesses who face challenges with their business succession. There are also the larger companies who struggle in having a more efficient distribution. With the change in LP gas distribution, we believe that it is important to introduce a mindset change and new corporate culture in our company. Even though the LP gas market is shrinking, there are still opportunities for us to make profit and expand our share. With the demographic decline and the shrinking market, we have to efficiently channel and diversify our generated profits from the existing business into new businesses. It is also important for us to recruit IT specialists. As a traditional Japanese company, there were no professionals in any specific fields that were developed within the company, especially when it comes to IT. We have to recruit specialists for specific job descriptions. We have very few employees who transferred to the company and are not considered lifetime employees. I made an effort to change this and recruited many more people to move into our company. Out of 106 employees of Sinanen Holdings at the end of FY2021, 31 employees (excluding transferred employees) have been recruited since FY2020 and moved into the company with specialized job experience. Having the traditional lifetime employee based model, most of our employees become generalists. They can do various jobs because they move around in various divisions. The employees are shuffled around often without developing expertise in a specific field. This is something we would like to change in our corporate structure. The manager in charge of the IT Department is encouraged to proactively invest and expand our digital and technological capabilities and start requiring all those working in the division to be DX (digital transformation) certified. We are trying to be more transparent and go paperless. We can now utilize and process our LP gas clients data such as their gas usage. The challenge now is how to utilize such data to grow the business. Collaboration with other firms is necessary to accumulate the data required to effect changes. We hope to accumulate, analyze and utilize data with other companies and apply it to our future endeavors. So far, our biggest investments have been on human resources and digital transformation.
Your second pillar is investing to achieve sustainable growth, and you mentioned shedding ineffective businesses and also acquiring new businesses as needed. Can you share an update on its progress?
Solar power is something we can pursue in renewable energy. We are looking to expand in the solar power energy sector. We believe it has a huge growth potential. With the fit model, we cannot expect huge profitably. However, with the second fit model and new PPA, there are more growth opportunities and possibility of solar power becoming the main pillar of our renewable energy business. I have no concrete information I can share at the moment but these are some of our future plans. We want to be able to introduce this to the global market.
What is the role of collaboration in your business?
Domestically, we have always done it, but with overseas partnerships, it is very important for us to find trustworthy local partners to have success. Our strategy is to identify such partners. We have to consider the risk. We are not familiar with working in overseas markets so the key for us is to partner with solid companies within the sector.
Our mission is not only to showcase Japanese products, technologies and services, but also to showcase the leaders behind each company. This year, your company is celebrating its 95-year anniversary. If we come back 5 years from now for your 100-year anniversary and have this interview all over again, what dreams and goals would you like to have accomplished by then?
Our paramount focus is to make sure that we are a company where the employees feel that they can better themselves and continue to grow in their career and have a sense of satisfaction in their value as individuals. We want them to feel a sense of fulfillment not just in their work but also in their personal lives.