What is COSMETEC JAPAN? What are your major strengths that differentiate you from competitors?
COSMETEC JAPAN is an innovative ODM/OEM company that provides full 360- degree support for those who are considering entering the health and beauty business, from planning and development to manufacturing, sales, and regulatory compliance. To explain the source of our corporate competitiveness, I would like to mention the parent company, Momotani Juntenkan, and their histroy needs to be told.
Although it is announced that it was founded in 1885, it actually dates back to the Edo period, 400 years ago. The Edo period is the era of the Tokugawa shogunate, which ruled Japan. Since then, we have served the Tokugawa family for a long time as a drug dealer. About 300 years later, the times have changed, and the Meiji era, also known as the Meiji Restoration, was an era in which the imperial system was revived under the leadership of Emperor Meiji. The Meiji era saw the disappearance of the samurai and shoguns and the birth of a new Western-style government, a time of great change for everyone living in Japan. Masajiro Momotani, the founder of our company, was born in 1863 in such an era. At the age of 15, he entered the super-prestigious "Mouzan School", which was founded under the patronage of Mutsu Munemitsu, a famous diplomat, and famous for training human resources. In 1879, Masajiro entered 'Haruta Juku' in Osaka, where he studied classical Confucianism, and at 'Hakuen Shoin', the largest private school in Osaka and the best place for learning at the time. He studied Confucianism under Mr. Nangaku. In 1880, he entered the Wakayama Prefectural Pharmaceutical School (founded in 1874), where he studied physical inorganic chemistry, organic chemistry, and pharmaceutical chemistry. In 1881, after a lot of effort, he became the first pharmacist in Wakayama Prefecture.
Masajiro was apprenticed to Dr. Ikujiro Sakurai, a top professor at Tokyo Imperial University at the time. After learning about drug discovery and pharmaceuticals, in 1885, he created "BIGANSUI Acne Lotion," a salicylic acid-based product for his wife. BIGANSUI consists of three characters: BI (beautiful), GAN (face), and SUI (water). Combining these ingredients makes "beauty water", which means that the usage is very easy to understand. After that, "BIGANSUI" was certified as a chemical heritage for the first time in Japan as a lotion prescribed by Western medicine.
Customers and locals who saw that his wife's pimples had completely healed after using "BIGANSUI" became interested, and this spread "all over Japan and around the world. This was the starting point for Momotani Juntenkan as a cosmetics manufacturer. The "Junten" in our name actually has a special meaning. Juntenkan means to follow the will of universe and render services to people. Junten has another interesting meaning: June 10, 1885, the anniversary of the founding of our company. To preserve the Juntian philosophy for future generations, the founder chose June 10 as the anniversary of the founding of the company, as well as including it in the company name.
Such a witty attempt to use English 100 years ago is novel, and I think you can feel the passion of the founder for Junten.
After that, we created various products, and in 1913, we opened a research institute for the purpose of developing and researching cosmetics, ahead of the industry, and focused especially on the research of Western medicine. In 1913, Masajiro's second son, Kanjiro Momotani, received an award from the emperor as a chief researcher at the Graduate School of Medicine, Tokyo Imperial University. This was a big event for our company, after which the imperial family purchased Momotani Juntenkan's products.
In 1927, Kanjiro was awarded the Legion of Honour by the French government in recognition of his contribution to cultural exchange between Japan and France. In 1928, Masajiro was commended by Emperor Showa for his contribution to society. In 1932, Masayoshi Ohira, the future prime minister, joined the company and worked there. Since 1932, we have developed many products such as "MEISHOKU Cleansing Cream" and " MEISHOKU Color Astringent", which became the best-selling cosmetic product in Japan.
1993 was a big year when we shifted to group management and split into three companies. "Momotani Juntenkan", which is responsible for the group's management strategy, "Meishoku Cosmetic", which sells trend-matching products in the general market, and "Cosmetec Japan", which handles the OEM/ODM business.
Today, our core business is to fully support the health and beauty business, and we are known as an innovative OEM company. I think the concept of the cosmetics we propose to our clients is very different from the general OEM business. Branding, naming, sales methods, etc. are provided by us, so we said full support. If anything, it feels like a consulting company that creates business. Our clients are diverse and come from all walks of life, but as a general rule we try not to do business with cost-conscious companies. Usually, those companies are only interested in cost and only interested in lowering it. That's what we don't want and don't need. Our creed is to deliver excellent products with added value to the world and to please our client companies and customers. Therefore, the purpose of COSMETEC JAPAN is "ZERO to ONE ", which is a market-creating OEM/ODM that creates new value from scratch.
---
---
Research and development, which is the heart of the group, is divided into five departments according to their specialties. The first is "R&D department", which develops formulations and confirms safety and stability. The second is "Frontier Research Laboratories", which conducts efficacy tests and basic research in new fields. Next is "Global R&D laboratory", which studies global trends and pharmaceutical regulations. The world is constantly changing, and companies need to adapt to that change. Next is Manufacturing Technology laboratory, which focuses on scale-up manufacturing of laboratory formulas and technical support for all manufacturing issues. Finally, there is Next Research and Innovation Labo, which focuses on joint development with universities and partner companies. The purpose of this division of R&D is to expedite the R&D process by having each division focus on specific issues.
---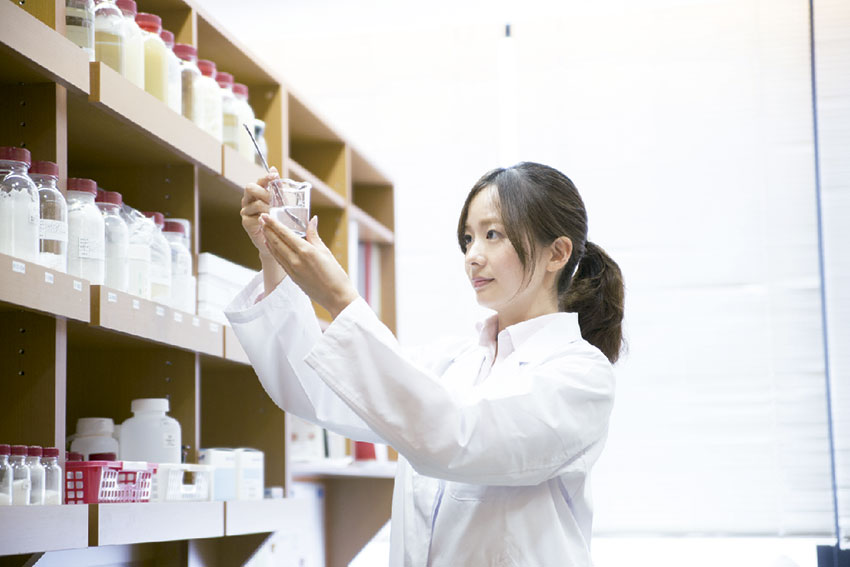 ---
The group established a specialist dermatology clinic, as this sector is growing rapidly. Recently, cosmetics and medical care have become very close, and there are many products that transcend the fields, and we would like to provide a wide range of support in the fields of beauty and health.
When it comes to cosmetics, from an environmental perspective, volatile organic compounds in fragrances, hairsprays, disinfectants, etc. often contribute to smog and air pollution. Domestically, the former Kan administration has said that it is necessary to realize a carbon-neutral society by 2050. What are you doing to reduce your environmental footprint and achieve carbon neutrality?
Our manufacturing plant is located in Okayama Prefecture, a land rich in nature, and we are really enthusiastic about our work. We are dedicated to the 3R activities of reduce, reuse and recycle. The factory has already achieved zero emissions in terms of industrial waste. We are also working with partner companies to recycle everything, make compost, and use said compost to grow plants on the factory premises. We also believe that the fact that 50% of the plant's operations are powered by non-fossil fuel electricity is a key point in achieving zero emissions. This is a combination of solar power and wind power, which is very important not only for social contribution, but also for protecting the earth from harm.
---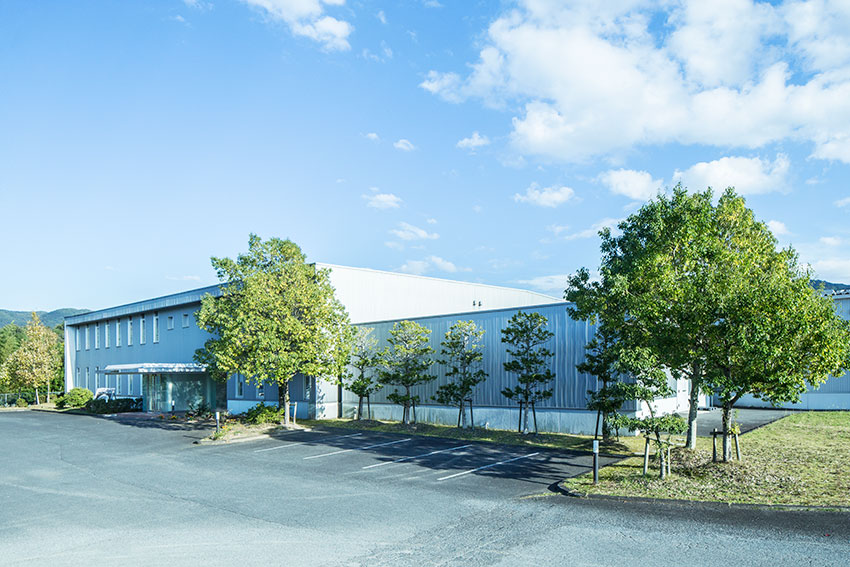 ---
In 2020, we launched a line of eco-friendly skincare products for Muslim women. The series is halal-certified, allowing it to attract environmentally conscious consumers in Southeast Asia. Happiness Beaute 's new skin care product series is based on the concept of "SUSTAINABLE BEAUTY for me, for all", with the aim of making the skin beautiful while preserving the beauty of the global environment.
We are also committed to gender equality, with women accounting for 43% of all management positions. According to 2019 data, the average for Japanese companies is about 11 %, so we have achieved a fourfold increase.
The president of one company said that due to the characteristics of Asian skin, major companies have more than 3,000 types of moisturizers. We offer a wide variety of skin care products, including cleansing creams and lotions. How do you manage to accommodate different skin types?
Although we have only introduced a few examples on our website, we have more than 60,000 completed formulations, and we are still creating new formulations every day to meet the needs of all our customers. Currently, there are more than 100 active clients alone, and each company handles many cosmetics, and the number is over 400 per year. We also handle health foods, which is expanding as a very interesting market.
We are currently working on products for 24 countries, and each country has an infinite variety of skin types, so we will work together with our clients to realize their needs . We typically give clients a prototype formulation and, based on their feedback, we adjust the formulation to meet their needs and requirements. We can provide anything.
---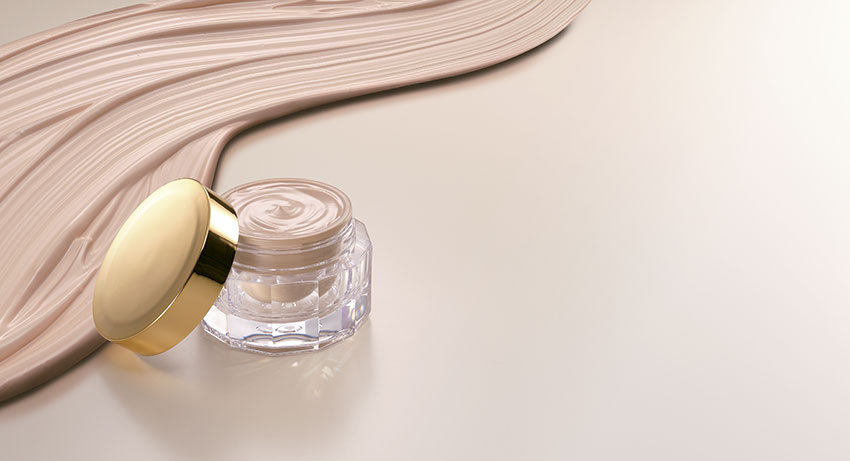 ---
We also offer more than prescriptions to our clients. As I mentioned earlier, we take care of our clients, from formula design to branding, naming, and marketing and sales method proposals.
As a result, we have received high praise from overseas clients. In fact, we have received an award, the "Alibaba Supplier Award Winner" from Alibaba, for our quality and service, and we were also interviewed by Forbes Asia magazine. At the beginning of 2020, just before the pandemic, an exhibition was to be be held under the theme of "J-Beauty to spread the beauty of Japan to the world", such as cosmetics that make use of traditional Japanese beauty ingredients, cosmetics that incorporate the latest technology and subculture, etc. Also, a famous make-up artist liked our group's make-up products for a runway model at Paris Fashion Week 2020-2021. This kind of exposure has also boosted us, and we are currently developing business in 24 countries around the world, and we would like to reinforce our worldwide business once the pandemic is over.
Your company's first research institute was established in 1913 and is the oldest research institute specializing in cosmetics in Japan. Thanks to that, you were able to develop many innovative products, including unique materials such as warming gels, carbonated packs, and thixotropic gels. Are you developing other unique materials?
One of the institutes that I just described is currently focused on fungal research. This is because there are many living bacteria in our bodies, and they have a great influence on the health and aging of the body.
We have conducted a special study on bacteria attached to the human face. The condition of the skin changes depending on the bacteria, so it is important to research how to control it. With that in mind, we devised and patented the "Flora Controller FC161" that supports beautiful skin even as we age. This product increases the good bacteria on your face and reduces the bad bacteria. I would like to spread the word about this revolutionary ingredient, but the regulations on cosmetics in Japan are somewhat outdated.
It's a funny story, I think. One interesting thing is that this ingredient can be applied to textiles and used in production. We call it "Moist Fiber". Due to the COVID pandemic, masks have been essential for a long time, but I found that many people have rough skin with masks, so I made a mask with this "Moist Fiber". It increases the ratio of skin- beautifying bacteria, so wearing a mask will keep your skin moisturized and in a very good condition. It was well received by many people. We anticipate that there will be possibilities in various directions in the future. This "Moist Fiber" can be deployed overseas as well.
---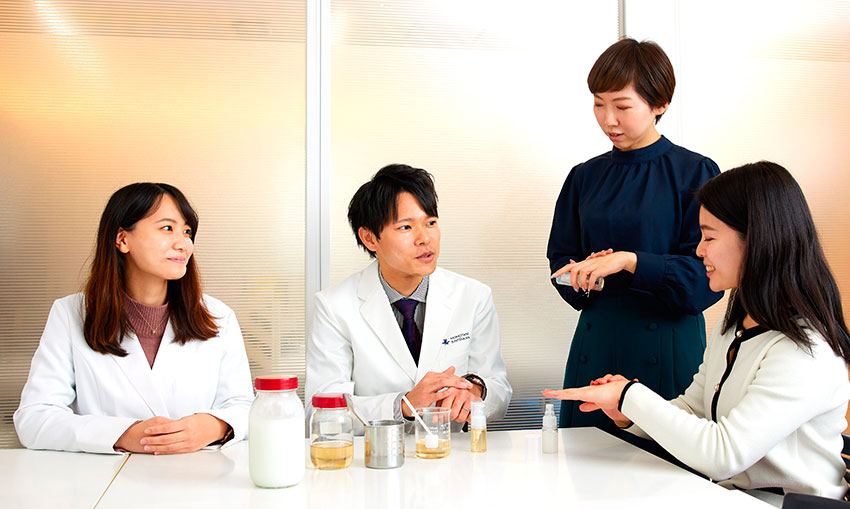 ---
What role do partnerships play in your business model?
In my opinion, all aspects of our business are collaborations. Come to think of it, we work together with the client to come up with a solution to their needs, and it feels like the client's cosmetics department
What are your thoughts on overseas production sites?
Unfortunately, we are not interested in overseas production at the moment. This is because they are required to be made in Japan. Actually,we have many oversease clients, and currently our overseas sales ratio is 20-30 %. Although our production costs are not cheap, our clients tell us that the quality of Japanese products is good, and that is what they want. In terms of production, I would rather stick to Japanese products. That said, collaboration is very important, especially when pursuing new technologies. Our company is very open to collaborating with like-minded companies and clients. We are always looking for new things.
---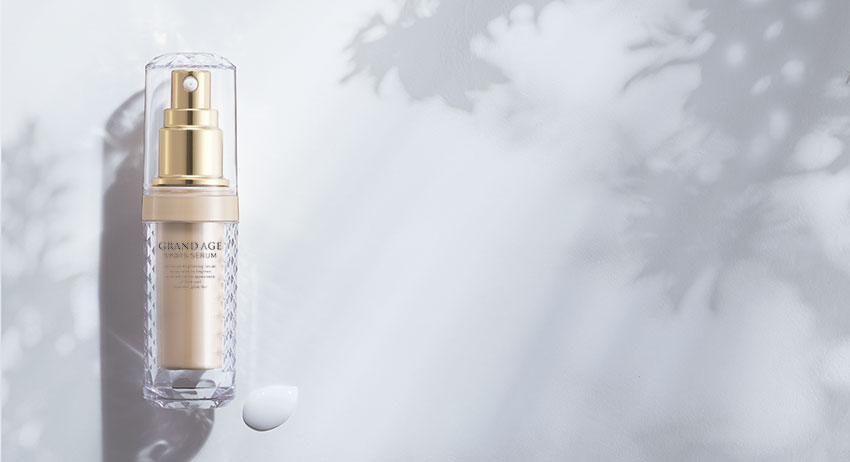 ---
What are the strengths and weaknesses of the Japanese chemical industry from a cosmetics perspective?
The global average skincare market composition ratio is 36 %, 30 % in the United States, and 53 % in Japan. In other words, Japanese women's interest in skin care is extremely high, and I dare say that Japanese women's skin is beautiful. People who are highly interested in skincare demand high quality products, and a company like mine must meet that demand. It may be different for other cosmetics categories, but when it comes to skincare, I feel that the quality of products made in Japan is the best in the world. I think that is the secret of Japan's strength in cosmetics.
In any case, the domestic market is limited and cannot compete with local competitors on cost. To be honest, our costs are higher for our clients. That's the reality. However quality does not come cheap and our customers understand this very well and continue to do business with us.
The COVID-19 pandemic has negatively impacted the cosmetics industry worldwide. However, it is gradually recovering to pre-pandemic levels and is expected to reach about $450 billion in 2028. What opportunities does this market growth present for your company, and how do you plan to take advantage of them?
Sales in 2021 will be 110%, and we expect another 5% increase this year, and we are already recovering well. From my point of view, we are not a very big company, and as I said earlier, we tend not to touch cost conscious companies. Our policy is not only to control the market, but also to create new markets, thereby creating new opportunities for growth. For me personally, rather than the size of the global market, I value creating new markets purely through win-win relationships with good partners.
Considering the domestic market in Japan, the market is shrinking, especially due to the aging population. However, I still feel that there are still many new business opportunities. Men's cosmetics is a growing area, and Gen Z men will become regular users of cosmetics and skincare. It's a new opportunity for us. Also, considering the young generation growing up now, there is a lot of information about cosmetics thanks to social media. Now it's becoming a younger generation.
Another thing I noticed was the trouble caused by the use of surgical masks during the pandemic. This was essential to prevent the spread of COVID-19, but it caused many people to have rough skin. As a result, the demand for skin care that improves rough skin has increased. In addition, among those who have used masks, most of their faces are covered by the masks, so more people than ever have taken care of their eyes and hair. Unexpected situations like this can create new worries and problems for people, and we believe that solving them will lead to the creation of new markets. If you look at it from a different perspective, change it to. There are many opportunities and businesses in the cosmetics industry, so I am not worried about fluctuations in the overall market. The key is to identify trends, find opportunities, and respond quickly.
---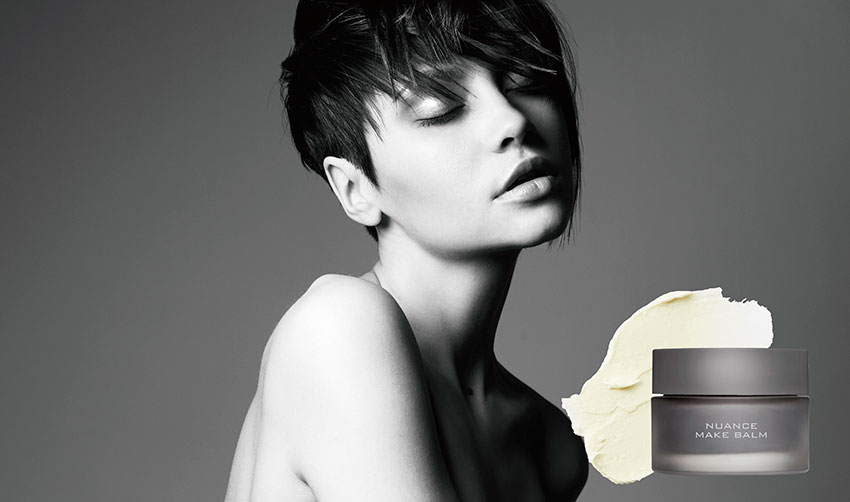 ---
Imagine going back in five years and doing this interview again. Please tell us about Cosmetec Japan's goals and future prospects.
Our commitment is not sales. Our hope is to make people happy. We affirm that our purpose is to make many customers satisfied and happy with our products and services. Therefore, I hope that excellent staff with the same thoughts will gather together.
So far, I am very satisfied with my achievements, and since I am turning 60 this year, it is time to find a successor. We also have to make the company successful and create something to pass on to the next generation.