What is your monozukuri, and what do you believe to be the strengths of your firm that allow you to cater to and compete in the international market?
First, I would like to give you an overview of the company, and of my own experience. When I came from Toyota in 2013, I realized that there were some management problems, and the company was in a deficit. My father-in-law told me not to change anything for three years. However, without change I knew that our company would not survive, so I made drastic changes. Some newspapers have labeled me as a fighter. After one year working at the company, one day, I found a piece of a drill in my shoe. This was a sign to show that I wasn't appreciated. However, it was also a sign that told me that I should make more changes.
---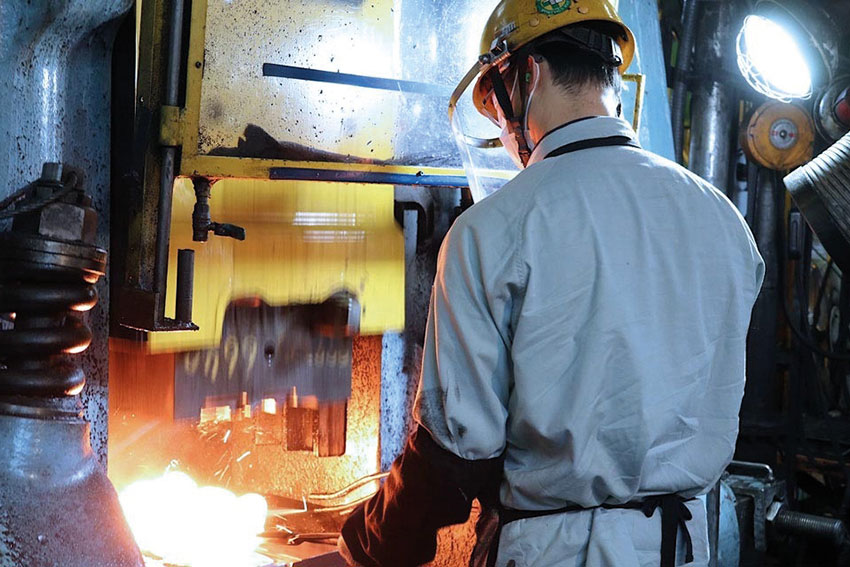 Asahi Tekko forging machine
---
My basic philosophy is to let people do value-added work. What I want for this company is to develop the means to attain value-added work. The reason why we do kaizen (or make improvements) is to make a person's work easier. If it became harder, then nobody would appreciate it. DX sounds complicated, but simply put, it is using digital means to make a person's work easier. Once people get used to digital means, that will lead to digital transformation. One great example is our IoT system iXacs. We needed a lot of effort to improve our factory efficiency (kaizen activity). Employees had to take a lot of data, cycle times, operating ratios, the reasons to disturb production and so on. I wanted employees to do only value added jobs and tried to gather necessary data automatically.
---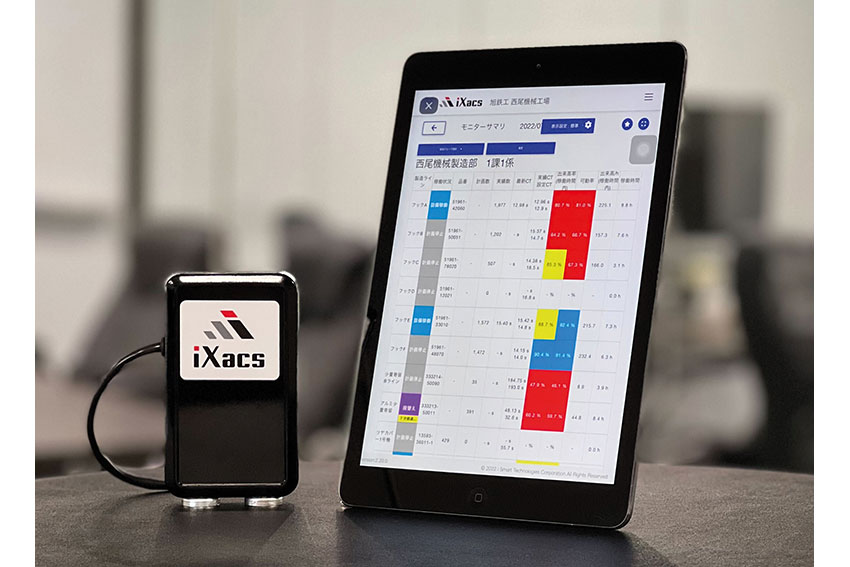 iXacs transmitter and monitoring screen
---
Now the i-Xacs is collecting necessary data automatically using IoT technologies 24 hours a day, 7days a week. And iXacs analyzes the collected data to visualize the issues of the production lines based on Kaizen activity know-how. It accelerates kaizen activity drastically. When I talk about making more changes, there is always a group of people who resist. However, we need to think about the whole picture. If the majority of the group is happy and it's necessary to do it for the future, then you have to move on and make the changes, for the sake of the future of the majority. Making big changes at one time can be difficult, however, making small changes step by step, is a more beneficial way to change things. It is important to find your friends and extend goodwill. That is how I make changes. For example, seven years ago, I wanted to make a change to one production line using iXacs data, and one of my colleagues was very supportive. He tried to utilize the IoT data and helped me to make the changes that I wanted together and finally it bore some fruit. That experience led to other production lines also making changes. In our company, the members who have pushed kaizen forward at Asahi Tekko have come together.
I am also very particular about learning good practices from other companies, and when I find something good, I try to replicate it even if it's only partial. However, in my opinion, many Japanese companies have many good practices, but they refuse to make changes, and they come up with excuses as to why they won't change the way things are done. I am very determined when it comes to DX. I tell people that it means a transformation and requires things to be done in new and improved ways or rules. However, in some instances, I need to push this mentality. I am taking the lead in changing the rules in order to introduce DX. Time means cost, so I want to let people do value-added work.
I myself don't sign documents that are moved around each department, and when it comes to meetings, I prefer to attend remotely, because if I go to a meeting, then everyone needs to be present there. I also use business chat apps like Slack to communicate easier and more efficiently. For example, we have a safety channel on it, and if there is an issue or a danger in the office or the factory, employees post the pictures with some comments about it so we can quickly identify it and quickly fix it. Conventionally a person would need to take a photo of damages and put it into a word document, print it out and then circulate it around in order to receive approval to fix it. With our way to communicate using the business chat, we simply post the photos. People have learned from this example, they started to post other photos to show the issues they find. This is a simple process, but it is very effective, and we can easily see our company's improvements.
I prefer to attend meetings remotely, as there is no value added in attending in person. If there was, I would go. That being said, we have a kaizen project which will be completed in three months in which we have a graduation ceremony that I will attend in person. Our people explained to me about the kaizen they wanted to do, and what the outcome of their project was, and I congratulated and praised them. We have a meeting, and afterwards, we take photos together, and I share their reports on Slack, which leads to increased motivation.
---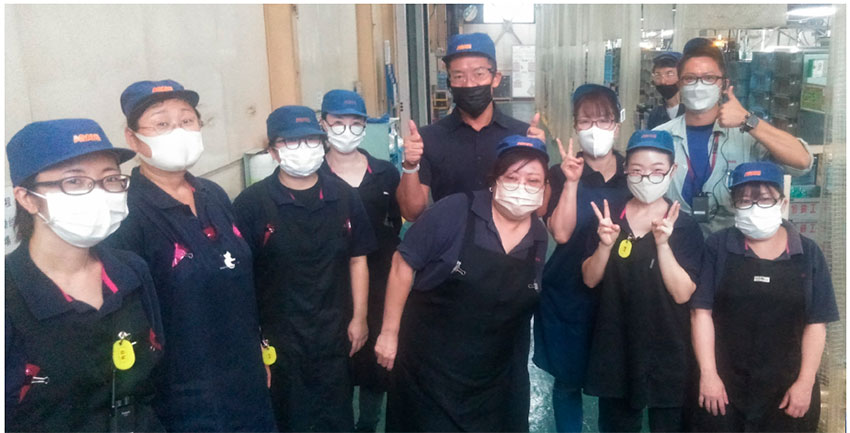 Asahi Tekko staff at graduation ceremony
---
This is very important, as the ideas that I post on Slack, allow our employees to identify what kinds of kaizen is wanted. This is a very effective way to convey my ideas and philosophize my employees. Trying is very important, and I always encourage my employees to try.
At first, I focused on addressing the company's issues and improving the way the company was operating. By nurturing the foundations of the company, I wanted to add more value. Lowering labor costs and stabilizing the company's management was my first focus. That allowed us to increase our output, such as making face shields for example. We also produce titanium made cutting boards that are B2C focused. It is difficult to create a new channel when it comes to B2B and selling titanium materials. So, we have increased our experience via B2C channels. We produce forged steel cooking tools, and they have been quite popular. We also have a barbecue grill and a barbecue board. We do not expect to earn profit from these B2C businesses. However, these projects are enjoyable for our employees, and it also provides them with new challenges.
---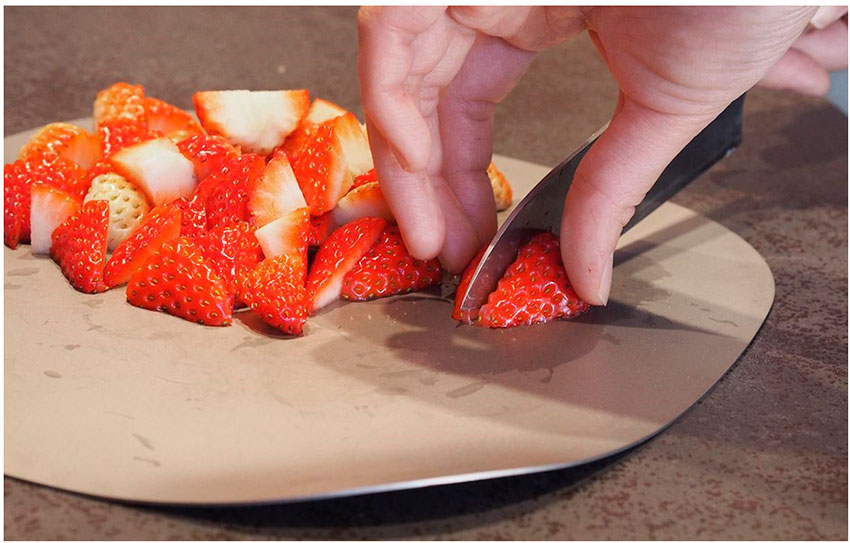 Titanium made Cutting board
---
We know that for 2050, carbon neutrality is a major goal. However, in the interim, Japan has set a target for its manufacturers to reduce carbon levels by 46% from 2013 levels. How have you reduced your carbon footprint, and do you think this 46% reduction by the end of this decade is a realistic target?
I personally feel that it may not be feasible to reach this 46% reduction so soon. However, we are taking measures to go carbon neutral without having any cost. Toyota has aimed to reduce carbon dioxide emissions by 35%, by the year 2030. In addition, our electricity prices have increased by 45% in a year. We have an annual turnover of JPY 15 billion, and our electricity costs JPY 400 million. The 45% annual increase for electricity is a big issue that we have to tackle. However, we were able to reduce our labor costs by JPY 400 million, and also reduce our electricity costs by 22% (2013 vs 2022). The global trend is to have new facilities that are more efficient when it comes to electricity, or to change to a renewable energy source. The cost for both of these options is very high. This leads to less competitiveness, so companies are hesitant. However, our company started taking measures to reduce our labor costs and electricity costs through kaizen activities. By having this buffer, we are able to invest in purchasing renewable energy.
I think we are the only company who is saying this. For example, a lightbulb that is turned off at lunchtime in the office is only 40W each. However, when it comes to the production lines, there are some 1600W machines which are not turned off. You need to really understand where the electricity is used in numbers. Companies may try to buy more energy efficient facilities, but we are not sure if that is very effective. You need to have numerical data. It is important to let the data be visualized, and then analyze it to find issues by seeing how effective these facilities are in numbers. We are able to measure 95% of our real time usage of electricity and gas. We are also able to directly measure each building and area, to determine their gas and electricity usage.
Every ten minutes, the real time consumption levels are measured, and this data is used for total control as well as factory management of energy consumption. For example, we do the measurement, but we assume the real time electricity consumption, and this data is used for improving each production line. We realized that some of our machines can be shut down during lunchtime. By making the numbers visual, you can understand how effective and how important it is to take the measurements. We are also able to track the measurements at night and found some facilities that supply compressed air to the production machines have excessive performance and so we introduced a more appropriate one to reduce extra consumption. It reduced electricity use by 2.7%.
---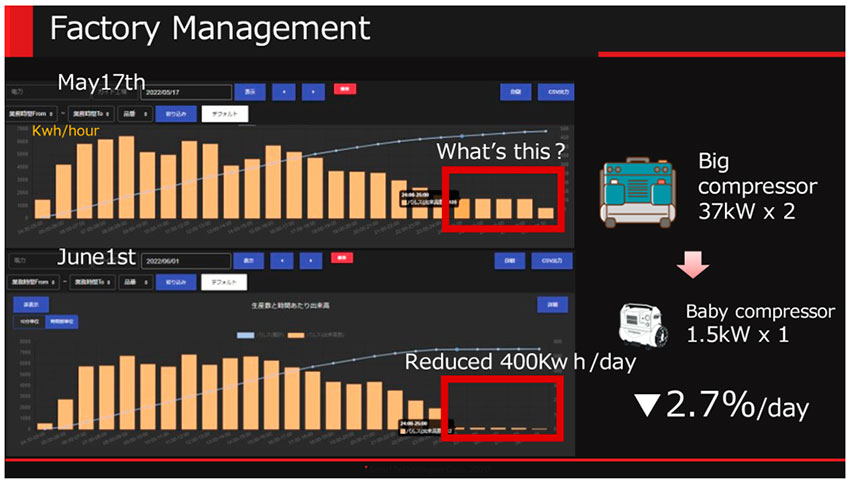 Electricity consumption before and after Kaizen
---
For Asahi Tekko to measure the carbon footprint of each mass-produced item, it requires 1,000 machines to be measured in a normal way. Of course it's very costly, and there is a shortage of semiconductors now, so we cannot easily purchase an electricity measurement device.
We have software with i-Xacs to collect all the data, and we have also made software models to estimate the energy consumption. We take a short measurement of a specific period of the operation of the machines and the electricity consumption, and we calibrate the model. From that point on, we can refer to that, and once we have the actual operation data, we can estimate the electricity consumption.
---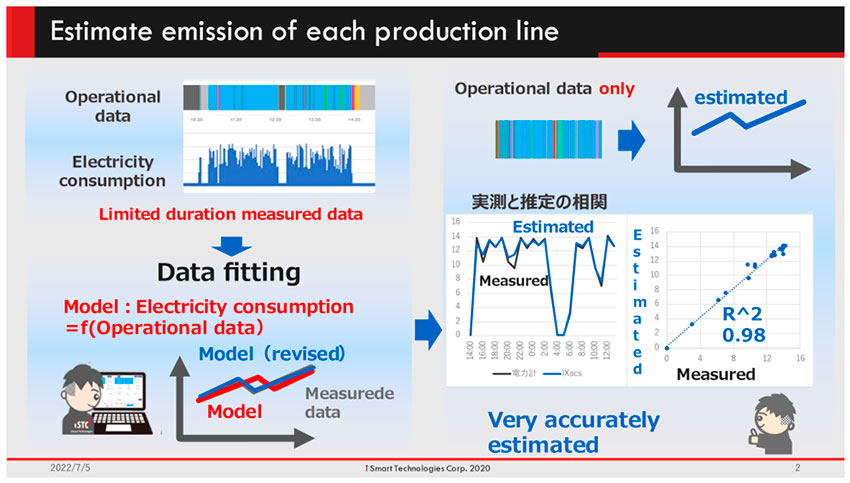 Emissions estimate system for carbon footprint analysis
---
We still need more testing of the data, but it has quite a high level of accuracy and this can be very effective. Regarding Toyota's method, work is divided into something substantial or something that needs to be done, and extra or unnecessary work. Likewise with carbon dioxide, some levels of carbon dioxide need to be omitted, while other carbon dioxide emissions are necessary. For example, for one facility, when you are operating, 2.45kW is consumed, however, when turning on the power alone, 1.6kW is consumed, which means that there is a loss of carbon dioxide by just turning on the power. We visualize the necessary emissions in blue and unnecessary ones in red or orange. This allows us to prioritize what to do first.
---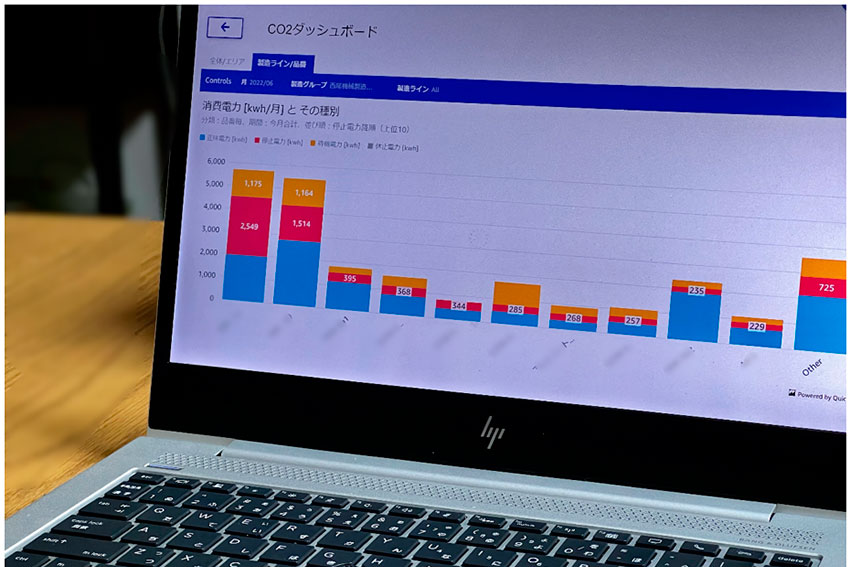 Bule shows necessary emissions and red and orange show unnecessary emissions
---
It is very interesting to consider the relationships between digital technologies and making environmental improvements. We know that you provide services through iSmart to many Japanese manufacturers in order to improve their efficiency and productivity. These services include your production line monitoring system, as well as training and consulting services. Could you give us a brief overview of these services and how you are supporting the evolution of Japanese manufacturers through i-Smart?
When we do consultancy with firms, and there are issues, we say that there are three monkeys. One that does not see, one that does not communicate, and one that does not know what to do. IoT can only tackle the "no-seeing monkey". We cannot tackle the other two monkeys with IoT alone. We first started by providing IoT through our i-Xacs system, but we realized that it was not enough, so we provided consulting and other solutions to tackle the other two monkeys. We provide three months service to i-Xacs users, working hand in hand to ensure they are able to utilize the system. For the companies where the introduction of this system is not enough, we provide consulting services such as advising on the structure of the company and the training of the company's personnel. Our consultants all have experience in doing kaizen by themselves, so they can understand how it feels. The mission of our smart technology company is to promote and transfer the success made by Asahi Tekko to other Japanese companies through IoT. We also need to make profit, and at the same time, contribute to carbon neutrality. i-Xacs has progressed and now it is incorporated into carbon dioxide reduction. Since we have introduced this IoT system, we can receive the client's data remotely. At first, we went to visit the site, but after that we consulted remotely.
---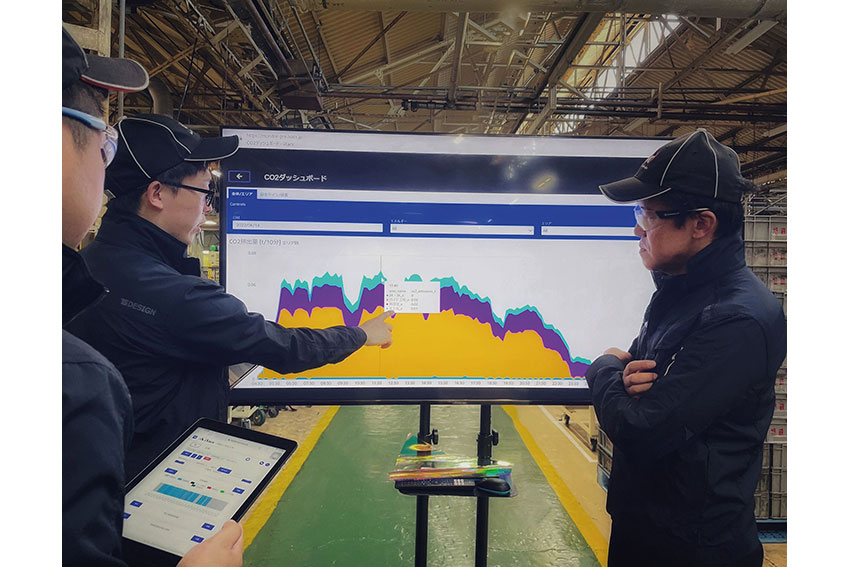 Discussion in front of the screen which shows emission data in the factory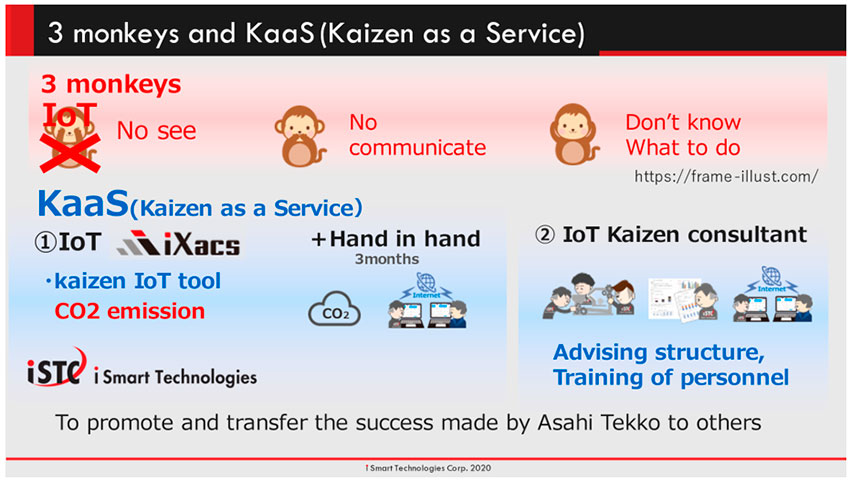 3 monkeys and KaaS (Kaizen as a Service)
---
Is this a service that you are only providing to manufacturers in Japan, or do you provide this service to overseas manufacturers?
We also provide this service in Thailand. We have links to ten companies, with five running our system, and five planning to implement it. We have our base in Thailand, so we can provide our service locally. We may look to expand once we have consolidated Thailand, but the members here only speak Japanese.
We provide our services to several different industries such as screw manufacturers, chemical manufacturers, and electronic component manufacturers. Regardless of the industry, these kaizen activities are basically the same.
Are you pursuing international collaboration opportunities?
In the future, we will consider international collaboration, however, we first need to consider Japan and Thailand and make sure that the business is running smoothly here.
I would like to share some information with you on the subject of using data in the finance industry. You can use the data in finance and statistics. Asahi Tekko is monitoring 210 production lines. There are so many that you cannot tell the overview, so I made a graph. It gives you a generic view of a company's production. On each production line, there is an amount of value for each product, as well as a value-added element. The red shows the loss amount, and we have to fix this. We take measurements of the production value every hour, which also allows us to measure it by day. It highlights the five areas that are good and the five areas that are bad. This tells you which line is not operating enough, which means you can combine it or change it to produce other products.
Our system can determine this without incorporating massive systems like SAP. It also shows you the operating hours, which allows you to make management decisions to combine operations with other products. We are able to make improvements where there is the greatest loss amount. You can calculate by dividing the production values with the operating hours. You can tell per hour how much that is, but with myself being the president, I increase that by an extra 80%. If there is an area not doing well in terms of value per hour, we either stop the production or ask the client to increase the price. The improvement of each line is up to the workers, but it is a management decision to decide to cease production on a line.
---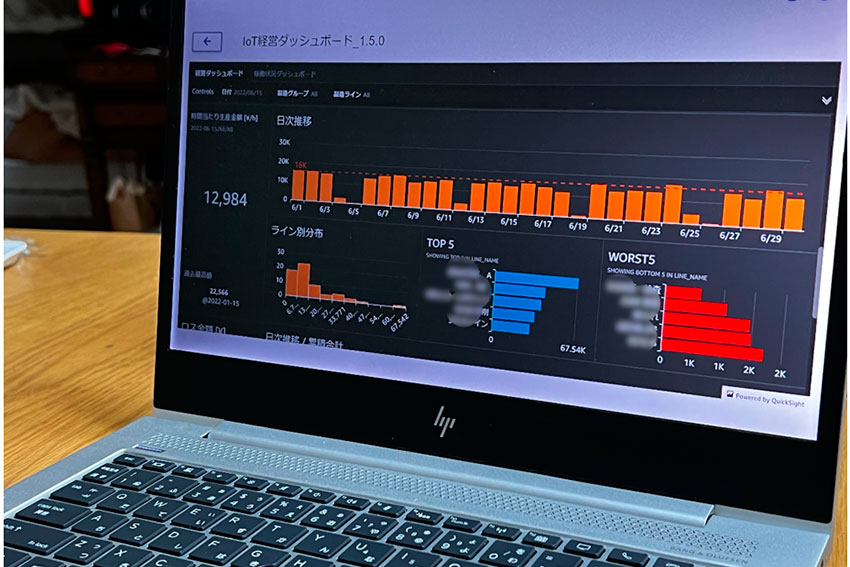 The screen shows the production values with the operating hours
---
Many banks and financial institutions can use this, as it allows the banks to see the data in real time. For example, if one were to ask for a loan of JPY 50 million, they would tell the bank that they want to make 10,000 units of a particular product per month. The bank cannot tell immediately how production is going, as they must wait for the settlement document. With the bank knowing the exact number of sales, for example, you are only selling 5,000 even though you said 10,000, they can be active in opening up channels to sell. This means their role would change. Also, they can be a consultant and give more advice on operations. Our data is simple data, but it is easy to use for financial institutions. Banks are working together with multiple companies so it can determine what is the average percentage of operations, and advise on kaizen activities. They can also assume the real time profitability of a company. With IoT data, they can determine the Profit and Loss statement and the lending priority.
I am sure that our data collection technology will make a drastic change in the financial industry. I believe that if you could gather 1,000 companies' manufacturing data, it could be used as statistics. There is a high possibility that by using this data, you would be able to visualize economic trends, or see how effective government policies are.
Since your arrival in 2013, you mentioned that you immediately recognized the need for change. In the past 10 or so years, one area that hasn't been explored too much is the international market. Your company has been present in Thailand since before your entry to the company. Can you tell us about your dreams for your international business?
I am more focused on our domestic business. It has been harder to penetrate the Japanese market than I had expected, and there are many things that I still need to do. First, I would like to have more clients, so we can gather more data, as with the data we are able to do many new things. Carbon neutrality is one of the areas that it would be effective to use our system in. Through our work, we want to contribute towards fortifying Japanese competitiveness. In order to increase competitiveness, kaizen is necessary. However, not all companies consider it as needed. Carbon neutrality though, is something that all companies need to do. It is inevitable. With this in mind, we are able to help companies do the kaizen that is needed.
By changing our own company, the company culture has changed, and people are enjoying their work more. That is something that is lacking in many Japanese companies. Hopefully with our system, we can change that.
We have seen that your company has an article on Bloomberg, and of course today you are being interviewed by international media. What message would you like to send to the world, by having interviews with Bloomberg and other international media?
As I mentioned at the beginning of this interview, my philosophy is to let people do the work that is value-added. That is not confined to Japan, but to global society. People's working hours could be reduced, but there could be more value added during their working hours. Through our systems and technologies, we would like to contribute to that, so that people can go home early and stay at home with their families. We also want to decrease the number of unnecessary jobs, to allow people to do more innovative work with increased output value. That would lead to the betterment of our society.
Your company is this year celebrating its 81st year anniversary. Imagine that we came back four years from now for your 85th anniversary and have this interview all over again. What would you like to tell us? What are your dreams for this company, and what are the goals that you would like to have accomplished by then?
In four years, when you come back, I would like to say that through our example at Asahi Tekko, there will be a considerable reduction to labor costs, as well as carbon dioxide emissions amongst Japanese manufacturers. We want to apply our example to other companies in Japan, in order to vitalize those companies. Also, through data collection and our experience, we want to create new value, and make positive changes for society. Asahi Tekko included Japanese companies that are struggling to hire employees. We haven't fired any of our employees, but our number of employees is decreasing every year. To address this issue, we need to incorporate automation and let people do the work that only humans can do. Looking at other companies in Japan, the challenging spirit has decreased, so we need to make changes, and we need to challenge ourselves more. This is necessary to ensure that Japanese companies are able to remain competitive in the future.