Japan's first construction boom occurred in the 1960s before the first Tokyo Olympics games in 1964, and nowadays we see that many construction projects are aged and in need of repair. Japan, of course, has an aging and declining population, which means that the demand for new building projects is dwindling, especially in big cities like Tokyo and Osaka where scrap-and-build policies are still in place. Can you give us your assessment of Japan's current construction needs and where you foresee Japan's construction industry developing in the future?
Construction projects over the past several decades have been experiencing problems with deterioration as you described, and thus there is a real need for redevelopment. Repair and maintenance need to be conducted on a higher scale, and this demand has been growing steadily over the past several years. To put it simply, I think this is an accurate description of the current needs in the construction sector domestically.
As I mentioned, the population in Japan is plunging and is also famous for being the oldest population in the world. Only Okinawa saw an increase in population last year, and with this aging population, companies are finding it harder to recruit talented graduates. Another side effect is the fact that projects in Japan are slowly dwindling, and we are seeing many Japanese construction firms going overseas to find new opportunities. From your perspective, what do you see as the challenges and opportunities being presented by this declining population?
From a pure numbers perspective, the headcount here in Japan is dropping down, and the usual way to think about it is the fact that the market is going to shrink also. The fewer people here in Japan, the fewer chances to expand business domestically. This is a natural side effect of social issues. On the other hand, however, I would say we are trying our best to overcome these problems and to be quite frank, this isn't a new issue for Japan and Japanese companies. Right now, I would say that our company hasn't felt too much of an effect from this issue and I think that is because we are not a manufacturing company. We do have processing facilities, but it is on a lower scale than most manufacturers.
I'm sure you have seen how much companies related to services have been suffering in recent years, not only because of the lack of personnel but also the increasing fees and salaries. An example can be seen with deliveries from trucks, which have been increasing fees because of lack of driver year on year. That is the kind of situation that other companies have been experiencing, and we are lucky that we are not in this situation just yet.
What we have done to overcome this situation is extend the life cycle of personnel in the company. Officially the retirement age in Japan is 65, however, if an employee is strong enough and knowledgeable enough, we are more than willing to allow them to continue working for as long as they desire. We still have personnel working here at Dentesu Shoji beyond their 70s.
The JPY has experienced a huge devaluation over the past year, especially against the USD. This is making it much more expensive to import raw materials here to Japan, but on the other hand, it is making Made-in-Japan products much cheaper to export. For the first time in many decades, we are seeing that Made-in-Japan is actually more affordable than Chinese goods because of all the issues China is currently experiencing. As a trading company with expertise between both producers and end users could you give us your take on this currency devaluation? Do you see it as an opportunity to expand your business internationally?
It is hard to say because a few months ago it was cheaper, but since then it has rebounded back again. As with many currencies, there are ups and downs and its key to catch the momentum at the right opportunity. The short answer to your question is that we don't tend to focus on taking advantage of these short-term fluctuations, but rather try to stick to our guns and consistently take advantage of the job we do, which we feel we are rather good at. We as a trading company are getting the best out of importing goods from overseas companies.
Basically, we are aiming to go to the places that those giant trading houses cannot go, and this may be because those companies are just not willing to go to a location because of a variety of reasons. Common sense dictates that as a smaller company, niche locations are key to expanding further overseas. There are several examples of this. One that comes to mind is a construction site in Qatar Ras Laffan where the construction of LNG cooling water pipeline is taking place. This project will be used Large Dia Pipe OD1600mm, if this readymade product is imported from Japan or Korea, transportation cost is very expensive. In order to reduction of transportation cost we make joint venture with Korean spiral pipe maker to construct temporary spiral mill in Quatar. So finally we provide 44,000MT pipe for this project. We contribute 6.2 million USD aspect of transportation.
What we are doing is working closely with overseas company who are introducing Spiral pipe mill maker and spiral pipe equipment from Korea. We discovered a company from Busan that was capable of manufacturing this spiral pipe equipment. By combining the raw materials from Japan Nippon Steel and the equipment from Korea they were able to prefabricate these necessary parts for the construction of cooling pipe in Qatar. This is just one example of what the company has done in the past and demonstrates how even small companies are capable of finding their own way.
---
Ras Laffan Cooling Water Pipe line Project
Ras Laffan Cooling Water Pipe line Project
Ras Laffan Cooling Water Pipe line Project
---
Historically your company is a trading company that focused on the railway industry. We know that you supply in excess of 30,000 tons of railway material and turnouts annually, both new and used. More recently you have been diversifying by making new products such as flange beams and sheet piles. Could you tell us today who is your current customer base and looking towards the future, where do you see new growth opportunities for your business?
Rails, H-beams and sheet piles are civil engineering materials. The customers of the Iron & Steel Department and the Civil Engineering & Building Materials Department, both of which deal with civil engineering products, are common major general contractors. In addition, medium-sized general contractors are the main ones in the development department that handles steel frames for construction. The Steel Department and the Civil Engineering and Construction Materials Department must constantly exchange information and strive to develop high-quality, inexpensive imported products in order to meet customer demands. In the future, we are thinking of supplying to the construction field of the development department, which has strict hiring conditions.
---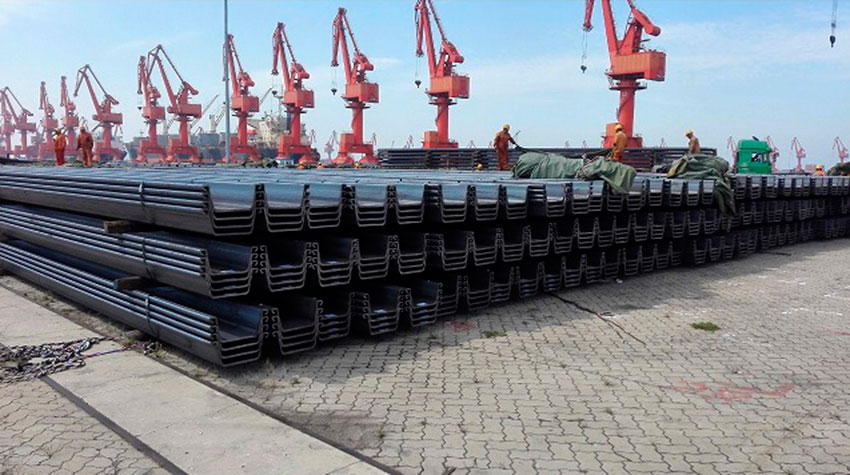 Sheet pile
---
We are known as a company that provides on-site solutions. In particular, we have a track record in tunnel construction for highways, trains, water supply and sewage systems, etc. Recently, we have supplied rails, Turnout Rail, and H-beam steel to the Aqua Line, the Gaikan Expressway, and the Linear Shinkansen, which pass through the seabed of Tokyo Bay. We would like to take advantage of this expertise to expand sales channels to overseas customers.
---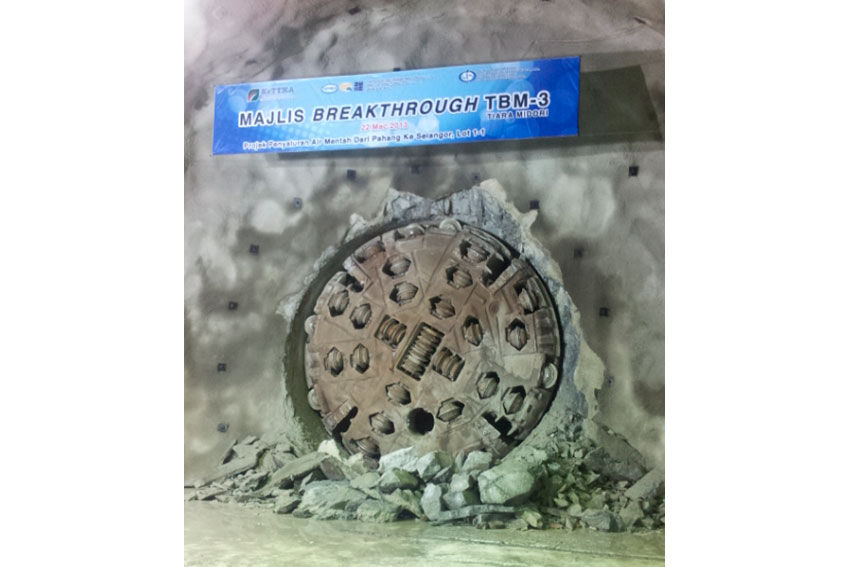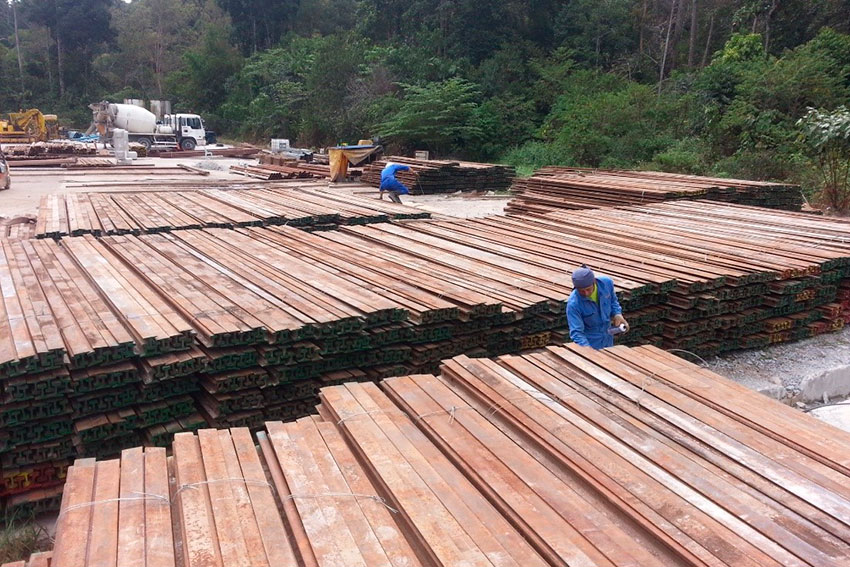 Sewage water project in Malaysia
---
A lot of general construction companies in Japan are focusing on overseas markets and are helping to contribute to local infrastructure. This is especially true in Southeast Asia where we already have a good track record. For example, we previously assisted in the Bosporus Strait, which is located in Turkey. There is a subway system known as the Marmaray Tunnel, which is actually the deepest tube tunnel in the world. We helped during the construction phase by providing raw materials, used railways, and H-beams from Korea. I think this demonstrates how we are able to operate overseas and assist in getting projects across the finish line.
Another example can be seen in Bangaldesh where we assisted in constructing Bridge production . It was another general contractor that ran that project, this case is we colaborated korean steel formwork maker from engineering stage, we provided steel formwork so I think our cooperation and assistance on these projects are greatly appreciated on a global scale. In fact, I would go to say that cooperation with both SMEs and large general construction company is a strong point of the company, which is expanding our network not only in Japan but across the world.
---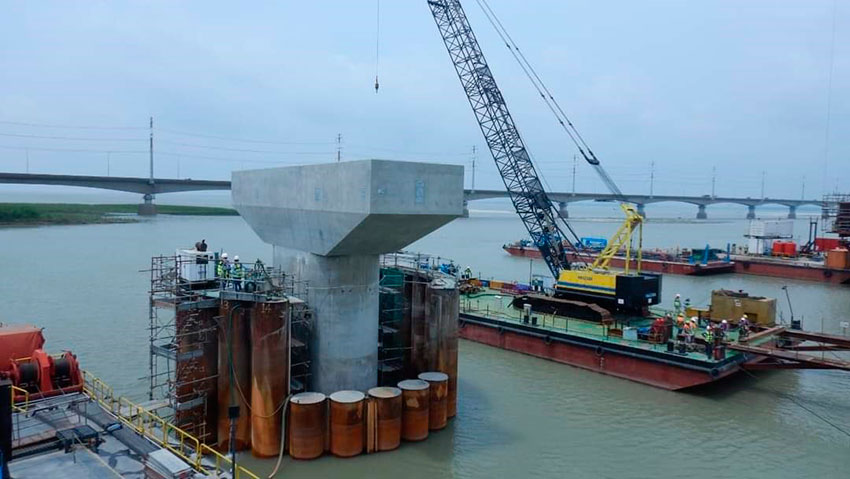 Bangladesh bridge project
---
Does that network expansion extend to non-Japanese firms? Are you looking for partners overseas that you can work together with?
If given the chance we are more than open to that. Up until now the business was very conventional, and by that I mean we tended to help Japanese companies with their overseas projects. The company is traveling along a long road, and if we come across foreign companies that are looking for the kinds of solutions, we provide then we would be fools not to take that opportunity. Whether it's foreign or Japanese, we are always looking to increase our network and spread our good name.
Japan is very famous for its subjectivity to a lot of tectonic activity, with 4 different plates all intersecting underneath. As such we see Japanese construction firms developing very unique technologies to prevent disasters. Your company is making temporary rails and doing water conveyance at tunnels and dam sites. Can you give us an insight into the safety aspect of your business? How do you ensure and prevent disasters, especially with Japan being so vulnerable to them?
Honestly, there isn't much frustration here on our part. Anti-seismic and safety precautions need to be implemented by the general contractors or the company that is running the overall project. We act as a middle layer by providing the civil engineering materials, so from this perspective, we don't see such a necessity to introduce anti-seismic measures. We do have a small number of parts that must meet certain safety standards, but that is a very small part of our overall business.
This year you will be celebrating 20 years of your overseas office in Seoul, Korea. Could you give us some insight into the lessons you've learned from 20 years of operating overseas? What are some of the changes that you are going to make in the future to further grow and solidify your business in Korea, and potentially further afield?
First of all, the very first idea of establishing ourselves in Korea was not for business' sake, but rather it was for promotional purposes. We have been able to exchange information with local manufacturers in Korea. It would be fair to say that there are so many business initiatives in Seoul, and instead, we are looking at the number of manufacturers in Korea, which is a lot. It is fundamental to our current business model to have these information exchange activities, and so far we have seen a fair amount of success with these initiatives.
Of course, this approach helps promote the business as well, and by continuing to support companies overseas we see that our excellent track record spreads. I also think that it is important that the younger generation keep their eyes and ears on what is happening in the industry, especially in Southeast Asia. The region possesses a number of raw materials, and the number of construction projects is escalating. Vietnam, Indonesia, Bangladesh, and India are all escalating local production of iron and steel and from my perspective, our company relies on having up-to-date information on the area so that we may plan where we can support affiliated companies.
Imagine we come back on your very last as president and interview you all over again. What dreams and goals do you hope to achieve by then? Where would you like to see your company on that very last day?
What I always tell my employees is that each employee should be a CEO. All employees must enrich their own lives while at the same time protecting the lives of other employees who are colleagues. No one is Superman. Therefore, I strongly expect all employees to act with an awareness that they are managers (CEOs).
I would like you to always be aware that the company is not only for shareholders, but also a place that supports the lives of employees, and to value teamwork. Our dream and goal is to be a company that is loved by both customers and employees.