What do you believe to be your core strengths or competencies that set you apart from regional competitors such as China, Taiwan, and Korea? Why do major makers like Komatsu or Hino choose you?
First and foremost, our company is related to forging techniques and we have been this way since our establishment all the way back in 1938. This pretty much explains everything we do here at Riken Forge, and those activities have been winning the customers' trust. We give ourselves an advantage by being consistent with our production technology, mold production, and heat treatments.
Recently we have given ourselves the flexibility to produce parts for our customers in a more speedy manner, allowing those customers to procure crucial parts in a shorter lead time. We have these kinds of customers in our portfolio, and we have won their trust by meeting their needs. Our company has been in the industry for a very long time now, and over the years we have accumulated a lot of knowledge relating to forging techniques. We are capable of doing anything with this technology.
When it comes to volume and timelines for production we are able to be flexible, and I think this is why customers want to use our products time and time again. This is the only reason to explain why our customers don't use cheaper, alternative parts. This is the path we as a company have chosen, and thus far we have been very successful.
Our biggest strength to outline here is our adaptability, basically being able to apply to all of the standards that are prescribed by the design. We fulfill the best expectations and quality standards that are required by all of our customers. No offense to some other developing Asian countries, but when it comes to forging techniques and skills they are relatively young in the segment and probably can't fill all the requirements of customers in the industry. We can, and we have been in this industry for a very long time now. We know and understand forging on a deep level and it is what has led us to the vast amount of clients we currently have. Having a large customer portfolio that covers many different industries gives us more accumulated experience to pool from.
The manufacturing method is also important to mention here, and by that I mean the techniques we apply when we produce a part. Countries like China have a step ahead of us with the cheaper cost of labor there, but we do have another way to decrease the final manufacturing cost. Kaizen manufacturing can make things stronger and of higher quality, decreasing the number of raw materials used. This is one method in a very long list of different things we can do to decrease the overall price of products. Cost-wise, we aren't that much more expensive than some regional competitors.
We like to think of ourselves as a cost-efficient company with many activities directed towards maintaining a high level of quality while reducing costs for customers. In China, procurement can be cheaper, especially when compared to Japan, but again, as I mentioned, we have so many other methods to decrease our production price.
In many of our recent interviews, we have heard the opinion that manufacturing is coming back to Japan and that Japan is becoming increasingly competitive cost-wise. During the COVID-19 pandemic, we saw very big supply chain disruptions, and as an answer, many manufacturers decided to shorten and localize their supply chains. Secondly, we had the zero–COVID policy in China as well as rising salaries of workers located there. If you look at Japan right now, it has advanced automation technologies and the JPY to USD exchange rate is low right now, making products much easier to export. Many believe that over the next two years, we are going to see manufacturing come back to Japan because of these factors. Do you agree and do you believe that this is a long-term or short-term trend?
I think the answer is perhaps, and of course, we cannot speak about all the tendencies occurring across all manufacturing industries. One thing for sure, however, especially when you talk about our industry, is that lead time and stable supplies are decisive points. China may have an economical advantage, but there are many that now consider the country a huge risk because of its geopolitical structure. Japan might be a solution in that respect, and that is because Japanese companies provide stable supplies of their parts and never let their customers down. This isn't even mentioning the quality of Japanese products either. These factors may be leading to a decision point that might possibly bring manufacturing back to Japan.
It is not all sunshine and rainbows unfortunately when you talk about Japan, and domestically there are a number of social issues that are taking shape. The decrease in the population is a key one, and to make that matter worse the elderly population is on the rise. Automation to some extent is a way to deal with this issue, and a large percentage of Japanese companies are now using robotics to mitigate the decrease in available human labor. This in turn is also decreasing the cost of human capital.
Obviously, automation and robotics are powerful tools to combat some of the challenges associated with Japan's aging population. In many of our interviews, we've heard about these challenges, especially as they affect companies in rural areas, and hiring can become a major concern. There have been 2 strategies that we have heard, the first is a need for a greater emphasis on the overseas market as a way to compensate for the shrinking domestic market in Japan. The second is hiring foreign workers to supplement the workforce here. Could you tell us more about your own experience in these 2 respects?
We couldn't agree more, and obviously, it would not be sufficient to rely only on automation for manufacturing processes. Companies like ourselves need to come up with more solutions to that point. To that end, we do have a collaboration with a company in Indonesia as well as our own manufacturing facility there. What we have been doing is inviting some locals from Indonesia to come and work here in Japan on a short-term basis. They can observe how we forge here and what are some of our practices, basically conducting full-scale on-the-job training (OJT). They can then take those skills back to their home country or in some cases even replace some of the workers here in Japan.
Another point to bring up here is a more philosophical one, and it really comes down to how companies like ourselves can motivate workers to produce their best efforts. Creating attractive situations where monozukuri companies are desirable as workplaces is the key. The way we do that is by introducing young people to the idea of forging, especially when you consider that the forging industry is our main business.
These days forging machines are more or less automated, so there is less need for people to get dirty and grimy forging components. The role humans play is in setting up the machines and monitoring their activities. Maintaining and getting the best out of our machinery is the expertise that our employees possess. Humans are filling roles in opeartions, logistics, and procurement.
In the future there will be more AI solutions for forging, allowing AI systems to make fine adjustments to the forging equipment without the need for human intervention. This is another way to solve some of the social issues, however, this solution requires a massive initial investment.
Your company's motto is "consistent strength for nearly a century," and I think that really speaks for itself. It has allowed you to develop some really unique methods and technologies, which in turn has allowed for greater efficiency and savings both in materials and cost. One good example is your friction welding method, which can join parts using frictional heat instead of additional heat. This helps achieve weight reduction and material usage reductions. Could you tell us more about this friction molding method and some of your other unique technologies? What do you believe are the best usage applications for this method?
Any technology that we utilize is more or less related to our ultimate goal, which is to decrease the overall weight of vehicles, or any machine that uses parts we produce. Lightweight properties are a keyword here because a lot of the companies we work with require lightweight components for their products. Especially in the automotive industry, we are seeing this as a big trend as we transition away from traditional internal combustion engines and shift over to EVs. Although it isn't a necessity for engine parts to be lightweight, we do want to make contributions to making vehicles more lightweight overall. It is also important to mention that weight reduction mustn't come at the cost of functionality.
The forge you mentioned is actually a middle ground between the two main types of forging, so it is almost like an ultimate forge technique. It creates a blow hole inside the product which becomes bigger and creates gaps in the material. This results in lighter-weight parts.
---
---
It is important for our company to first understand what kind of part is going to be produced, and in particular, what functions are required for the final output. We need to take into consideration the expectations of the customer before we start to produce.
Electrification is not just limited to standard automotive, and if you take a look at trucks for example, we see electrification occurring industry-wide there. Construction machinery is another example too. Electrification of vehicles requires a change in materials, from heavy ferrous metals to lightweight alternatives. It also creates a change in engineering, and the number of parts will be lessened. What opportunities or challenges is electrification creating for your company?
Electrification, as you have mentioned, is taking place not just in conventional automobiles, but also in more heavy-duty machinery including construction and agricultural vehicles. All of these industries are sharing the tendency to decrease the weight of vehicles in order to accommodate the bulky and heavy batteries required to operate such vehicles without the need for an internal combustion engine. As a company that produces parts for the engine, we have to think about methods by which we may decrease the overall weight of the vehicle. It is something that we always have to think about when inquiries come in. We try to implement our best features and techniques to that end.
The idea of electrification is a fundamentally different challenge for long-haul trucks, heavy trucks, mining machinery, and other heavier types of vehicles. Those pieces of equipment are expected to operate in tough operational environments for extended periods of time. As a result, there is a growing need for not just power supplies and batteries, but also parts that can withstand tough operational environments, parts that are very durable and last for a long time. Your company comes in with products such as your Steel Disk Rotor, which is specially made for long, tough operational environments. Could you tell us in a little more detail about your Steel Disk Rotor, and how else your products and components can support these tough, stressful, and difficult operational environments?
You are quite right about the differences, and the differences in fact are quite stark. The rapid pace of passenger vehicles is not nearly as clear in heavy vehicle industries. Still, to this point in time, we are trying to implement our best methods of manufacturing to come up with different solutions that cater to electrification. The friction welding method you mentioned earlier is one of those and allows us to create products that are currently demanded by various industries.
The Steel Disk Rotor you mentioned is actually the world's first of its type and we have patented it. Based on our own original technology it is an absolutely essential part of the brake system for various heavy-duty trucks. Unfortunately, the product has yet to reach commercialization yet and is still in the proposal stage. The brake pads required have yet to be introduced to the industry, so at this point in time it is yet to be viable for commercialization.
---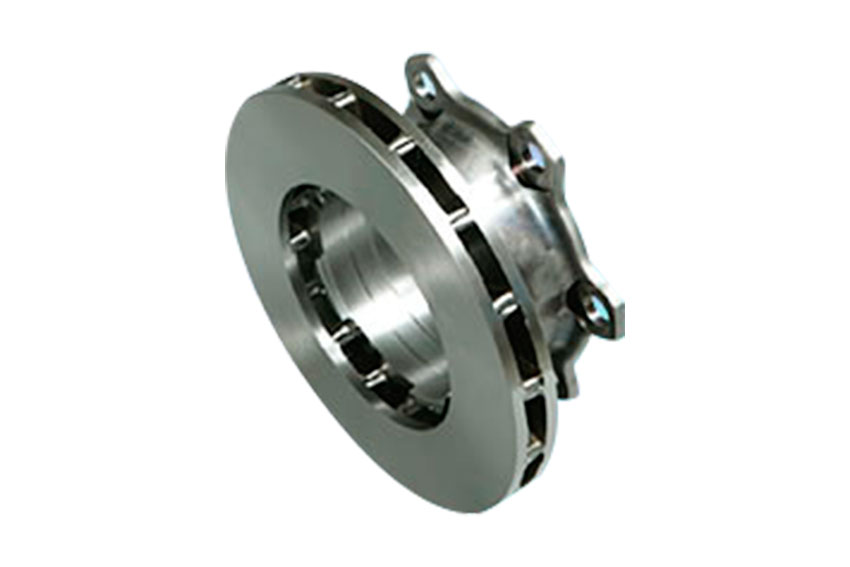 Steel Disk Rotor
---
There is a growing need for collaborations, specifically international collaborations for Japanese firms to remain globally competitive. Without a nuanced understanding of local markets and local needs, it can be difficult to succeed overseas. What role does collaboration play in your business and are you currently looking for opportunities to partner with foreign companies?
Yes, we are very interested and this is definitely one of the targets for our company. When we produce and procure forged parts in most cases it is not enough to simply introduce the part and then wash our hands of the deal. We have to come up with extra services such as surface treatment solutions, which in most cases are introduced by affiliated companies. Even in Japan, we are operating with some of these types of companies, so looking forward when we go overseas we would be looking for similar arrangements with companies in these types of industries.
To some extent, we are ok here in Japan because we do have in-house machining equipment and surface or heat treatment processes. These are after-services that happen once the forging is complete. When it comes to overseas we don't have such availability of services beyond just forging itself, so in order to continue overseas in locations like Indonesia we need to coopearte with local affiliated companies to offer after services.
Another strength of our company is the fact that we can start off production from the proposal phase, working hand-in-hand with the customers. Most of the time we are dealing with top industry-leading companies which have their own design departments. Our design proposal team will work hand-in-hand with theirs to come up with the best solutions to fit the needs of the client. Following up the full process from design to manufacturing speaks to the strength of Riken Forge.
You have been in Indonesia since 2012, and you've been involved in various interesting activities such as OJT and technical trainee transfer between Japan and Indonesia. What are your future plans for your international operations? Are there any other targets in terms of international development?
At this point in time, there are no other regions, and we currently are at full capacity at both production sites in Japan and Indonesia. In the past, we did try to go beyond Indonesia to Thailand as a possible manufacturing location, but we later decided to take a step back and just focus on the two locations in the meantime. Right now, we are not thinking about international expansion beyond what we already have.
---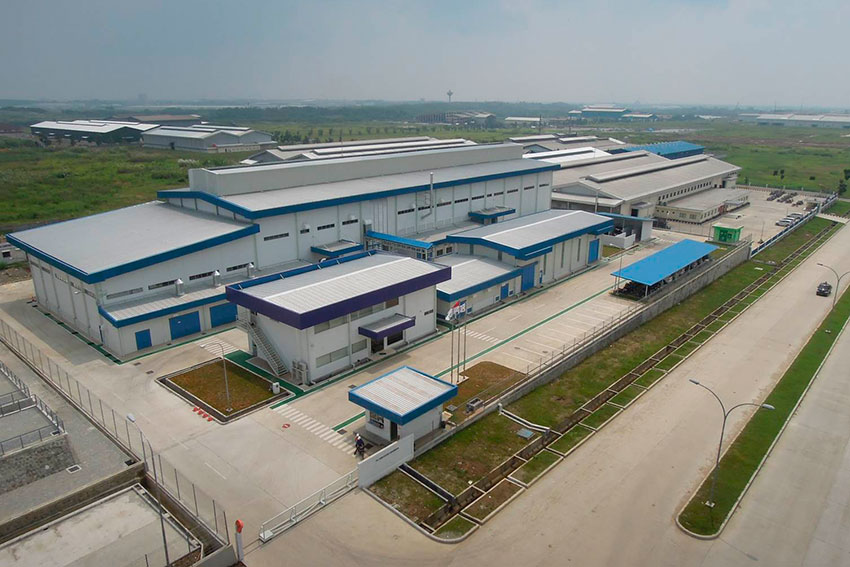 The factory in Indonesia
---
We found in our research that your company had collaborated with General Motors, but we weren't able to verify it. Could you tell us more about that collaboration, and are you looking to work with more international brands?
Yes, we did work with General Motors. We produce parts for different types of engineers, and General Motors has a large number of different heavy-duty vehicles. We collaborated with the company to produce certain parts for manufacturing engines.
We saw that you became president only last year in 2022, so now that you are at the beginning of your presidency, is there a goal or ambition that you have set for yourself that you would like to achieve during your time as president?
I've only held the chair for about a year now, so it has been a short time, and my aim or goal for the company is to bring younger people to our company and create an image or brand that is attractive and makes forging a desirable career once again. It is true that most manufacturing companies in Japan are struggling to bring in more labor, and there are many factors to that point. Frankly speaking, manufacturing locations are not that attractive to young people, so my goal as president is to change this perception. If I can achieve this goal it would make me very happy.