Can you please share with us a brief introduction to your company and critically, what you believe to be your core strengths and core competencies that sets you apart from your regional manufacturing competitors?
To begin with, I would like to speak a little bit about the background of this company. When it comes to Panasonic, I think that most people think about consumer electronic products. Our company, Panasonic Cycle Technology, was founded back in 1952 as a Panasonic Group company, that was founded by Konosuke Matsushita, the founder of the Panasonic Group, who used to work in a bicycle company when he was young, and received training there.
That experience was his base for doing business. He had a special passion for bicycles, and that's why he founded this company, and because of that foundation, we still have an end-to-end integrated manufacturing process from development to manufacturing, and all the way through to sales.
Looking back at the time when we were founded, one of the products we used to manufacture was a battery lamp for bicycles, which had the National brand at that time. The bicycle products that we produced were the first ones that carried the Panasonic trademark, or the Panasonic brand name, within the domestic market.
For the employees working under the Panasonic Group, the founder was considered a great person. He had a special passion for bicycle products and bicycle manufacturing, so I'm really honored to be in charge of this company and that passion has been succeeded from generation to generation. That's how we were founded and how we were established as a company.
At this moment, speaking about our position in the Japanese market, we have more than 50% market share for the electric assist bicycles, and for 20 consecutive years, we have been the maker with the top share in this market.. In the overseas market, we supply e-bike motor units to bicycle manufacturers.
To answer your question about our core strengths, or competences, we are able to do end to end manufacturing processes in-house from the frame processing to the coating and the assembly. This integrated process can be done here in our Kashiwara factory.
On top of that, looking into the key components for electric assist bicycles, they include the motors and batteries, and we develop and manufacture the motors in-house. We also procure the batteries within the Panasonic group, so we are able to produce and manufacture all the components from frames to motors, and also batteries, in-house. I think that is the strength we have. Looking at the Japanese market, we are the only ones who are able to do this integrated manufacturing, and I think the same goes for the global market as well. This is an important strength we have.
---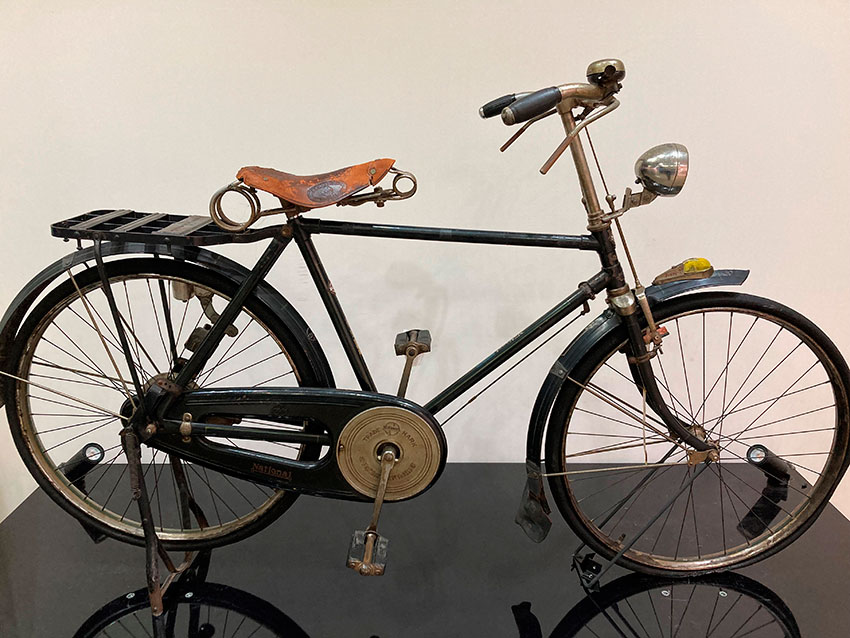 ---
I'd like to ask how you're dealing with some of the main challenges of electric assist bicycles. When you speak to most people who use an electric assist bike, the two main complaints they have is firstly the weight, and secondly, the charge time. Taking advantage of this great integrated structure, how are you addressing those challenges in your own design and manufacturing?
Regarding the weight, last year we released a new motor that has two-thirds of the weight compared to conventional ones; about 900 grams lighter to be precise. We have been challenging the weight, and we have been focusing on the development of lightweight models.
Also, for the shopping model product lineup, we released the first electric assist bicycle for shopping that is less than 20 kilograms, and this has got a lot of popularity in the market. To bring the weight down, we have been looking at all of the various components, including the basket and the screws, so that we can lower the overall weight.
Regarding the battery charging time, it's inevitable to charge the batteries, but we have a company called Panasonic Energy in the Panasonic Group, and they are developing the batteries from cells, so we have worked together with that team to develop a smaller battery with larger electrical capacity, and also a shorter time for charging. However, these issues are not posing a significant problem for the expansion of electric assist bicycles. We are able to address these issues for the time being.
What role do you think e-bikes can play in helping achieve a more sustainable and carbon neutral society, and what were the key takeaways from your demonstration experiment in Munakata, Fukuoka?
Focusing on sustainability, bicycles are a form of transportation over shorter distances, and we are encouraging people to use e-bikes as a replacement for methods of commuting such as cars or motor bikes, which use gasoline.
By so doing, we are able to reduce CO2 emissions, so we are actively proposing this solution to companies and society. However, there are some barriers - for example, the company's rules or systems - so we are working together with a team within the Panasonic Group to address these social issues so that we can promote e-bikes to society.
As you can imagine, if you ride bicycles, that will be good for your health. You can imagine that, but we are trying to visualize how good it is using data, so that we can show off what is good about riding bicycles.
Last October, we set up a new mission for this company, which is to support the people of the world, going forward to blue skies. To achieve this mission, we are promoting e-bikes, which are a more eco-friendly option and they are also a safer and comfortable solution for commuting or other transportation.
If you ride bicycles, then it's going to reduce CO2 emissions and make the air cleaner, so we would like to promote this activity campaign throughout the world so that we can have cleaner air.
Speaking about the proof-of-concept(POC)we participated in, in Munakata City in Fukuoka, we provided 10 IoT ready e-bikes to that city so that they could gather data on where and when the bicycles were used in that city. We also provided the software for analysis of the data, and the city authority is gathering the data and this test is still a work in progress, so we haven't seen the final results, but it's exciting and we are looking forward to seeing them.
Munakata City has announced it will become a zero carbon city, in line with net zero targets, by 2050, so we participated in that project so that we can support the city's vision. We would like to have a successful practice out of this project so that we can use this practice in other cities and promote the use of the e-bikes or bicycles.
Perhaps the most pressing social issue in Japan today is the aging population. This has been the inspiration for many companies to focus more on the overseas market in order to compensate, but it's interesting to look at it both in terms of its challenges and its opportunities. In your case, an obvious challenge is that you're going to have fewer people, and also more elderly people, who maybe have difficulty riding a bicycle, but on the other hand, a bike is a great way to stay in shape and to stay active for elderly people, and a great tool to help them stay self-reliant and independent. Maybe with a regular bike they can't go do their own groceries, but with the electric assist bike, they're still capable. Could you tell us a little bit about the impact that the Japanese demographic situation is having for your company, and how you're responding to it?
Looking into the overall bicycle market in Japan, as the population shrinks, of course, the market itself is shrinking. However, looking into electric assist bicycles, it's actually expanding. Since the current penetration rate of electric assist bicycles in the domestic market is estimated at lower than 15%.in Japan now, so we can say that we still have room for growth in the Japanese market to expand electric bikes.
We also see an opportunity in the aging society. A lot of older people have been returning their driver's licenses recently, so e-bikes are drawing attention as an alternative way of transportation for these people.
As you mentioned, e-bikes are very good tools to make you stay healthy and active, so in that regard, we think that we have room for further growth as well.
Do you have plans to offer these kind of solutions in other advanced nations as well?
In European countries, a lot more bikers are riding electric assist bicycles. E-bikes are getting a lot more popular there, and as I mentioned earlier, we supply e-bike motor unitsto the bicyclemakers.
There are a lot of manufacturers of finished products for bicycles in Europe, so we would like to continue this business model and expand that in the future. In the United States, we've obtained the UL safety standard for the first time in the world for e-bike motor units, so we are working on a kind of pilot project to introduce those monitors in that market.
---
---
We know you introduced this XEALT M5 last year in 2022, which is a next generation e-bike that's focused on exploration and ease of use, stretching the limit of what an electric assist bicycle can be and the role it can play in your life. It features the original GX drive unit as well as the eco mode, prioritizing power saving and not limiting you based on the battery or the motor.
XEALT is an abbreviation of eXperience by E-bike, Actualized, Lively Time. That is a new model released in April last year.
In Japan, sports bicycles are not so widely used, but we want to promote sports e-bikes to the wider population so that they can enjoy leisure and outdoor activities. That's the proposal we would like to offer through this product, and the feature of this product is that it's tailored to the Japanese people.
Normally when it comes to sports bikes, most of them come from Western countries and they are big for Japanese people, so we tailored the bikes for the Japanese people's size. For example, the tires. A normal tire is 29 inches, but for this bike, it's 27.5 inches. Speaking about the stand over height when you mount the bicycle, Western bikes are bit high, but we tailored the height to the average Japanese person, so these are the big features of this product.
On top of that, we use the GX motor for the XEALT. That is something we supply to the European market, so it's quite powerful. Going forward, we would like to build on this product line up. Speaking about whether we can bring it to other markets like in Europe or the US, I would say it is quite unlikely because they are tailored for Japanese people. Maybe Asia might be a possibility, but not for Europe or the US.
Let's say we come back to interview you again in five years' time for your seventh anniversary as president. What would you like to tell us about your goals and dreams for the company in that timeframe, and what would you like to have achieved by then?
Seven years from now, it is going to be 2030 and I'm actually drawing up a picture of what we want to be in 2030. One of the important missions is to contribute to society and the environment through our bicycles.
In the domestic market, we would like to grow the percentage of users who ride e-bikes, and seven years from now we will have new mobility methods. We have already announced publicly about a system to avoid traffic accidents between bicycles and cars by using Intelligent Transport Systems (ITS), and we are working together with automakers to develop a safety system for bicycles. We would like to launch this product in the market within seven years.
In the overseas market at this moment, our market share is still limited, but we would like to expand it so that when you see the name of Panasonic, you could imagine bicycles, not just TVs.
As I mentioned, our mission is to be friendly to the environment, to the earth, and we would like to offer safe and comfortable vehicles, and also excitement and pleasure to the world. That is our mission. Regarding the eco friendly aspect, we would like to promote the use of e-bikes so that they can reduce CO2 emissions.
For the safety aspect, we are developing the ITS ready bicycless, which is going to be the starting point to expand into this field, and for the comfort aspect, we would like to promote the use of electric assist bicycles.
Finally, for excitement and leisure, we would like to promote sports bikes. By 2030, we would like to have revenues of ¥10 billion, so I would like to achieve it by the time you come back.