What are the strengths of Japanese firms that allow them to remain competitive in the global market?
SE: Throughout the long history, we have had innovations at certain points, which were like tadpoles turning into frogs. We call the evolution from vinyl records to CDs in the audio industry as product innovation. Besides product innovation, Japanese companies excel at process innovation, such as the Toyota method of kaizen, which means unceasingly improving efficiency, cutting down costs and uplifting the quality of products.
Japanese companies were able to employ robotics and automated production as a solution, but they could not entirely reduce the cost domestically and compete with other overseas firms. With the growing dynamism of the market and rapid product innovation, Japanese companies were unable to keep up with the pace and remained flexible to constant market changes.
Since Japanese companies have been behind in both process innovation and product innovation for the last decade, we need to change our business model and mindset as well to catch our customers' needs earlier and reflect that in our monozukuri.
Our primary mission is to bring the JVC, KENWOOD, and Victor* brands to markets in the best possible condition. We have many stable customers around the world who recognize our brand and have strong brand loyalty. Since trust and quality assurance in these brands are our strength, we must retain and continue to enhance these intangible assets as much as possible.
As stated in our medium-term management plan VISION 2023 and our CTO's concept of monozukuri, these strengths are the driving force behind our global competitiveness. Nevertheless, we need to take into account the global situation of our industry, including the geopolitical landscape around the world, and find the best way to compete in the global marketplace.
---

*The Victor brand is available only in Japan as a brand exclusively for the Japanese market.
---
What is your concept of monozukuri?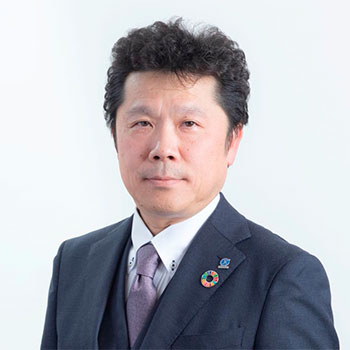 Yoshio Sonoda
Managing Executive Officer, Chief Technology Officer (CTO)
YS: Until a quarter of a century ago, Japanese manufacturing and innovation were extremely vigorous. At that time, the mainstream was to have one company handle everything from parts processing to final assembly, as is known as vertical integration.
Japan is an island nation, so we are not good at collaborating with others. The aspect of being very poor at collaborating with others or taking on one role in the supply chain has been very apparent in the lost quarter century.
During that time, they went overseas in search of only cheap labor. And the Japanese who went overseas could not localize their own business there. I think that is why they failed. Today, we live in a world of horizontal division of labor, where a single product or service cannot be assembled without various collaborations. We Japanese companies have finally realized this and have begun to return to Japan and Japanese manufacturing again. As stated in our midterm strategy, we are focusing back on monozukuri.
We are following this trend and strengthening collaboration with partners and suppliers, which is one of the agenda in our mid-term business plan "VISION2023", as we call it "Monozukuri Reform". The concept is to take our original technological strengths in the basic functions of car navigation systems, such as knowing your location and guiding you to your destination, as well as in cosmetic design and unique devices, and, in collaboration with our suppliers, to create new products using the skills of Japanese craftspeople. We are trying to rebuild manufacturing, including production automation, once again.
There are still many companies in Japan, including small and medium-sized enterprises (SMEs), that have Takumi technology and want to continue manufacturing, so we are planning to work with such companies.
In a recent collaboration project, you have announced that you are working with Nissan to develop a portable power unit from recycled EV batteries. Can you please give us an overview of this project? How does it fit into your new monozukuri model of collaboration? What was the motivation behind this project, and what are your expectations for it?
SE: This is a project that Nissan Motor Corporation, its group company 4R Energy Corporation, and JVCKENWOOD are working on together. 4R Energy will refurbish the used batteries from the LEAF, an electric vehicle manufactured by Nissan. When we considered ways to utilize these batteries, we thought they could be reused as a portable power supply.
I believe that this kind of business model will grow as the number of EVs increases in the future, and from the perspective of the SDGs and environmental protection, we believe that this type of demand will increase in the future and can be considered as one of the new business models.
We are currently developing a portable power supply that utilizes these recycled batteries with the aim of marketing it through both Nissan and JVCKENWOOD's respective sales channels.We also expect this product to have global sales opportunities, as the demand for battery recycling will grow with the global shift to EVs in automobiles.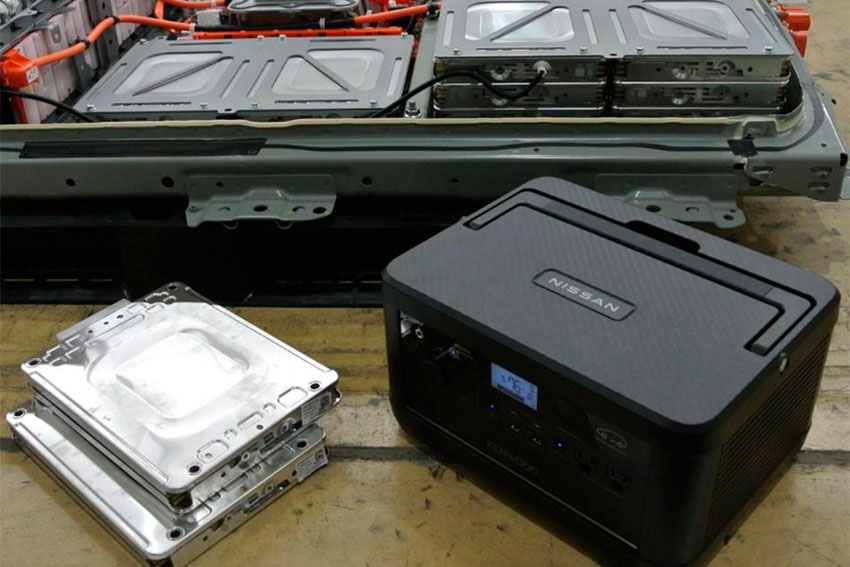 Left: Recycled battery cells from Nissan electric vehicle "LEAF"
Right: Product Image under development
The automotive sector, which has been a historical strength of Japan, is undergoing a time of great transformation in many respects, such as a change in material and vehicle electrification. Your company has numerous products that cater to this kind of vision for the future of automobiles. Can you tell us more about how you are catering to the new market needs of next generation automobiles?
YS: I believe there are two aspects in responding to the era of CASE ― technology and business. First, technical aspects. The C in CASE, Connected. Apple CarPlay, Android Auto, etc., are already in the world, and smartphone integration will continue to accelerate in the future. We will of course continue to work on this, and since this is an area in which we have always excelled, it is one that will be accepted by automobile manufacturers.
As for the A in CASE, Autonomous. We do not directly take an automated driving approach, but we have world-class technology for far-infrared (FIR) camera technology, which is necessary for this, and technology for processing images that allow people to see near and far. I think it is an Opportunity to enter into one of the CASE frameworks by providing such things as one Intellectual Property (IP) to automakers and semiconductor manufacturers.
The "S" in CASE is usually Shared, but from our standpoint, it should be read as Security instead of Shared. Information security, product security, and in many ways, in the midst of an overflow of digital information, how can we make it secure while also making it safe and convenient for companies and users? We believe that we can provide such a system because we have cultivated the mechanism and technology since the beginning of encryption in digital media.
Lastly, the E in CASE, Electric. This is an area in which we excel. The trend toward electrification of automobiles is a trend of the times, including environmental considerations. As a company that has always been skilled in handling electricity, we can contribute to the world by designing products with low power consumption and by considering the efficiency of power distribution inside the vehicle as the vehicle is electrified.
In addition, there is a need to reduce the weight of EVs themselves. We would like to contribute by reducing the weight of speaker cables, amplifiers, speakers, antennas, and other products manufactured by our affiliated company ASK Industries S.p.A.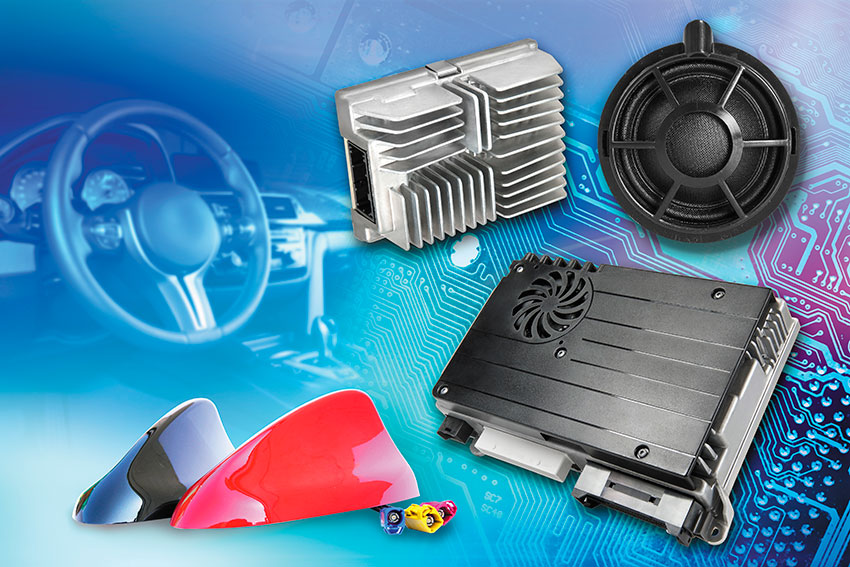 In-vehicle amplifier/antenna/speaker
Next, the business aspects. Associated with these technologies, there is the recycling business mentioned earlier. In addition to direct CASE-related technologies, we believe that we can respond to ESG and contribute to the SDGs by building business models that are environmentally friendly or that can respond to climate change and preparedness for various natural disasters, and by striking a good balance between those who recycle and those who use recycled products.
Are you looking to collaborate with international companies as part of your horizontal production model, or are you more focused on domestic collaboration?
YS: Although we concentrate on made-in-Japan products, we are actively seeking overseas partners. First, companies around the world have come together to establish standards for various standards such as DVD, Blu-ray, Bluetooth, and Wi-Fi. We are also a participant in this process. In developing business globally, we may seek overseas companies as collaborators.
SE: The Japanese market is very mature, and we cannot expect immense growth. We have been conducting our business, primarily centered in the US, with various bases globally, our future markets of focus are China and the APAC countries. For these markets, we will compete in the mid-high range products. We need to shift from cost-oriented to quality-oriented.
Changes in our business portfolio also affect our collaboration. When JVC and KENWOOD merged in 2008, about 75% of our business was B2C business such as TVs, DVD recorders/receivers, camcorders and audio components. But today, B2B business represents around 70% of our business. This is a very big change, and it is important for us to set the direction of our business, thinking in terms of a matrix of portfolio transformation, as well as globalization and industry trends, to determine with which customers we will build long term relationships and good business.
We will consider various options to grow our business, including M&As that we have been pursuing since the integration to augment the missing pieces in our technological resources.
In our automotive business, which is the largest, we expanded our OEM business by acquiring ASK Industries S.p.A. in Italy and Shinwa in China through mergers and acquisitions. The business of these two companies alone has already grown to approximately 60 billion yen.
The professional radio systems business is one of our strongest businesses, and with the acquisition of EF Johnson Technologies, Inc. (EFJT), we will continue to transform our portfolio by strengthening our systems business and future broadband capabilities in the category known as P25. In this business, we sold Zetron, Inc. last April. This was the result of reviewing from time to time the status of our business alliances for transformation or growth.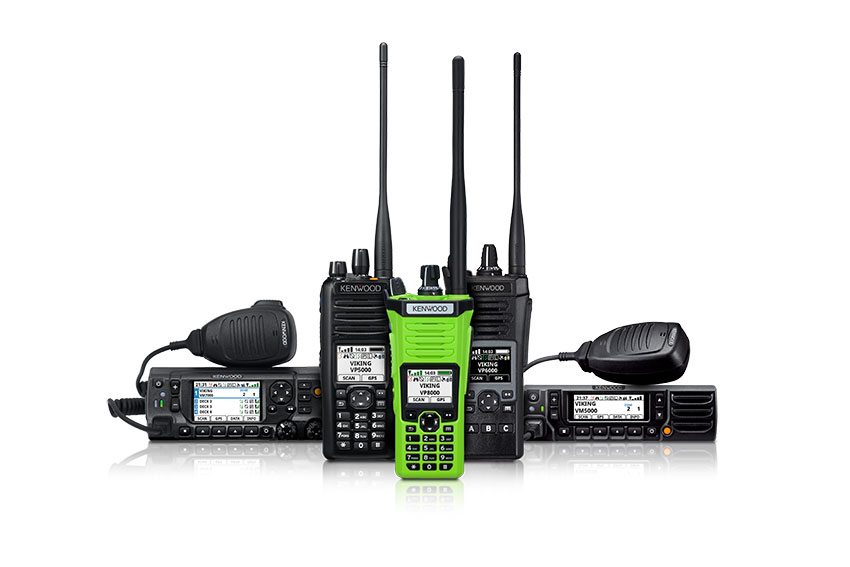 Viking P25 professional digital radio systems
As the times have been changing at an accelerated pace recently, our basic approach is to break out into a strong company with a sense of speed. At that time, our indicators are market attractiveness and capital efficiency. With this in mind, we will proceed with portfolio transformation.
While all of the above is from the perspective of the business, we must also consider what is required as a growth area in the future from the perspective of our stakeholders, such as investors, customers, and shareholders. It is a great mission to create new business not only in one business sector, but also by leveraging our various strengths to create new business through company-wide efforts that transcend fields.
With an aging population, Japan and many advanced countries are experiencing a steady growth in the medical device market. Can you tell us more about your motivation and your foray into the medical market?
YS: We are at the trial stage to determine if the medical market will be a successful business for us.
We have found that our various elemental technologies, such as image processing and laser disk technologies, can be utilized in the medical business in different forms. In collaboration with universities, we are now considering the possibility of applying these technologies in the form of point-of-care testing for medical treatment in towns.
In 2018, we acquired Rein Medical GmbH, a German company specializing in OR (operating room) imaging technology, but now, as the way we work is changing, we also need to look at things like centralized operating systems that are connected to the Internet. We are continuing to explore possibilities for collaboration with companies that have the necessary technology.
Many of the sectors you operate in have very spread out operations, especially with China's zero-COVID policy, ongoing quarantine and labor shortages. As a company with a diverse global reach, how have you been mitigating and managing the effects of the ongoing global logistics crisis?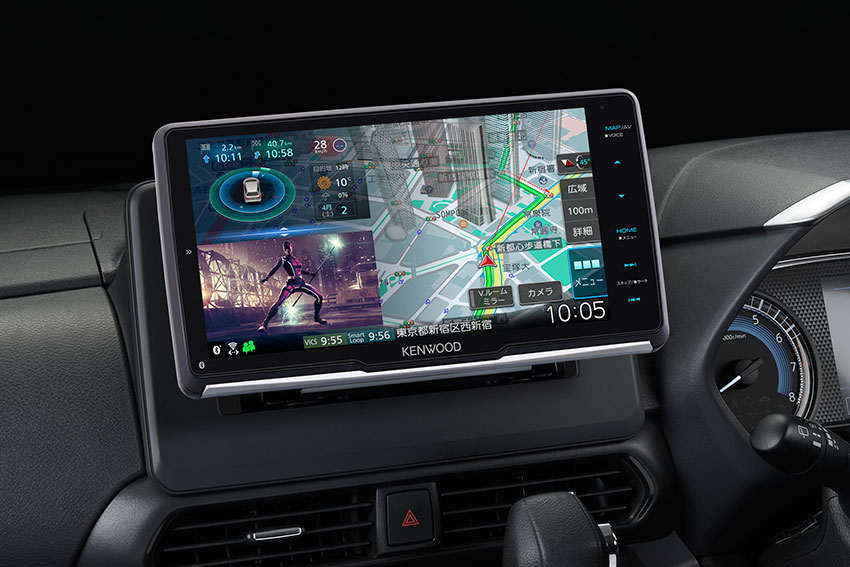 Saisoku Navi car navigation systems for Japan's domestic market
SE: Due to the severe impact of COVID-19 and the logistical disruptions, we have implemented several measures over the past two years. First, with regard to the component shortages, particularly in semiconductors, we have quickly implemented alternative designs for some of our products led by our CTO.
We also recognized that a more compact supply chain framework would be better, as the global supply chain was exposed as a major disruption. Therefore, we are gradually transferring the production of car navigation systems for the domestic market, which were originally produced at our factory in Indonesia, to production at our factory in Nagano Prefecture, Japan, and we are planning to do the same for products for the domestic market produced at our factory in China.
We recognize that supply chain reform is an important issue that must be addressed as our current risk or risk management. As of April 1, 2022, we have established a department dedicated to supply chain management. Although the establishment of this department will not immediately solve problems, we believe it is important to visualize and monitor the entire supply chain, take prompt countermeasures when necessary, and be prepared to take initial action as soon as possible. And the most important point is how quickly the management team can make decisions in the event of an emergency.
Imagine we come back in six years for your 20th anniversary and have this interview again. What would you like to tell us? What are your dreams for this company, and what goals would you like to have accomplished by then?
SE: Regardless of how long it is, my mission of being flexible and adaptable to change remains consistent. Depending on the times and the business situation, decisions are made on how to perceive change, what to change and what not to change and continue, and these are strongly reliant on the quick decision making of the management team.
I believe that adapting to change is a requisite for survival. In the face of many emerging companies, we want JVCKENWOOD to stay firm, strong and sustainable.