What is it about TESEC, but also about Japan and other Japanese firms, that set them apart from their regional competitors?
First and foremost, what sets Japanese companies apart from competitors is quality and the pursuit of quality. In our case, we are very particular about achieving precision in our tester devices.
Compared to our competitors, we can all measure digits to a very small number, but what's different about our testing equipment is that we can achieve the high precision that is required in the manufacturing of semiconductors, and that is highly appreciated by our customers, and selected even if the delivery time is long.
---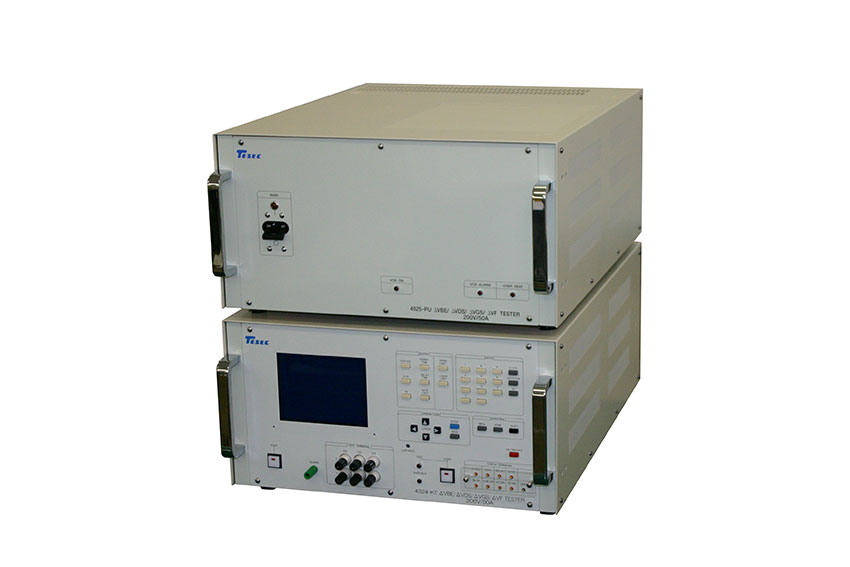 4324 KT Thermal Resistance Tester
---
Testing is obviously an indispensable process for any kind of manufacturing, but especially in a field like semiconductor chip production where the technology is advancing exponentially Semiconductor products often fail, so being able to diagnose why it failed is such an important process, especially when production has already started. How can you provide a solution in this scenario? How do you stay up to date, and how are you able to propose the optimum system?
It's very important for us to prospect the future advancement of semiconductors. There's been increasing need with automotive electrified vehicles for power devices. Currently in the market for power semiconductor products, specifications and requirements vary depending on the applications, for example, EVs require less than 100 volts but trains require a few 1000 volts.
By collaborating with our customers and our partners, we try to gather the latest information possible and develop prototype products that exceed their expectations. Such prototype products will be applied to other applications as well.By knowing their needs and specifications, we can provide a solution to each and every request that they have.
When you say you collaborate with customers, does this network include your overseas clients? Can you tell us about the importance of having that kind of horizontal collaboration?
We mainly work together with leading domestic and overseas companies. Although it is not in the form of a capital alliance, these companies, which have once led the semiconductor industry, determined the direction and evolution of semiconductor packages like QFM. Thanks to their accumulated knowledge and experience, we have been able to reach the present.
We talked about trying to identify where this high-volume market would be for power semiconductors. As you mentioned, your core market is providing testing and handlers to power conductor makers. 20-30 years ago, the market was really dominated by PCs, computers. Then it became all about the smartphone. Now, as you mentioned, trains and EVs. In the field of power semiconductors specifically, what have you identified as your biggest growth market, or highest volume market, that you're targeting?
As EV becomes a big focus, the automotive semiconductor-market is expanding. Automotive semiconductors, which require a high level of safety, are manufactured taking a long time for evaluation and verification with a focus on quality. In addition, power semiconductors play an important role in a decarbonized society since they can function as electric power switches and increase energy efficiency. Our mission is to contribute to a comfortable, safe, low-carbon society, and this importance is becoming increasingly bigger, and our business opportunities will also expand.
Could you tell us your thinking on how Japan's ageing society is impacting your business?
When it comes to the impact on our company, I try not to see things negatively, and prefer to find the positive aspect. What we are now trying to do is shift our company with digital transformation to centralize the people's capabilities. The work that needs to be done by people should be done by people, meaning that we first need to classify what kind of job a human needs to do, and what a machine could do.
By using human labor for more of the brain work, we will be able to operate the company more efficiently.
Given their high-speed processing capabilities, high heat resistance, and operability in such low voltage environments, compounds and inductors like silicon carbide, for example, are being highly appraised by EV manufacturers and even parts manufacturers. I'd like to know, from your point of view, what challenges this may pose. What problems does the proliferation of compound semiconductor devices in the EV field pose, from the perspective of inspection and testing?
With the elevation of compound semiconductors, a high current is required for the tester, so it's important for us to continuously conduct market research and determine the needs, and do research and development so we can continuously serve the market, which sure would be a volume bearing market.
The recent situation that we see is that power semiconductors are highly required in the EV field, and this field will be a pillar of our business. We are trying to develop and meet the needs by continuously elevating our technology.
One pillar of your business seeing big growth right now, in contrast to compound semiconductor devices, are MEMS devices. From what we gather, the big challenge is to shorten the measurement time to compensate for increasingly production volumes. I'd like to know how your Ultra series and other testers can help address this challenge.
For the six-Axis gyro MEMS handler, we provide the highest speed in the world, but we are not trying to increase the speed because within the MEMS production, for example, the MEMS gyro sensor used for the iPhone and other electronic devices, and production process, it requires time for the measurements, although when we increase the speed, it does not directly reflect the efficiency of the production scheme itself. We are committed ourselves to challenge from all aspects, including quality, speed, and efficiency.
---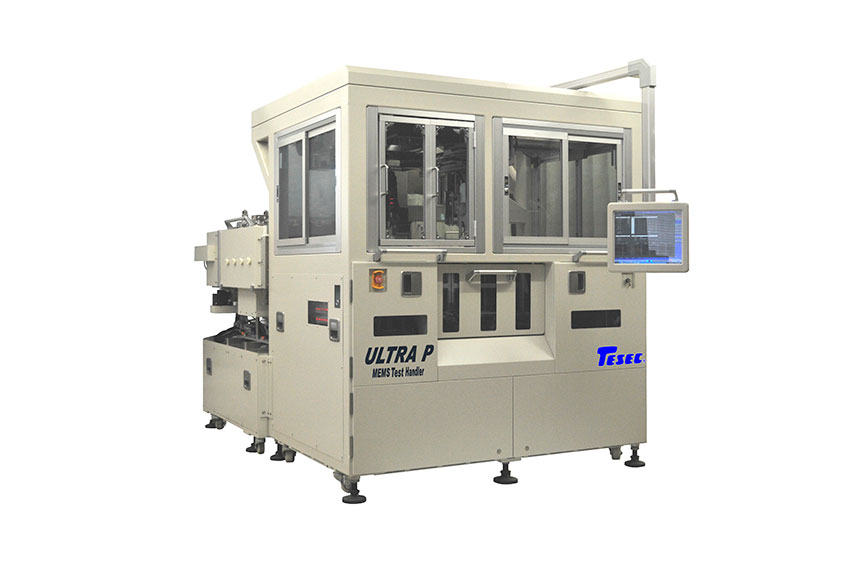 4664-IH MEMS Handler
---
You told us that you had a very strong plug-in domestically, with good relationships with a lot of companies here in Japan. Are you interested in having a chance to collaborate, or be plugged in, on a more global scale as well? Are you looking for partners overseas to have a similar kind of relationship with and grow that network of information?
We are open to any type of collaboration if it's both advantageous for our company as well as theirs, and it's not confined to domestic companies. We're open to working with overseas companies.
As you can see, the bank is conducting M&A's actively in order to strengthen its operations, so likewise, our company is looking into opening up a new partnership. A new type of M&A, or other means, in order for us to strengthen ourselves.
Actually, my thoughts are not restricted to the semiconductor industry. With semiconductors, there's ups and downs depending on the flow of the market, so we're trying to find a stable market, for example, a Japanese sake brewery. Many of them are closing down due to the lack of successors, so we are trying to figure out a good business that would compensate for our ups and downs.
Regarding your international development pattern, you talked about the importance of finding partners, whether that be through a joint venture, or M&A type of activity. We're very curious to know about your international vision in a little more detail.
Our overseas strategy is case by case on regions and countries. We use agent contracts as well as joint venture collaboration, but our focus currently is Europe. We have a French base, and we also work together with French and German agencies, and they are being a strong driving force in trying to open up a channel for our products. The European ecosystem is very tight. In terms of the semiconductor industry, we are trying to collaborate with local entities so we can penetrate our products, especially in terms of volume.
Let's say we come back to interview you again in six years' time for your company's 60th anniversary. What would you like to tell us about your goals and dreams for the company in that timeframe?
Fundamentally, the mission that I have as president is to make this company a sustainable company for our customers and also for our employees. Employees have their family and their children, so it's not a short-term thing. It's a long-term vision that we have to have, and raise the children all together. In Japan, there's a coming of age day when you are 20 years old, so as a company it's important to sustain and raise their families and children so they can fully enjoy their lives. I hope to support our employees and their welfare in the long term.