I would like your thoughts on Japan's business style, specifically the koumeiseidai business culture. Japan has an international reputation for having a very effective business, but also, at times, inflexible, often at the physical and mental well-being of the people working there. In contrast to a Western system based on teamwork and trust, the koumeiseidai culture is based on shared ideas and values. What are your thoughts on the strong and weak points of Japan's business culture and whether it will be able to transform in a way that will benefit the individual worker and Japanese society as a whole?
After World War II, Japan faced rapid economic growth, and at that time, a culture developed where men became the primary full-time workforce. Looking at the industries in Japan as a whole, we have gradually shifted from the manufacturing industry to the IT industry.
Now is the time when Japan must consider transforming its workforce and culture. We now recognize that female workers can be more active in our society. We are also considering hiring more foreign workers to compensate for the shortages in the workforce. Those at the management level see the need for change but are having difficulties implementing those changes practically. This is a period of trial and error while making the transformation.
We could begin changing by incorporating business ideas from other countries, such as the United States, into Japan's work culture. For example, we could integrate job-based hiring or paid-for-performance. However, the cultures in these countries are different from Japan's. We would have to consider how to implement these ideas uniquely to suit our culture and work style. It will take time to make the transformation.
While Japan may be slow to change at first, they are swift to implement the changes once they are made. One example was during COVID. During that time, people had to adapt to digital tools to stay connected and work productively. What impact did COVID have on your day-to-day operations, and how has COVID changed or influenced the process of your software development?
Remote work has become the norm for our company, and employees can work from anywhere. During COVID, we had to consider systems and work styles that would allow them to do that comfortably. This also means that the services that we provide our customers are now done through telecommuting.
Since COVID, we see two approaches that most companies take. Some companies are eager to adapt to the changes caused by COVID, while others give up on the changes and try to return to how things were before COVID.
COVID has been like a tailwind that has helped you and your software reach many new users, specifically Kintone. How can Kintone be flexible enough to be accepted, used, and beneficial for businesses and NGOs in Japan and internationally so that they can excel in their day-to-day operations?
Kintone is a tool for businesses to create a database and begin communicating with each other on the platform. We have many partners associated with Kintone, and they have been making proposals to SMEs, Enterprises, and other businesses to promote its use. This has allowed us to promote Kintone widely. We now have 2.5 times the sales of Kintone compared to before the pandemic.
Before COVID, the government only bought products from Japan's legacy businesses, However, due to the pandemic, they needed to begin working with venture companies like us. This has helped us introduce and promote Kintone among government agencies as well.
How have you formed these partnerships around Kintone, and how have they tailored the software for international customers?
Currently, we still need more partners to be able to expand our business overseas. Sometimes, we provide customized products or platforms directly to foreign customers. Since we concluded an agreement or global alliance with Ricoh last year, we believe that we can expand our global business with them from now on.
You already service a wide variety of countries and regions, and you have a strong presence in the United States. Most recent was last year in Malaysia. A business like yours is truly borderless, but is there a particular country or region you are focusing on or trying to attract new users or customers?
We have yet to be successful in foreign or international business. We just started to make that kind of effort, and in the future, I believe we can begin to expand our sales in foreign countries through close communication or collaboration with Ricoh. Ricoh has been selling its copier machines to about 200 countries worldwide, so they have already established a strong sales network. Leveraging the kind of network that Ricoh has, we can sell our products to any country across the globe.
There has been a lot of criticism, much of it warranted, of Japan's slow adoption of digital tools. In the competitive digital ranking by IMD, it is 29th in the world. Last year it was 28th, and it was 27th the year before. Things are slow to improve. It has not been three years since Mr. Suga created this digital agency to remedy this problem and turn the ship. How would you rate Japan's DX efforts over the last three years? Where do you think there is room for more meaningful short-term improvement, and why do you think the transition and the shift have slowed?
Our establishment was in 1997, just a year before Google started its business. I believe that Japan should have begun to work on digitalization earlier. We could have already become a more prominent company. This year will be the 26th year since the establishment of our company. When it comes to Japanese companies or businesses in general, I think they do not have enough sense of crisis, which would force them to transform their working style or businesses. It is a different way of saying that, so far, they have been able to run their businesses successfully.
They have just started to make some changes or drive transformation in Japanese businesses because they began recognizing many points where they feel a sense of crisis. One is the declining birth rate, a serious issue in Japan. Other elements are the decreasing competitive advantage in Japan and the cheaper yen. Finally, these have led them to feel a sense of crisis seriously. Moving forward, two types of people will be dividing Japanese businesses or companies. Some are trying to transform, while others hate change.
Unfortunately, the current Japanese government or administration belongs to the latter group, which does not like transformation or changes. I think digital agency efforts have yet to be successful, such as the My Number Card-related issues that are happening at the moment.
There must be a different approach for us to proceed with digitalization in Japan. Simply put, so-called 'No-Code Development' should be the kind of item that we should spread around Japan. I believe that it is the most effective way for Japan to accelerate its DX efforts. No-Code Development is a new technology in which a system can be built or created without programming beforehand. Looking at the Japanese demography, it is typical to see so many people in their 30s to 50s who are knowledgeable and savvy about business operations but cannot independently work on programming. If they are ready to utilize the No-Code Development tool fully, Japan will start to see a significant acceleration of DX transformation. In Japan, people usually work for a specific company for a long time and try to make some improvements over time. They do the same operations or businesses in a particular organization for an extended period of time. That culture is unique to Japan and does not happen in the US. Such a typical situation in Japan is a perfect match for No-Code Development.
---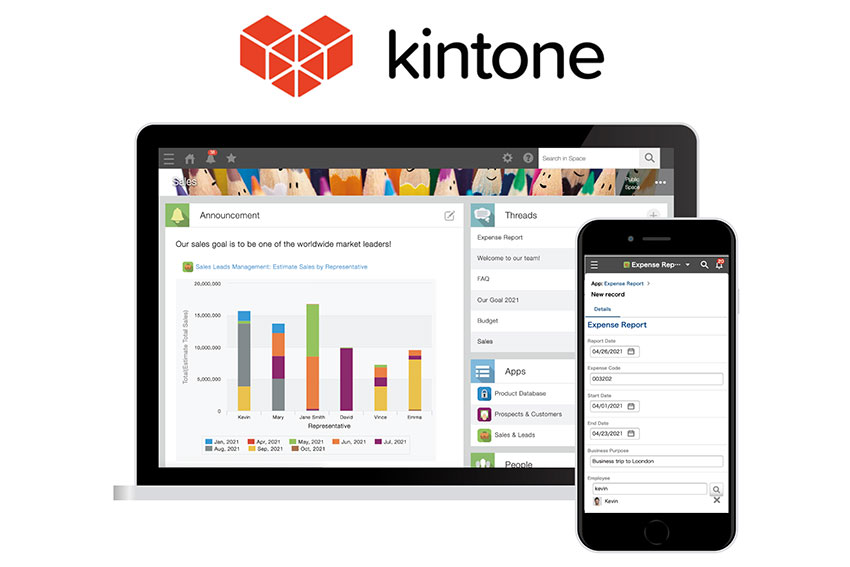 ---
Imagine we come back to repeat this interview in four years, on your 30th anniversary. Do you have a personal goal or ambition that you would like to have achieved by then?
One of my goals is to spread our products around the world. Secondly, we want to provide or propose DX acceleration tools to those who think they need to transform because they strongly feel a sense of crisis. That would contribute to the acceleration of DX in Japan.
What is your competitive advantage? Why should US, Europe, or Australian companies choose your SaaS solutions for their business?
Compared with our competitors' products, our products are significantly easy to be utilized, and they are at a reasonable price. Except for the US, I believe our products have a high potential to spread to small and medium-sized enterprises in regions such as South America and Asian countries.