For 45 years your company has been doing business and you preemptively forecasted the importance of sustainability as it relates to not only to companies but society too. Now we live in a world where sustainable development goals (SDGs) and Environmental, Social, and Governance (ESG) goals are essential components to any ambitious company's business continuation plans. How does your perspective as a company of over 45 years provide you with a unique advantage to advise companies?
When I was 17 years old, I was shocked to see a picture of the damage caused by the Minamata disease caused by mercury poisoning. It was taken in 1971 by American photojournalist W. Eugene Smith (1918-1978). A small child in a bathtub, cradled in his mother's arms, taking in the poison of modern civilization with his tiny body, asking me with eyes that could not see and lips that could not speak, "What is truly important?" Even if society becomes wealthy and people no longer have to worry about what to wear, what to eat, or where to live, a society that does not protect the dignity of life is unfortunate. In the 1970s we had the World Expo in Osaka, and the theme was "Progress and Harmony for Mankind". However, during the period of high economic growth in Japan, even the sky and sea, symbols of nature, were polluted by pollution. The more mankind progressed, the more harmony was lost. In the modern era, people and nature have been turned into tools for economic development. AMITA's mission is to solve this contradiction and design a sustainable future.
AMITA celebrates its 45th anniversary this year, but at first it was a very small company with only four employees. The key to the business in the beginning was to propose waste materials with the same composition as natural resources as an alternative resource to cement manufacturers who needed a cheaper resource. However, even if the alternative resources were of higher grade than natural resources, it was not easy to get people to understand the value of recycled resources and use them, because at that time it was common to think that it was unthinkable to use garbage as raw materials for important products, and most waste was incinerated or disposed of in landfills. To overcome this psychological barrier, we visited user companies many times. Upon hearing their needs and concerns, they expressed concern about the significant environmental costs. Even today, there is a trade-off between environmental costs and economic costs. If we do not make it a trade-on relationship, we will not be in business.
With the customers, I wanted to make them not just happy by reducing the pollutants and waste, but by making the relationship that surrounds them better. I mean in terms of the relationship between people and nature. There is nothing that has no value in the world.If we give up, this thing in front of us will be disposed of as garbage. We will do whatever it takes to transform it into a valuable resource. This was the strong feeling that we had. I was determined that if I gave up now, I would be giving up on my purpose in life, so I started a resource recycling business, for which there was no market yet.
Waste is unstable and uncertain in terms of both quantity and quality generated. We have therefore developed proprietary technologies to make this uncertainty a certainty, which has led to a stable supply of alternative resources that become our products. Our core competence in innovation is to turn uncertainty into certainty and create new common sense.
---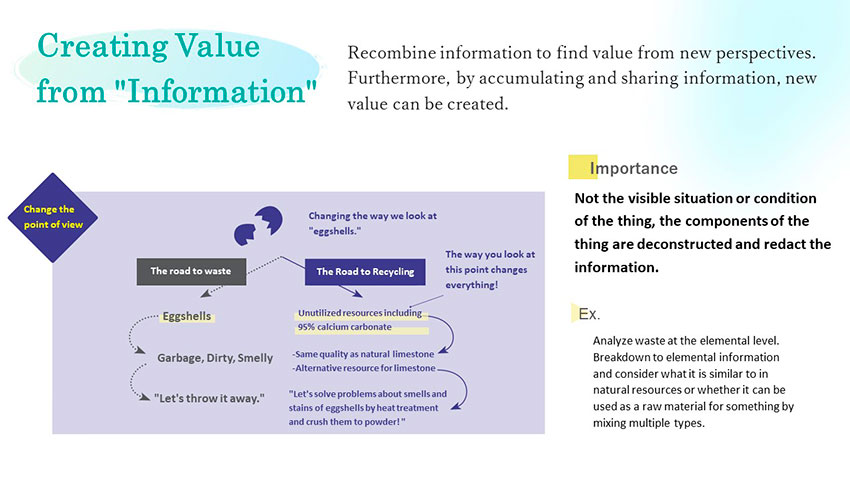 AMITA's closed-loop recycling turns uncertainty into certainty by recomposing information
---
Japan is currently experiencing a huge shift towards electric vehicles (EVs) and the government is providing JPY 100 billion in incentives to enhance battery production capabilities here in Japan domestically. However, how to recycle these batteries once their life cycle comes to an end is not discussed. The average lithium-ion battery contains copper and iron, as well as heavy metals like cobalt and nickel which are dangerous to the earth. Stakeholders are all individually capable of recycling each of these elements but there is no collective means to recycle one battery. How can your expertise as a stakeholder advisor help to overcome this?
In an increasingly extreme market, the cost of collecting the batteries of cars can be quite high. Even if 10,000 new cars are sold, the age of service will vary from user to user, and they often end up in the used market. If the number of batteries that can be recovered is uncertain, business will not be stable and recycling plants will not be profitable. Car companies need to design an integrated business that includes not only the production and sale of safe vehicles, but also the subsequent collection mechanism and recycling process. However, no company in the Japanese car industry has yet established this level of service, and we feel that the Japanese government does not fully understand the importance of this service.
Overseas, Tesla is a game changer. Tesla is seeking the carbon-neutral market, not the mobility market. That is why Tesla has so much capital investment. Society is changing, but unfortunately, many Japanese car companies are still focused on selling cars. But, if the current industry trends continue, it will remain difficult to collect batteries for recycling. We have to include a collection design, not just leave it to sell. We need to utilize traceability and blockchain to ensure consistency in production, sales, and collection plans.
Understanding that social innovation has begun, car companies must shift from a technology-centered industrial model to a servicing business model. If they develop their services based on such a concept, they will be able to further enhance their recycling system.
Japan has the oldest population in the world with an average life expectancy of 84 years and by 2035 one in three people will be over 65. It also has one of the fastest declining populations due to a fertility rate of just 1.37. Some of the more significant effects are that companies will have to contend with shrinking domestic market demand with an increasing need to look beyond Japan for a new customer base. Also, companies will need to find solutions to replace aging workforces and ensure smooth knowledge transfer for the next generation of workers. How does Japan's unique demographic situation help companies such as yours develop services for the future?
Under a steady-state economy with no population growth, the market contracts, but value is concentrated. In such a market, value competition begins. I believe that the satisfaction sought by mature societies, as we see today, is moving toward cultural and spiritual maturity rather than economic growth.
For example, consider a very simple tool: chopsticks. In Korea, functional stainless steel chopsticks are the standard, and families tend to have one type of chopsticks per family. In Japan, however, a family will have four to five different types of chopsticks. They use them for different purposes, such as for New Year's, for guests, for udon noodles, and so on. When you want to sell chopsticks to the global market, having four to five types of chopsticks means that the market for chopsticks is stable.
This would allow us to sell not the goods themselves, but the way they are made and the know-how, which would lower transition costs and reduce waste. This would create a few super global industries and many glocal industries. Netflix, for example, is a good example of a company that creates contents locally and then uses the Internet to distribute them globally. This is an important concept for Japanese companies to have.
However, with the pandemic and the situation in Ukraine, Japan's growth engine has become quite unstable. We believe that the key to the future will be stable circular supply chains and local community network markets, rather than the global supply chains and global economic markets of the past. Service development is global. Production and employment are local. If local and global companies cooperate with each other, labor problems could be solved. This would lower the cost of energy and resources and create value-added products. Furthermore, the community could work together to solve problems without relying on the government.
AMITA is working to create a circular market to break away from a prospective mass-production society. For this reason, we have united our business segment into the Social Systems Design Business in 2021. Our strength of long-standing records of engaging in the business of solving social issues enables us to gather management resources of good and trustworthy relationships. We can build a relationship with stakeholders who gather under the common mission of creating a sustainable society that saves us from having to explain ourselves.
In this way, our goal is to establish a business model in a steady-state economy by reducing transaction costs (coordination costs with vested interests, etc.) and enhancing stakeholder relationships. We believe that if we succeed in Japan, we will be able to solve social issues in countries with advanced issues outsideJapan as well.
The COVID-19 pandemic posed a huge challenge to companies and governments all across the globe. Businesses had to adapt, pivot or evolve to face the challenges presented to them. Can you talk a little bit about your take on the COVID-19 pandemic's impact on the global economy?
So for the past two years, we've experienced a once in a 100-year pandemic and it really broke our global supply chain, so now we need to create a new engine for growth. I believe it's an excellent opportunity for people around the world to unite for the common good. Businesspeople should lead the way in these new modern times. Japan is known as a developed country which has new problems. However, I would like to be known as an advanced country that solves global issues and business challenges. We are now developing a platform for that to happen. In the times we live in, the earth has been pushed to its limits. Japanese people have long belief that if we pay enough money, we can buy anything, but the times are changing and that might no longer be the case. I believe that if you want to see a prototype for this platform, you need to look back at the Edo period.
When the Edo period began in 1603, the population was approximately 12 million. About 100 years later, in 1700, the population was about 32 million, and a growing economy continued, but for the next 100 years, the population remained almost constant and steady. Japan's borders were closed and no one came from outside of Japan. It was a belief at that time that the economy had reached a stagnated state, but in reality, it wasn't the case. Ukiyo-e traditional paintings became popular as well as the patterns of kimonos. As you can see, culture flourished. Gradually, economic conditions worsened, and the government began to ban gaudy patterns and extravagance. However, the common people of Edo devised kimonos with fine patterns that looked plain from afar, bought ukiyo-e prints even if they had to put up with food, and competed in the art of raising morning glories, goldfish, and colored carp to satisfy their hearts' contentment. The resulting cultural expansion boosted GDP in the late Edo period. I believe that there may be a clue here to the realization of an ideal society.
This isn't just a case for Japan, we are all aware that history repeats itself. We see that through states of a steady economy where we are able to work more on culture, design and art. We are at the doorstep of this kind of era. There is no inequality in culture, unlike the economy. If culture becomes a competitive environment, I think that Japan's economy will shift to be more tourism-focused.
Innovation is clearly a critical part of your firm's philosophy. Could you tell us the motivation for that mindset? What drives innovation in your opinion?
When you talk about Japanese innovation, my mind immediately goes to the Walkman, portable audio players developed by a Japanese technology company in the 1970s and 1980s. That technical innovation at that time was driven by the tireless efforts of Japanese companies. In the 1990s after the cold war, the internet became a new drive to create market innovation, including Wikipedia and Google. This is open type innovation, but in Japan, we don't see it necessarily as innovation but see it more as tools for the industry. Social innovation started around 2015. I think that the driving force of social innovation is in the consumer lifestyle.
When lives change, products change. When products change, companies change. When companies change, industries change. When industries change, society changes. When society changes, value changes. When value changes, lives changes.
…And so on, mindsets will circulate and new markets will emerge where consumers will create value. What is important is whether Japanese companies are aware of this change. From now on, we need managers who can see beyond what is in front of them. To anticipate, adapt, and innovate.
One of AMITA's strengths is in producing alternative raw materials and fuels. AMITA's proprietary "blending" process produces alternative raw fuels derived from waste materials. This allows for producing high-quality cement substitute raw fuel and recycled products containing silicon. Can you describe the unique aspects of your blending process?
Instead of sorting and extracting only usable materials, we analyze the components that make up the resource and mix them to the standard required by the user to achieve closed-loop recycling. The more uncertain and unstable materials are gathered, the more stable resources can be made. Unstable waste is a risk for other companies. Collecting and blending waste from other companies as well as your own is a risk that many companies are not willing to take. It is our unique perspective to collect this risk of each company and convert them into valuable resources. What is vital at this point is information about a company's production process and the composition of generated waste. We view waste resources as information, and we redact and reproduce information. Our uniqueness and expertise cannot be found by looking at our plants or products but lies in the collection and compilation of information. This makes our business path-dependent and difficult to imitate, which prevents other companies from copying us.
Which particular industries are you targeting with your blending processed materials?
The users of recycled resources are mainly cement companies and nonferrous metal companies. In the silicon business, the suppliers are silicon wafer manufacturers, and the users are chemical companies, steel companies, and cement companies. In the need to environmentalize the industry, we target both suppliers and consumers. We have created value by transforming waste deemed valueless into an above-ground resource that can serve as an alternative to natural resources. This enables us to simultaneously satisfy the needs of both the generator, who wants to reduce the environmental impact of the manufacturing process and the user, who wishes to procure sustainable manufacturing resources.
AMITA provides comprehensive eco-solutions to improve the environmental strategies for companies and municipalities. Your two main business domains are the Redesigning industries and the Redesigning communities. Can you explain the function of each of these business divisions? What synergies have you been able to establish between the two divisions?
We aim to solve local issues, corporate issues, and global environmental issues by integrating the functions of building a platform for constructing and implementing a recycling-oriented business model. We design, operate, and network independent and decentralized communities to solve local issues. As for synergy effects, we consider that the ability to work in collaboration with industry, government, academia and the private sector is a major factor.
Although Japan shines when it comes to processed automated manufacturing, it is often criticized for its slow adoption of digital tools both in everyday and business life. In the latest international digital competitiveness rankings, Japan was placed 28th by Swiss think tank IMD and to reverse this trend the former Suga administration introduced a new Digital Agency whilst providing incentives to private industry to increase the adoption of IoT and cloud-based solutions. What digital tools are you adapting?
Although there are information tools for the number of resources used and disposed of within corporate business activities, CO2 emissions, water consumption, the status of corporate ESG initiatives, consumption and waste by municipalities and local residents, environmental health and social security costs, they are not connected.
As an industrial platform in the steady-state economy, we aim to create an ecosystem society of commoditization with circular supply chains and networking of circular communities. As hardware for this purpose, we are developing resource-collection sites called "MEGURU STATION®" in each region and community with the aim of realizing a community symbiosis by giving shape to people's social action motives to society. In the future, we aim to develop a sorting center where the resources collected there can be processed into materials to create a circular supply chain that companies can use as an alternative to natural resources. There are three main digital tools that we are looking to implement for development.
1: Blockchain that Enables traceability of consumer used product collections to be managed digitally in a stable manner.
2: Deep learning systems that enable image recognition to determine the manufacturer, seller, material, and quality of collected products.
3: A quantum computer that uses this information to forecast demand and calculate optimal solutions.
---
MEGURU STATION® in Kobe, Hyogo
AMITA's circular model concept
---
In March of this year, AMITA Holdings entered into a strategic partnership with MCP Holdings, which is one of Asia's largest alternative asset management companies. What expectations do you have for this partnership?
In 2015 at the Paris Agreement, Mark Carney, Governor of the Bank of England and Chair of the Financial Stability Board (FSB), sounded the alarm about the risks that climate change could pose to financial stability and in 2020, the Bank for International Settlements (BIS) and the French Central Bank released a report announcing that urgent action may be needed to address the financial crisis that could occur at any time on a planet where global warming cannot be halted.
We expect that the collaboration between financial institutions and AMITA can build a new society through business development. In 2020, Larry Fink, CEO of US asset management giant BlackRock, warned in an annual letter to his portfolio companies that their boards must step up their efforts to address climate change or face further investor anger. Some investments have been identified as problematic investments that masquerade as environmentally friendly but are in fact not, and we hope to build a new way of financing and investing for a sustainable society that is also highly transparent and objective.
Are you looking for more co-creation partners internationally and if so what type?
We are looking for partners who can collaborate on SX-related and circular business
relationships, such as Web 3.0 and AI, as well as environmental certification. One of AMITA's subsidiaries, Codo Advisory, became the first Japanese consultancy licensed by the Assessing Low-Carbon Transition (ACT), which is an Initiative which provides a European-based comprehensive framework for corporate low-carbon transition strategies. Codo's goal is to help Japanese companies reduce their climate-related risks and reinforce their long-term competitiveness.
Why do you believe the ACT framework initiative is the ideal means to help Japanese companies reduce their carbon footprint?
International Financial Reporting Standards (IFRS) is currently the global accounting standard, and it became mandatory for listed companies in the EU in 2005 and has now been adopted in over 130 countries and regions. Since the US and Japan are currently the only large capital market countries that have not adopted it, we believe that ACT, which is becoming the standard for decarbonization transition strategies in the EU, is the best tool for Japan, which is behind the global standard. Japanese companies disclose information on the evaluation of their current status and the setting of future goals, but the specific process for achieving these goals is unclear. Therefore, we believe that a transition strategy using the ACT methodology would be a useful approach. We believe that by offering a packaged transition strategy, Japan's serious business activity habits will solve the rigidity that has come about in the industrial world.
AMITA Co. has a recycling plant in Kitakyushu, and has been operating a resource recycling business in Malaysia since 2017. These offices are strategic spots in what you call the Yellow Sea Rim. With these offices and networks, you provide East Asian customers with comprehensive environmental solutions. Can you elaborate on who your customers are internationally and the midterm strategy you have put in place to continue your growth?
Global supply chains, which used to be the growth engine of the world, are no longer reliable supply chains due to the increased uncertainty caused by the COVID-19 pandemic and Russia's invasion of Ukraine. Building circular supply chains as a new growth engine are the foundation. We believe that it will become a necessary need as a platform for the stable growth of international companies. Our strategy for overseas development is based on the development of our domestic model. We are developing with an eye to the possibility that the needs of society will change as per capita GDP increases and the needs and market for our services will become more apparent. On the other hand, overseas may be a better environment for start-ups. Specifically, we have been studying a closed-system island country model in Palau.
Imagine we come back to do this interview again in ten years' time. What would you like to say to us? What goals do you hope to have achieved by then and what changes would you like to have seen?
2027 will mark our 50th anniversary, and I think around that time a stable supply of energy resources won't be available. Additionally, due to climate change, there will be water shortages. I can imagine there will be many environmental refugees. I want to create a sense of hope. In ten years' time, people in their 40s will be the main players in society, and right now they are in their 20s and 30s. The society we live in right now creates a sense of uncertainty. I also see the possibility of insurance businesses going bust. With all this uncertainty in finance, people are going to feel more concerned about the future. How people and society tackle this will determine the history of human beings for the next 10 years. If we can achieve social capitalism with a circular economy, we can protect diversity and enable creativity to flourish and prosper. If you were to come back and visit in 10 years and these goals have been achieved, then I think our company will be much more influential.