Can you give us an overview of your recent models?
The VAIO Z is our latest flagship model and was introduced in February last year. This year we released the VAIO SX14 and SX12 with the latest CPU, which are lightweight, small and easy to carry around. While the SX12 is a smaller device, the keyboard's size is the same as the SX14, so it is easy to type on. This was very difficult to accomplish technically because a tailor-made I/O interface has to be prepared in order to arrange the keys in the same key pitch* (*center-to-center distance between keys). Almost all of our products range between 12-inch and 15-inch. VAIO S13, the13-inch model we just introduced is mainly for corporate markets, while the VAIO S15 is mostly for home use.
---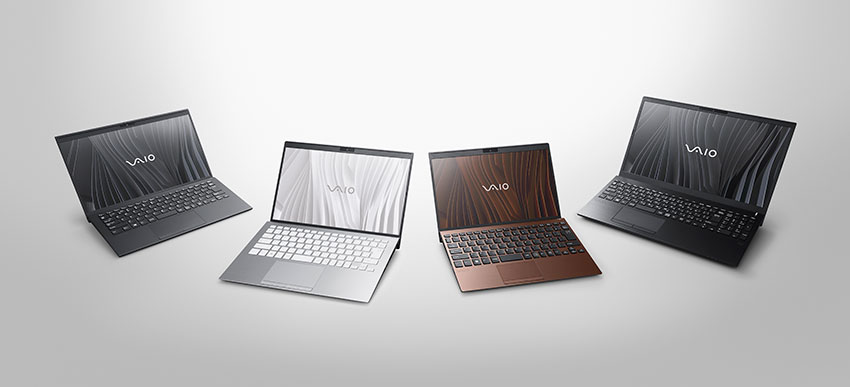 VAIO S13, VAIO SX14, VAIO SX12, VAIO S15
---
How are VAIO's products different from those of other manufacturers?
When I was thinking about what kind of value we want to provide our customers with, I thought about four elements: to be inspiring; to be smart and ingenious; to be genuine and classy; and to craft our products with pride.
Our first element, giving inspiration to our customers, is achieved through our products' design, style and color. When consumers use our products in the morning, we want them to feel the joy of ownership and to be motivated to start their day. This is the kind of message that VAIO wants to deliver. To achieve this objective, user-friendliness is paramount. A practical example of this element is the realization of the ideal tilt-up angle of our devices. VAIO's computer are slightly tilted. This tilt-up mechanism gives an ergonomic angle for easier typing.
Our design has a smaller gap between the desk and the palm rest, and the hinge is invisible to help users focus on the screen. It may seem to be a small detail, but it makes a big difference in usability. Although this design is difficult to realize because some space has to be sacrificed, it was made possible through a custom-made thin battery.
Our products also carry functional beauty, such as the V-shape design, which allows for an easier grip. Because our computers can be opened with one hand, they are suited for people suffering from physical handicap. Our engineers worked on this feature for more than 10 years to make it happen.
To further our product's aesthetic appeal, we offer subtle colors for our customers to choose from. Fine White and Rose Gold are in high demand, while Fine Black and Bright Silver are always popular among business customers. Urban Bronze is unique as it is a color no other competitor offers.
Secondly, our products are smart and ingenious. VAIO® TruePerformance (VTP) is a technology we offer to achieve this objective. Many people mistakenly think that a computer's CPU core will consistently deliver the same performance across various devices but that is simply not true. Actually, it is up to the PC manufacturer to maximize the performance of the core used in his computer. In our case, we focus on getting the maximum performance possible from the CPU. We achieved this feat by designing the best possible method for heat dissipation. When CPU temperature goes up, it automatically slows down processing speed and decreases performance. The key therefore becomes how to get the heat out and keep the CPU running for a longer time. For that purpose, we developed a larger fan with our partner vendors, arranged a bigger heat pipe and bracket, and controlled the parameters for cooling the CPU. Through this system, the CPU will not slow down during operation.
Another important feature of VAIO® TruePerformance is that CPU performance is prolonged. In normal computers, it is typical for CPU performance to sharply decline after hitting optimal performance. For us, however, when the CPU reaches best performance, it will start to slowly come down. Compared to our competitors, the performance decline of our CPU core is slower and much more prolonged.
When Intel's engineers analyzed our technology, they were moved by the level of performance we achieved. They were amazed that a small manufacturer such as VAIO understood their processors so well. When we provided our PCs for the verification of our business customers, they compared our products with those of other manufacturers. Interestingly, they found that the performance of one competitor's Intel® Core™ i7 is lower than the performance of our Intel® Core™ i5. Benchmark testing makes it easier to identify such differences in performance. PC-lovers and researchers who analyze various data using a PC love VAIO.
The third feature that sets us apart is that our products are genuine and classy. For generations, VAIO has been a leader in mobile PC material innovation. We were the first in the PC industry to use magnesium alloy for PCs on four surfaces in 1997, a material we still use for our products now. Thereafter, we tried to make our next breakthrough and started using carbon material. Our challenge was to use carbon fiber for the whole body of our VAIO Z model. We developed this technology together with Toray Industries, Inc. and became the first in the world to use three-dimensional carbon fiber material for personal computers. Although carbon is lighter and stronger, it is more expensive than plastic or magnesium alloy, and it is hard to bend. While it has been used for larger objects, including aircrafts, for years, it is difficult to process for a small product with sharp curves.
Many companies use plastic material for the palm rest simply because it is cheaper and lighter. In contrast, we use aluminum palm rest because they are sturdier, more reliable over time and aesthetically pleasing. We are also focusing on developing a quiet keyboard, with no keystroke noise. As such, we are currently working on removing high-frequency and mid-frequency range noises while maintaining a pleasant "click feeling" even on the keys located on the edge of the keyboard.
Furthermore, we believe that the quality and strength of our computers is of paramount importance. We support the US Department of Defense for their MIL standard (MIL-STD-810H)-compliant quality drop test whereby the computer is dropped to the ground from a certain height to confirm that there are no defects in operation. The benchmark height for a drop test is 48 inches (122 centimeters). However, we conduct our drop tests from a height of 50 inches (127 centimeters) and the surface on which the computer is dropped is made of steel, which is harder than other surfaces. We are proud to say that our computers pass these drop tests without any issue.
---
---
The last distinguishing feature of our products is that they are crafted with pride. There are three key points for VAIO's in-house manufacturing ability. The first point is that we have a completely integrated manufacturing team located at the Azumino factory at the foot of Northern Japan Alps mountains in Nagano. We are a relatively small PC manufacturer, but the good thing about being small is the ease of getting together on the same premise to discuss various issues. The engineering team, manufacturing team, quality assurance and customer service are all located at the Azumino factory. By integrating all departments at the same location, we can quickly report any failures to the design team. This allows our designers to understand the issue and to correct it swiftly. If necessary, they take some measures to solve the problem and immediately implement the change in the production line. Our PDCA (Plan, Do, Check, Action) cycle is perfectly suited to a small facility. Achieving this level of speed and efficiency was difficult when we were part of the Sony group because Sony is a multinational company with teams scattered all around the world. Centralizing all manufacturing-related departments at a given location is part of our "One Team" management concept.
The second point is our high-quality production system that combines all five human senses with digital technology. Actually, our production line is not fully automated and many craftsmen work there. Visitors are often surprised to discover that many people work in our production line. A highly automated factory with fewer people is thought to be more advanced, but it only applies to companies with a large production volume. Considering our production volume and the quality level that we must pursue, our approach is to combine digital technology with human senses. That being said, we utilize digital technologies to enhance our ability to identify and to react to complications. Each workstation is equipped with a camera or with a machine that captures and records everything that occurs, which allows us to immediately identify and address any problem that arises on the production line. Despite advances in robotics, humans have the skillset to address problems that machines cannot detect. Rather than grand designs or grandiose architecture, Japanese makers are known for their attention to details and their dedication to small things, and we are no different. Furthermore, we have a full range of advanced facilities, such as radio emission test rooms, among others. We are proud to bring all these strengths together and to offer features that no other manufacturer offers.
---
---
Have you ever thought of selling your VTP to other manufacturers?
VTP relates to the core concept of a product, so selling VTP to other manufacturers does not necessarily make sense. To give you an example: while our concept is to extract the best performance from the computer, one PC maker's goal is to develop the lightest PC possible. To achieve this, they use smaller fans, which are not as effective for heat dissipation. They know that by doing so, the CPU performance is sacrificed, but it is okay because their aim is to develop the lightest PC, not the most performant one.
During the COVID-19 pandemic, work-from-home measures promoted the utilization of remote communication, including video conferencing platforms. What functionalities did you develop to meet the new demands for remote communication?
High-quality video conferencing is another aspect of the smart and ingenious element of our product. To maximize ease of use, we implemented a physical shutter on our computers' built-in cameras. We did this because we know that it is sometimes difficult to find the function to turn the camera off. Many consumers go as far as pasting a sticker on their computer's camera to physically shut it off, so we made it a built-in feature. Furthermore, our new models enjoy an improved built-in microphone and a speaker optimized by Dolby Atmos. While these changes may appear small, our engineers think about these kinds of elements to achieve the best user experience.
We also developed a series of software improvements to enhance video conferencing experience. This includes an automatic framing function that centers the users' face during a video call. Our PCs also utilize face priority AE, a built-in function that automatically adjusts the exposure setting to achieve clear imaging. When it comes to sound-related innovations, we developed a unique AI noise-canceling technology. This advanced feature utilizes deep-learning technology to enable the PC to automatically identify and cancel environmental noises to transmit only the human voice. We also created a "private mode" that only picks up the voice in front of the PC, helping the users focus on videoconferencing wherever they are. This AI noise-canceling feature also applies to the other party. Even when the other party is in a noisy place, such as a train station, and his mic picks up other noise, the local PC will eliminate the noise and only transmit that person's voice through the output speaker. As such, this technology works for both the person calling and the people receiving the call.
Under our user sensing engineering, we created an auto log-in feature in which the camera recognizes the user sitting in front of the PC for automatic log in.
---
---
Did you develop this noise-canceling technology in-house?
It was a joint development with our software partner. Actually, AI-noise canceling features are coming to the PC world as manufacturers incorporate it, but fine-tuning is critical in this regard. We are very confident about the quality of this impressive feature.
Have these features been in development before the pandemic, or have they been created with people working at home in mind?
We created these features around the beginning of the pandemic because we foresaw the need for people to work remotely and to further utilize video conferencing.
What was the effect of COVID-19 on VAIO, and what kind of new technologies did it allow you to develop?
At the start of the pandemic, we predicted the kind of working environment we could have and the way PCs will be used. I think the pandemic ignited various changes in work-life balance, lifestyle and workstyle, and made us realize that there were many things that we could do to improve the efficiency of our PCs. Before, people considered PCs as a commodity and many consumers believed all PCs to be basically the same. Now, I believe that our users have a better understanding as to why VAIO's PCs are different. People began noticing these differences because they spent more time using their computers than ever before. PCs offer better productivity compared to smartphones or tablets, and the last couple of years have been extraordinary for us.
VAIO's workforce relies on skilled engineers, as exemplified by the fact that 200 out of the 290 employees present at your factory are engineers. Due to Japan's declining population and super-ageing society, manufacturers have expressed worries as to the renewal of their workforce. What challenges does Japan's demographic situation create for VAIO?
As a matter of fact, I do not feel it is a threat because Japanese people live longer and can easily work until 70. Japan's average life expectancy is 82 for men and 88 for women. I am 61, and I think I look much younger than the average 50-year-old guy I saw 40 years ago! Because humans are getting healthier, we can take advantage of older people's capabilities, abilities and experiences to help us do a better job. Another option is automation, which is one of the keys to increasing productivity. Careful inspections are done by humans, but machines also perform considerable inspections and adjustments. At last, educating younger generation is critical to support them into becoming productive engineers and businesspeople. At VAIO, we strongly prioritize the education of our younger employees.
Since the advent of COVID 19, we have seen various supply-chain disruptions, including a shortage of semiconductors as well as severe delays at shipping companies, airports and seaports. These problems were recently compounded by the war in Ukraine and China's zero-COVID policy that led to the Shanghai lockdown. How have these disruptions influenced your company?
These disruptions have had a significant influence on our operations, especially China's zero-COVID policy, because a lot of our components come from China. We did not have significant issues with expensive components, such as processors and LCDs, because those are items with a long lead time and we were able to secure them in our Japanese warehouse beforehand. However, the problem was obtaining small components, especially inexpensive chips on the board. As a response, we shifted our logistics flow from Shanghai to Sichuan, and we moved a manufacturing location from China to other cities.
One example of the advantages of our "One Team" management concept occurred when we could not secure an inexpensive audio chip. To continue production, we had to source a new chip that would force us to change our board's design to adapt to this new part. We discussed the pros and cons and decided to change the motherboard's design so we could use the new chipset. In just a few months, we overcame the supply problem. The work flow went as follows: our supply team first noticed the problem. They immediately communicated the disruption to our engineering team who swiftly analyzed the situation and decided to create a new design in order to use the alternative chipset. As soon as the design was completed, the manufacturing team implemented the changes in the production line and the whole issue was resolved smoothly in a matter of months.
What are the ideal criteria you look for in a partner, and what is the role that co-creation plays in your business?
As a small manufacturer, we need partners because we cannot do everything in-house. We have partners for design, software and hardware. This includes large manufacturing companies, such as Toray Industries, Inc as well as foreign partners for sales and marketing purposes. We are working with Nidec Corporation a big motor company in Kyoto, for our fan design. We tried to pick the best partners based on our experience with them and the output we have jointly achieved in the past.
How has your relationship with Sony evolved over the last eight years?
Our partnership with Sony is important because VAIO is still remembered in association with Sony. Actually, a lot of people still think that we are a part of Sony. There are many Sony crazy fans out there, which is good for us because if they love Sony, they will buy VAIO! The difficulty is that VAIO in Sony era is a B2C brand that is very popular among consumers, but not so well-known among business users. In order to expand BtoB business, it is important to build better relationships with distributors. In the past, we sold our products through Sony, targeting the business community. However, currently, we reconsidered that relationship and decided to work directly with those distributors. We no longer work with Sony for B2B sales, but still highly value them for B2C channels. *****
Various experts argue that Japanese electronics manufacturers have historically been excellent at developing new ideas, but rather unsuccessful at marketing their smart inventions. How does VAIO market its products overseas?
I agree with the argument that Japan has been front-runner in terms of creativity and functionality, but that it has not been good at marketing its product concept. There have been several such situations in the Japanese electronics industry, and VAIO is no exception.
To this day, various of our clients are VAIO crazy fans who have been using our products for more than 20 years. Often, these customers buy four or five different computers from us. Nevertheless, even in Japan, those die-hard fans represent a niche audience. When I became the president a year ago, I started marketing directly to corporate customers through my network and significantly increased our B2B sales channels. At first, people were surprised that VAIO was available to the business community because they thought it was just for consumers. When they tried our PCs, some enterprises decided to purchase our products in bulk. There is still a lot of room to grow in the B2B market.
As a historical B2C brand, what challenges did you face when transitioning to a B2B business model?
There were some challenges when we separated from Sony because consumers and business markets are totally different. To be successful in the consumer market, we must be the first in terms of technology. For years, VAIO stayed true to this motto and placed a greater emphasis in developing new, state-of-the-art technologies than on making reliable and durable products. As a matter of fact, VAIO was the first brand to have a camera for PCs! In contrast to consumers, corporate clients are more concerned with reliability, quality and durability, so a change of concept had to be instigated.
There is a big difference between the quality of consumer products and corporate products. In the business community, consumer quality is simply not acceptable. When we became independent from Sony, we decided to focus on the corporate business, and since then, we have been focusing on quality and durability.
Today, VAIO makes great products but is not yet visible enough. While we used to be visible among global consumers, we disappeared in 2014 when we shrunk our operations and concentrated on the Japanese market and on the business community. If you go to large Japanese retailers, you can still see VAIO products. These retailers aside, our B2C market share has dropped and we are no longer visible in the global PC market.
Now that we have a clear strategy, I want to expand our business worldwide. We do not seek to expand as a prominent manufacturer. Rather, I wish to be known as a manufacturer of high quality and of kodawari, a Japanese concept that translates into the uncompromising and relentless pursuit of perfection. New users, both in Japan and in foreign countries, are learning to love VAIO because of the four values I previously presented. Our goal is to be a small yet shining star.
What international markets will you prioritize?
We are gradually expanding our business in the USA. America is a massive market where consumer appreciate the value of products and are willing to pay for quality. We are selling our products through an e-commerce site partnered with our business partner and we picked some distributors to sell our products to US retail outlets this year.
Brazil is another region of interest and is probably one of the countries where VAIO is most popular, maybe even more popular than in Japan! For Brazil, we partnered with Positivo, one of the country's large PC manufacturers. While Positivo also sells its own brand of products, they are licensed to sell VAIO devices as their high-end segment. The products sold by Positivo are manufactured by regional OEMs. After we audit the design and give some technical advice to these OEMs, they make the products available to Brazilian customers. While those devices are different from our Japanese-made products, the PCs are undoubtably VAIO and maintain the appropriate quality requirement. Looking at the future, our aim is to provide components designed by VAIO to Brazil for assembly and distribution so that Brazilian users can enjoy the same products as we do in Japan.
We are also working with other partners in China, Asia, and the Middle East to develop markets in each of these regions. 
What ambition, dream or objectives would like to have achieved during your time as the leader of VAIO?
As President and CEO, my mission is to build a foundation that will allow VAIO to grow for the years to come. After our split from Sony, the company experienced a period of turmoil. We had to shrink our operation while changing our product concept in order to target business customers; a difficult task. In the face of numerous challenges, we have improved the quality of our products and are ready for the next step.
To achieve my mission, various elements must be united. The first one is strategy. I have already worked on developing sales channels with enterprises and distributors. I have also changed the focus of our product development. Before I became president, VAIO's strategy was to develop the 'best product in the world' for a tech-savvy, niche audience. However, I understood that it would be difficult to get more customers to know and use VAIO if we focused only on that. We want to be able to offer high-quality, value-added features at a reasonable price. Our PCs may not be the cheapest on the market. However, for business people and consumers willing to pay a premium, VAIO provides the best value for money.
Recently, our engineers formed a new team to work on a completely different project that will broaden our customer base. While this new product will not be the best technology in the world, it will offer high added-value that I explained at a reasonable price. The product will be launched next year, so be on the lookout!
The second element is to increase the efficiency of day-to-day operations. I implemented various internal changes, including the utilization of IT tools such as CRMs, to more accurately control and monitor our sales status. The profit is divided into business unit segments so it is accurately monitored and controlled B.U. by B.U.
The third element is to create a comfortable, transparent and trusting atmosphere. I believe transparency to be key to employee motivation, so I try to disclose our financial and business data to all our employees. I believe that if they know the background of the company's situation, they will better understand the role they have to play in pushing forward the business. Creating a unified direction and a common goal is key to achieving success.